HackerNest Construct: Mind & Motion hackathon

Saturday, February 22, 2014 at 8:30 AM

-

Sunday, February 23, 2014 at 8:30 PM (EST)
Event Details
brought to you by Klick Inc.
(99.8% sure we're Canada's largest hardware-focused hackathon)
HackerNest Construct is a 24-hour programming competition focused on creativity and the innovative use of technology. (NOT business plans, commercial viability, or monetization)

---

~ HNC WINNERS! ~
We ran the first HackerNest Construct hardware hackathon Feb 22-23 and it was all sorts of epictacular. Pretty much everybody won. We were even covered by the Wall Street Journal.



We gave out over $30K of cash and stuff. Look how happy they are!

 Anyway, even those who didn't win prizes (which was difficult, since we gave out over 110+ devices) had an exhaustingly fun time -- the joint was PACKED.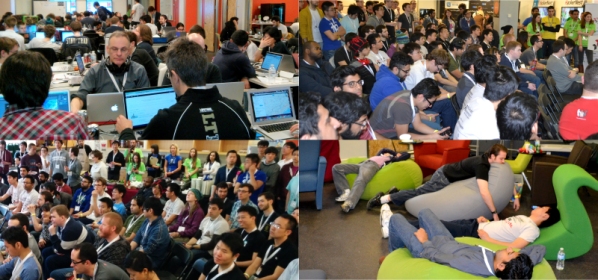 ~ HNC WINNERS! ~
 (for real this time)

1st place: Project ARena - Raspberry Pi, iOS, web app, RC car, camera phones, Unity: crowd-sourced, web-based, live-streamed remote control car driving controls with augmented reality overlay

2nd place: The Axioms - Raspberry Pi, ultrasonic sensors, custom built device: Stringless 3-in-1 (violin, cello, drums) musical instrument using ultrasonic sensors to let you manipulate sound using hand positioning 

Klick "Full Mind and Motion Exploit" - Gloverunner: Arduino, Leap Motion, Node.js: Glove that lets you play Half-Life using only hand gestures; initial application was to help people learn sign language

Best use of YellowAPI: Headbanger - Kiwi Move, YellowAPI, Node.js, Meteor: Search for opponents based on location and have a virtual headbanging contest using real Streetview images as the 'setting'

Klick "Most Healthy": Gambling Bike - Arduino, laptop, bike: Load a mountain biking 1st person video and ride the trail; entertain yourself while on a stationary bike

Klick "Most Energetic": eXistenZ - Raspberry Pi, Arduino, Android, FitBit: Shirt that shows your phone's battery level, your heart rate, etc. 

Seriously though. We all won. This was a blast. Thanks so much for everything - organizers, volunteers, sponsors, participants, press, everyone!
---

When: February 22-23, 2014
Where: Ryerson DMZ, 10 Dundas Street East, 6th Floor, Toronto, ON M5B 2G9
Platforms/devices: Mind & Motion is all about spiffy next-generation interface devices like neural/gesture controls, augmented reality, wearables, tablets, and all the funky stuff you see in movies. You can bring/build any demo-able platform/device that (even remotely) fits the theme, but as a base, here's what's available (limited numbers; pipe up if your team is definitely working on one):
Read/research a ton, be independent. You are responsible for knowing and setting up your IDEs, SDKs, APIs, and every other acronym. Assume there will be no help from anyone. Be prepared!

Teams: Max 5 people. Don't have one yet? Don't worry, we're running a team matching Tech Social on February 17th! Due to the highly technical nature of this hackathon, an intermediate to advanced tech skillset is pretty necessary. Also, space limitations unfortunately only allow for sponsors, partners, and members of the press to observe the hackers in their natural habitat. Thanks for understanding! ♥
---
Prizes!
$2500 ca$hmoney Grand Prize
$1337 ca$hmoney Runner Up
+ various badass "best of" prizes and tons of giveaways!
(one lucky participant will win our shiny new Oculus Rift - not yet available in stores!)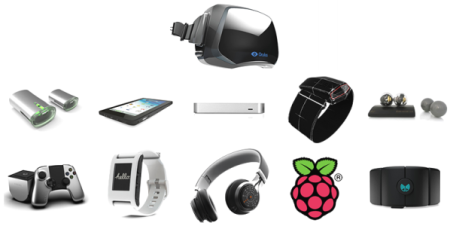 Pictured: Oculus Rift, Kiwi Move, Datawind UbiSlate, LeapMotion, PUSH Strength, Nanodots GYRO, OUYA, Pebble, Intelligent Headset, Raspberry Pi, Myo Armband

Plus:
thousands of dollars in SoftLayer hosting credits
thousands of dollars in Digital Ocean hosting credits
multiple Camaraderie Coworking day passes
...and so much more!
---

~ HNC NEO SPONSOR ~

Klick Health: The agency of the future.
~ HNC TRINITY SPONSORS ~


Yellow API: The goto resource for location based applications.


Mandrill: The fastest way to deliver email.

SendGrid: Email delivery. Simplified.


SoftLayer: Build the future.


Digital Media Zone: A different kind of business incubator.



Datawind: Making tech accessible for 3 billion more people.


GitHub: Build software better, together.


Intelligent Headset: World's first 3D audio headset.


~ HNC AGENT SMITH SPONSORS ~
Digital Ocean: Simple cloud hosting built for developers.


PUSH: Strength in numbers.


Frank & Oak: Menswear online.



Kiwi: Wearable tech.


OUYA: The gift that keeps on gaming.


car2go: Get from A to B in a snazzy ride while saving cash AND the environment.

TinEye: Reverse image search engine.


~ HNC VENUE ~


Wanna sponsor? Email sponsorship@hackernest.com. Wanna volunteer? (we'll love you forever!) Email nora@hackernest.com.
---
Judges: Prominent tech nerds who'll score demos based on functionality and coolfactor.
---
Organizers: HackerNest is a nonprofit that builds supportive "Silicon Valley" type tech communities – everywhere – through unpretentious social events and hackathons to ultimately empower people with more relevant and accessible tech education. Already Canada's largest, fastest growing tech meetups, there are HackerNest splinter cells popping up in more and more cities around the world. Construct logo and artwork courtesy of Johnny Chauvet.
---
~ SUPPORTERS ~

 ~ FRIENDS ~
---
Schedule:
Here's a rough outline (there's a bunch of secret stuff we're only going to reveal at the event). Register Saturday, eat, hack, eat, demo, win stuff, party, etc. Listing some of the stuff we're serving below; everything has a vegetarian option.


Saturday, Feb 22

8:30am - 11am: doors open, registration, breakfast (breakfasty stuff)


11am - 12pm: welcome note, sponsor intros, announcements, etc.

12pm - 1:30pm: brutal team matching chaos, lunch (chicken caesar wrap, gourmet chipotle macaroni and cheese, salad, brownie, fruit)


2pm: START H4X

6pm: dinner (lasagna, salad, dinner roll, dessert, fruit)


Sunday, Feb 23
12:01am: somethin' special (om nom nom!)

7am: breakfast (English egg muffins, hash browns, granola, cereal, fruit, yogurt)

11am: lunch (Spanish Paella, garlic crustinis, salad, canapes/appetizers, desserts, fruit)


2pm - 3pm: demo signup

3pm - 6pm: demos, judging, PRIZES BAHAHAHAHA!
---
Rules: Find them all here, but here's a couple easy ones.
teams of up to 5 hackers

fresh code only

demos must be functional demos - not slideshows

participants must have excellent personal hygiene

etc.
---
Students: We've already made your tickets just $10, but if you're a super-broke-as-hell student, contact us using your school email address and we'll see what we can do. Most of this will probably be predicated on you wrangling us more participants. Ramen ftw.
---
Refunds: Sorry, but unless it's a death in the family or your arm gets lopped off by a meteor, no refunds. Hackathons are ridiculously expensive.
---
* Raspberry Pi kit includes:
When & Where

Digital Media Zone at Ryerson University
10 Dundas Street East, 6th Floor
Toronto, Ontario M5B 2G9
Canada

Saturday, February 22, 2014 at 8:30 AM

-

Sunday, February 23, 2014 at 8:30 PM (EST)
Add to my calendar
Organizer
Wherever technology booms, prosperity follows. HackerNest builds tech and innovation communities because they're the cornerstones of economic development that will lead to people living healthier, happier lives. We help tech nerds support each other, businesses find talent, and innovators meet collaborators through community-centri Tech Social events that bring technologists from all walks of life together to find friends, get advice, and check out opportunities.
We have been afforded Special Consultative status to the United Nations Economic and Social Council. We are in the City of Toronto's economic and technology roundtable and was part of the White House's Opportunity Project delivering solutions empowering Americans to build tools to improve community access and opportunity using federal/local open data. The U.S. Department of State's Secretary's Office of Global Partnerships also named HackerNest as Managing Partner for Fishackathon 2017-18, a global hackathon series in dozens of cities around the world. DementiaHack, a hackathon series to find tools and solutions for people living with dementia and Alzheimer's, was also the largest dementia hackathon in the world. More info at hackernest.com.