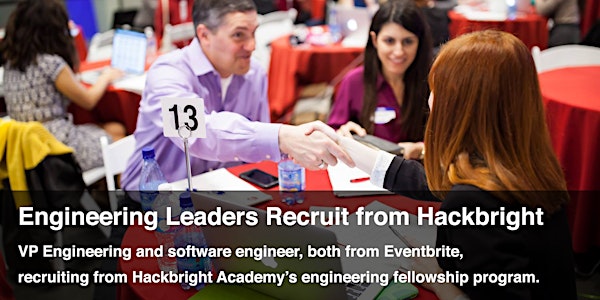 Hackbright Academy - New Grad Recruiting at Demo Night (March 8)
When and where
Location
Marines' Memorial Club 609 Sutter Street San Francisco, CA 94102
Description
You are invited to Winter 2017's Hackbright Academy recruiting event to meet our graduating software engineers - an evening of introductions, student project demos, speed interviews & networking!
The company introductions segment is for you to pitch the students on who you are & what your company does. Speed interviews are for you and Hackbright engineers to connect & learn more about each other. You can then decide if you'd like to conduct follow-up interviews. Snacks & drinks will be provided during the networking portion of the evening - this is a great time to speak with Hackbright graduates and get to know them.
Thank you for recruiting directly from Hackbright Academy. We are excited to partner with you to recruit from Hackbright's latest class, which officially graduates on March 24, 2017.


Schedule
5:00pm -- Welcome to Hackbright Demo Night -- Partner Company reps give 30-second introductions
5:30pm -- Hackbright Student Project Demos
7:00pm -- Speed Interviews
8:30pm -- Snacks & Networking
Press
TechCrunch: Hackbright Academy Turns Women Into Pro Developers In 10 Weeks
VentureBeat: Tackling Tech's Gender Problem the Right Way: Teaching Women to Code
Forbes: After Python Training Program, Women Engineers Receive Job Offers From SV Startups
Dice: Hackbright Boot Camp Moves Women Into Coding Careers
About Hackbright
Hackbright Academy is a highly selective software engineering school for women. We have graduated 500+ women software engineers since June 2012. The majority of them have gone on to work as software engineers at companies including: Facebook, Google, Amazon, Intuit, Lyft, Uber, New Relic, Eventbrite, SurveyMonkey, Pinterest and Slack among others. Our results.

If you are a *NEW* Hackbright Partner Company, fill this out and we will email you additional information and the partner agreement to take care of prior to your company attending the event. Questions? Email Angie at a@hackbrightacademy.com