Description
THIS EVENT IS SOLD-OUT. BUT IF YOU STILL WANT TO COME, PLEASE REACH OUT SOPHIE GRAFTIEUX VIA THE FACEBOOK PAGE OF "WOMEN IN TECH. BRUSSELS" OR BY EMAIL (stag_ict@impulse.brussels>).
SMART FAMILY - C'EST QUOI?
Un weekend de trois jours où des femmes et des hommes se réunissent pour créer et développer des solutions innovantes à de grands défis de société. Du 8 au 10 décembre 2017, nous nous attaquerons à un challenge de taille: la vie de famille ! Nous souhaitons vous accompagner à développer des idées de startup en se basant sur les nouvelles technologies et les nouveaux modèles économiques (circulaires, collaboratifs, coopératifs), en s'inspirant de 4 grands thèmes: l'Education, le Bien-être, la Communication et la Mobilité avec pour objectif d'améliorer et de faciliter la vie quotidienne.
SMART FAMILY - POUR QUOI?
Women in Tech.Brussels est l'écosystème bruxellois destiné à stimuler la création de startup par les femmes et augmenter la présence de celles-ci dans les secteurs innovants. Nous souhaitons ainsi stimuler l'entrepreneuriat féminin, sensibiliser les femmes aux nouveaux modèles économiques et aux opportunités qu'offre la transformation digitale. Le hackathon SMART FAMILY sera également l'occasion unique pour les participants de rencontrer les multiples partenaires du réseau Women in tech et de s'informer sur toutes les opportunités qu'offre le monde de la technologie à Bruxelles.
SMART FAMILY - COMMENT CA MARCHE?
Le weekend commence par une soirée de pitch, où chacun est invité à présenter son idée de startup en 1 minute! Cette étape n'est pas obligatoire mais fortement conseillée, puisque c'est un exercice très intéressant qui en vaut la peine. Après les pitch, tous les participants votent pour leur projet préféré et les meilleurs projets sont sélectionnés. Ensuite, les équipes de travail se forment en fonction des intérêts et compétences de chacun et commencent à travailler au développement et à l'amélioration de l'idée initiale.
Durant tout le weekend, chaque équipe est accompagnée d'un mentor, appelé "Super Héros". Il sera là pour vous aider dans vos réflexions, en vous proposant plusieurs techniques de travail et en facilitant la logistique du weekend. Chaque équipe aura également l'occasion de rencontrer des experts à différents moments du weekend, afin de répondre à des questions techniques précises au niveau financier, technologique, stratégique, marketing ou design. Le dimanche après-midi, il sera temps pour vous de présenter votre projet final devant un panel de jury, qui évaluera la qualité de votre projet en termes de viabilité, attractivité, faisabilité et impact. Les meilleures équipes repartiront avec un choix de récompenses qui leur permettra de réellement développer leur startup suite au hackathon!
Inscription obligatoire, un ticket par personne
L'inscription à l'évènement est obligatoire et il est impératif que chaque participant choisisse le profil qui correspond le mieux à son expertise, intérêt ou expérience. En s'inscrivant, les participants auront le choix entre trois profils différents:
Profil Business: toute personne avec une expertise Business, stratégie, Management, finance, legal, entrepreneuriat, etc.
Profil Creátif: toute personne avec une expertise en Marketing, Design, Communication, UX, UI, etc
Profil Technique:toute personne avec une expertise en Nouvelles Technologies, Développement Web, Programmation, métiers manuels, artisanat, etc.
Merci de sélectionner un seul ticket et profil par personne.
Tous les experts seront gratuitement à votre service et tous les repas seront offert, nous vous serions donc gré de nous avertir au plus vite en cas d' empêchement par email à laz@1819.brussels
Des questions?
Merci de lire notre série de FAQs ci-dessous ou de nous envoyer un message sur notre page facebook Women in Tech.Brussels ou via mail: laz@1819.brussels
--------
[ENGLISH VERSION]
SMART FAMILY - WHAT IS IT?
A three-day long weekend whereby women and men come together to create and develop innovative solutions to current societal challenges. From the 8th of December 2017 onwards, we will tackle a sizeable challenge: family life! We wish to coach you on your developing of your startup ideas based on new technologies and new economic models (circular, collaborative and cooperative), drawing inspiration from four big themes: Education, Well-being, Communication and Mobility. The objective is to improve and make everyday life easier.
SMART FAMILY – WHAT FOR ?
Women in Tech.Brussels is Brussels' ecosystem designed to stimulate startup creation by women and to increase their presence inside innovative sectors. In this way we wish to stimulate female entrepreneurship and to raise awareness among women about new economic models and opportunities brought by the digital transformation. The Smart Family Hackathon will also be a unique occasion for the participants not only to meet up with multiple partners of Women in Tech's network but also to gain information as to what opportunities are offered by the world of technology in Brussels.
SMART FAMILY - HOW DOES IT WORK?
Weekend starts with a pitch night during which every participant is invited to present their startup idea in one minute! This is not a mandatory step but we highly recommend it since it is interesting practical exercise that is worth the effort. Once all projects have been pitched, participants will vote to elect their favourite and we will select best-rated projects only. Teams will then form in accordance with each one's interests and competences before beginning to work on developing and improving the initial idea.
All weekend round, each team will be assigned a mentor for guidance called "Super-Hero". He will be there to help you with your headwork by offering suggestions on working methods and by making the whole logistics easier.
Each team will also have the opportunity on various occasions to talk with experts from different fields regarding more technical questions requiring precise answers on financial, technological, strategic, marketing or design aspects. On Sunday afternoon, it will be time to present your final project in front of a jury panel that will assess its quality in terms of viability, attractiveness, feasibility and impact. Best teams will be able to pick from a wide choice of rewards that will enable them to developer their startup further following the Hackathon!
REGISTRATION IS MANDATORY AND PLACES ARE LIMITED
All experts are put at your disposal for free and meals are also free, we would therefore really appreciate it if you could, as soon as possible, let us know by mail at laz@1819.brussels if you encounter a problem and will not be able to attend the event. MANY THANKS!
QUESTIONS?
Please read our FAQs down below or message us on our Facebook page Women in Tech.Brussels or via mail : laz@1819.be
------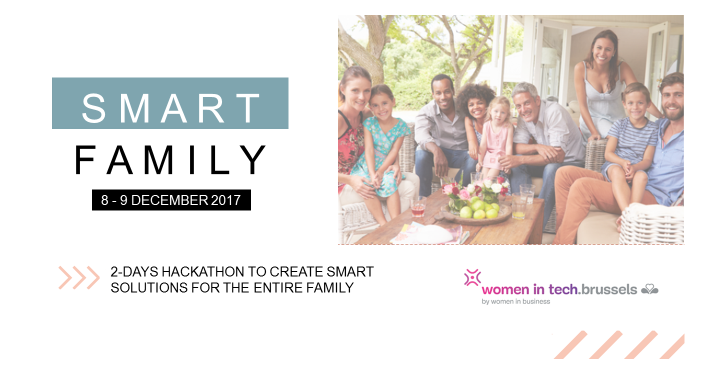 ----- FREQUENTLY ASKED QUESTIONS -----


HOW MUCH DOES IT COST
The Hackathon is sponsored by WIT Brussels and is therefore totally FREE. However, registration is mandatory and places are limited as we need to organize logistic aspects such as food, material and so on. All experts are put at your disposal for free and meals are also free, we would therefore really appreciate it if you could, as soon as possible, let us know by mail at laz@1819.brussels if you encounter a problem and will not be able to attend the event.
WHAT LANGUAGE WILL BE USED DURING THE EVENT?
The main language used during the weekend will be english in order to ensure a proper understanding of all international and national profiles. However, feel free to pitch your idea in french or dutch, if you feel more comfortable in doing so. In the same spirit, each team can choose to work in english, french or dutch during the weekend, according to the team members' preferences.
CAN I LEAVE DURING THE WEEKEND?
No. Everyone who attends the event is expected to participate all three days, from Friday 8/12, 6pm until Sunday 10/12, 8pm (nights are NOT included!). This is important not only to preserve the 'vibe' of the weekend but also to minimize distractions and disruptions for working teams.
IS IT MANDATORY TO REGISTER BY CHOOSING ONE OF THE PROFILE TYPES (EXPERTISES)?
Yes. It is mandatory to choose one of the available profiles so we can ensure the right mix of talents and know-how during the event. However, it is not because you registered as a web developer that you will work on the technical prototype during the entire weekend. It's just an indication about your knowledge and background, but each team will decide on its own working methodology regarding task distribution and you are responsible to share your interests with all members of your team from day 1, so you can all be aligned.
DO I HAVE TO PITCH AN IDEA TO ATTEND ?
No, but we encourage you to! You can pitch an idea you've been thinking about for years, or something last minute you think of during the event. It's a great experience and invaluable practice for public speaking.
CAN I PITCH MORE THAN ONE IDEA?
Yes. Depending on the number of ideas pitched and the schedule on Friday night, you may be able to pitch multiple ideas. However, if we are running out of time, you will only be allowed to pitch one idea. So please sure to prioritze and pick your best idea (and the one you have more prepared for).
WHAT HAPPENS IF MY IDEA IS NOT SELECTED?
If your idea isn't selected by the crowd on Friday night, you will have to join another project for the weekend. In order to avoid disappointment and give you the chance to test various ideas before the weekend, you'll have the opportunity to share all your ideas online and test the enthusiasm of the crowd before pitching them officially. Further detailed information will be sent to you 2 weeks before the event.
WHAT SHOULD I BRING TO THE WEEKEND?
Your laptop and charger (please send us an email before in case you don't have a laptop!)
Your favourite working material (paper, notebook, pen,..)
Lots of creative energy!
WILL MY IDEA BE PROTECTED BY ANY IP DOCUMENT?
No. There is no formal protection for IP by the organizers of the SMART FAMILY hackathon. It is a public event, so the pitches will be shared with all participants and you will be working in an open space with collaborators and mentors. Remember that most ideas have already been thought of somewhere in the world and it is those entrepreneurs that can execute well that will succeed. The focus of the weekend is on executing and validating a business idea, not so much on the invention or discovery of a new one.
If in the end, you are really worried, then just don't pitch the idea. Bring along a different idea or join another team and learn through collaborating on their idea. You will learn about the startup process either way that you can then apply to your original idea later.
WHAT ARE THE EXPECTED DELIVERABLES DURING THE WEEKEND?
At the end of the weekend, we expect from each team to deliver 3 main things:
A good presentation and pitch
a working prototype

(which can have different forms, depending on your solution)

a business model, completed on a Business Model Canvas
You will have 5 minutes to pitch your start-up and 5 minutes to answer the questions of the jury members. They will judge your project based on 4 criteria: the business viability, the technical feasibility, the user desirability and of course, considering our thematic, the potential impact on families' daily lifes.
ARE THERE SOME REWARDS FOR THE WINNING TEAMS?
YES, there are ! WIT Brussels is composed of more than 15 partners, all participating in the improvement of women opportunities in the technological sector. Many of our partners will be offering exclusive opportunities and support for the winning teams of the SMART FAMILY hackathon.
HOW CAN I CONTACT THE ORGANIZER WITH ANY QUESTIONS?
You can always reach us for any other question via laz@1819.brussels. You can also send us your questions on our facebook page Women in tech.Brussels. We'll get back to you as soon as possible.