Description
Hackathon Données Ouvertes Montréal

À ajouter à vos calendriers! Montréal Ouvert est fier de vous inviter à sa troisième édition du Hackathon le samedi 19 novembre.
Dans un esprit de collaboration et pour faciliter l'innovation, la Ville dévoilera les données du catalogue des 43 bibliothèques de la Ville de Montréal pour cette occasion.
L'événement aura lieu dans un local de la ville, au 801 rue Brennan, dans une superbe salle avec vue sur le canal Lachine. Un gros merci à la ville pour avoir rendu cet espace disponible!
Les dernières éditions de cet événement ont rassemblé plus de 100 développeurs, créateurs, fonctionnaires, ainsi que des gens des milieux communautaires, des affaires, et universitaires en plus de citoyens engagés. Nous souhaitons vous voir en grand nombre pour que ce Hackathon soit le meilleur. Que vous ayez une nouvelle idée de projet ou souhaitiez participer à la réalisation d'un projet en cours, nous avons besoin de votre aide. L'équipe accueillante de MontréalOuvert se fera un plaisir de vous orienter et de répondre à toutes vos questions relatives aux données ouvertes.
Les applications de données ouvertes ont eu un succès incroyable à Montréal. ZoneCone.ca a aidé plus de 50 000 automobilistes à éviter les chantiers de construction; PatinerMontreal.ca a permis à plus de 17 000 patineurs de trouver les meilleures conditions de glace; Resto-Net.ca a aidé plus de 75 000 personnes à trouver un restaurant propre et BudgetPlateau.com a permis à plus de 600 citoyens de donner leur avis sur le budget de leur arrondissement. Votre application ou votre idée pourrait être la prochaine à venir en aide à autant de montréalais!


L'équipe de Montréal Ouvert est fière d'être entrée en partenariat avec la Ville de Montréal, Hacks/Hackers, OpenFile, la Gazette de Montréal et Montréal Python pour l'organisation de la troisième édition du Hackathon. Cet événement promet d'être le meilleur Hackathon à ce jour!
Avec plus de 50 personnes déjà inscrites à l'événement du 19, l'équipe de Montréal Ouvert s'attend à une super journée dynamique de création.
Ce Hackathon aura un format différent pour faciliter l'implication des Montréalais et des Montréalaises par le biais d'organisation d'ateliers, de démonstrations de projets déjà réalisés et avec la participation d
es employés des bibliothèques de la Ville qui agiront comme personnes-ressources.
L'équipe de Montréal Ouvert sera sur place pour vous accueillir et vous orienter.
La journée débutera à 9 h 30 et la présentation des projets complétés durant la journée aura lieu à 16 h. Prenez note de l'horaire des ateliers ci-dessous.
Partenaires
La Ville de Montréal a récemment adoptée une politique sur les données ouvertes et mis sur pied un portail web
donnees.ville.montreal.qc.ca
qui a eu plusieurs milliers de visiteurs en moins de deux semaines.
Montréal Python
est un groupe formidable d'usagers et nous sommes enthousiasmés de savoir qu'ils contribueront par leurs talents à développer de nouveaux outils et des applications.
La Gazette de Montréal
,
OpenFile
, et
Hack/Hackers
sont tous de grands usagers de données ouvertes et leur participation démontre l'importance croissante des données pour le métier de journalisme.
S'il vous plaît, allez visiter la page d'inscription dès maintenant! Au plaisir de vous voir à notre événement. Café et dîner servi à prix modeste.
Ateliers
Atelier A (10 h à 10h30) :
Tout ce que vous avez toujours voulu savoir à propos des demandes d'accès à l'information, mais que vous n'osiez jamais demander
Animé par Linda Gyulai, journaliste des affaires civiques de la Gazette de Montréal
Atelier B (11 h à 11h30) :
Les données! À quoi ça sert?
Animé par Sébastien Pierre, co-fondateur de Montréal Ouvert et fondateur de
FFunction
Atelier C (13h30 à 14h00) :
Introduction à la visualisation de données
Animé par Sébastien Pierre, co-fondateur de Montréal Ouvert fondateur de
FFunction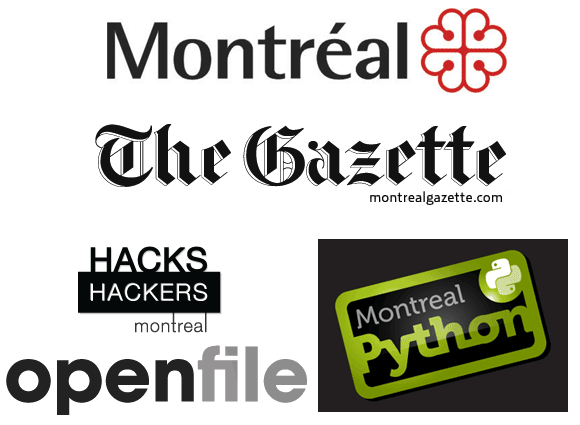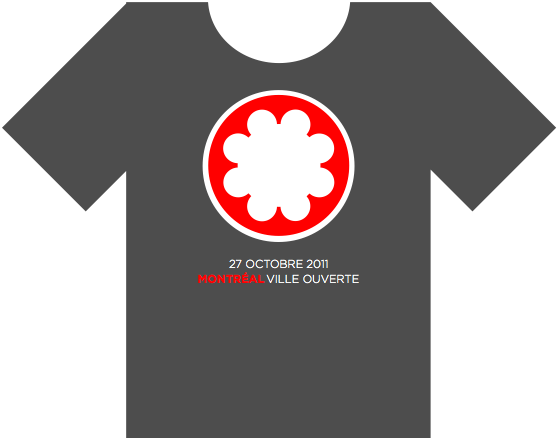 -----------------------------
Mark your calendars! Montréal Ouvert is proud to invite you to the third Montreal Open Data
Hackathon
on
Saturday, November 19th
.
Montréal Ouvert is thrilled to announce we have partnered with the City of Montreal, the Montreal Gazette, OpenFile and Hacks/Hackers to make this the best hackathon yet.
The event will take place at Montreal city offices at
801 rue Brennan
in a beautiful room looking onto the Lachine canal. A big thank you to the city for warmly hosting open data activists and friends.
The city will also launch a great new data set: c
atalogues for all 43 municipal libraries!
The last two hackathons brought together more than 100 developers, designers, bureaucrats, community organisers, business people, and academics as well as other engaged citizens. Montréal needs your involvement to make this this best hackathon yet! Whether you have an idea for a new project or want to help out on an existing project, you are more than welcome - no technical skills needed.
Open data based applications have been a thundering success in Montréal. ZoneCone.ca has helped over 50 000 drivers navigate Montréal road construction, PatinerMontreal.ca has guided over 17 000 skaters to their favourite rinks, Resto-Net.ca has helped over 75 000 patrons find a clean restaurant and BudetPlateau has allowed more than 600 citizens create their version of the budget. Your application or idea could be the next big thing for Montrealers!
With over 50 people signed up for the event on November 19th, the Montreal Ouvert team is expecting an amazing day of creation and collaboration.
This Hackathon will have a slightly different format to improve participation from all citizens. A number of small and accessible workshops will be given on data driven journalism, access to information, and data visualization. Open data project creators will demonstrate past Montreal data apps and the Montreal library staff will be on hand to help with their new data set.
The Montreal Ouvert team will be there to welcome everyone and guide you to the right place.
The day will start at 9 h 30 and will conclude around 16 h with presentations of the work accomplished by the participants.
Partners
The City of Montreal recently adopted an open data policy and launched a web portal
donnees.ville.montreal.qc.ca
that has already received thousands of visitors in under two weeks.
Montréal Python
is a group of software developers who are passionate about data and technology. We are certain they will energize the room and create some amazing apps for all Montrealers to use.
The Montréal
Gazett
e,
OpenFile
, and
Hack/Hackers
are big data users and their participation demonstrates the growing importance of data in journalism.
If you do not already have your tickets, please go to the eventbrite page and grab your free tickets or sign-up for the full day of food, fun and t-shirts!
Workshops
Workshop A (10 h à 10 h 30):
Everything you wanted to know about FOI requests but were afraid to ask. - Led by Linda Gyulai, civic affairs reporter for the Montreal Gazette
Workshop B (11 h à 11 h 30):
Data! What is it, and what is it good for?
Led by Sébastien Pierre - Co-founder of Montréal Ouvert and founder of FFunction
Workshop C (13 h 30 à 14 h):
Hands-on data visualization.
Led by Sébastien Pierre - Co-founder of Montréal Ouvert and founder of FFunction