Hackathon: Cloud Development with Windows Azure

Saturday, December 18, 2010 from 9:00 AM to 2:00 PM (PST)
Event Details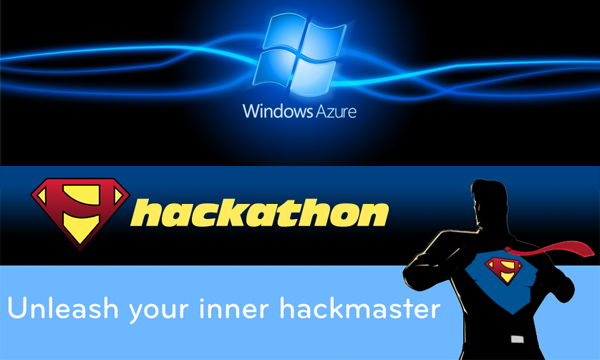 Overview
You have read, seen and heard about Windows Azure, now it's time to dive into code and build something. Join other Bay area .NET developers for this exciting, FREE cloud-focused event:
Hackathon: Cloud Development with Windows Azure
This Hackathon is all about code, code and more code. There will be a short walkthrough to get you off and running (if you are not already familiar with Windows Azure), but the rest of the time you can code and collaborate with other cloud developers.
Three Reasons Why You Should Attend
1) Get started developing with Windows Azure, the hottest cloud platform for .NET developers
2) Share ideas, code and techniques with other developers and learn from experts
3) Develop a cool cloud app and win a prize
Bonus: All attendees will get a 30-day FREE Azure Pass
Prizes
At the end of the Hackathon we will have the audience vote for the Top 2 apps. Each developer will win:
Microsoft Visual Studio 2010 Ultimate with MSDN Subscription
(valued of approx. $11,000 each)
Schedule
Here's the plan for the Hackathon:
9:00 a.m. - 9:30 a.m.
Get caffeinated; install Azure development software (available on USB flash drives)
9:30 a.m. - 10:30 a.m.
Walkthrough -- Building and Deploying an Azure Application
10:30 a.m. - 1:30 p.m.
Hackathon -- Build your own Azure app or choose one of the sample projects posted
1:30 p.m. - 2 p.m.
Share your Hackathon app (prizes for the Top 2 apps by audience vote)
Throughout the Hackathon you will be able to ask questions and get answers to help you get familiar with Windows Azure and build your app. We will have sample project ideas or you can come up with your own project.
Lunch and Beverages: We will not have a specific break for lunch, but will have food and beverages available for you to consume whenever you feel like it.

Pre-requisites
The only pre-requisite for this event is that you have knowledge of basic ASP.NET development. We'll be using ASP.NET MVC, but you can develop with WebForms if you wish. You will need to bring your own computer to the event. It will be helpful to have the Windows Azure SDK already installed on your computer, but it is not necessary. We will have USB flash drives with the SDK so you can install at the event. To install the SDK in advance, go here: Windows Azure SDK
When & Where

Microsoft - San Francisco
835 Market Street
Suite 700
San Francisco, CA 94103


Saturday, December 18, 2010 from 9:00 AM to 2:00 PM (PST)
Add to my calendar
Organizer
HyperCrunch, Inc. is a startup building a platform to solve the online information glut problem created due to the publishing explosion in recent years.