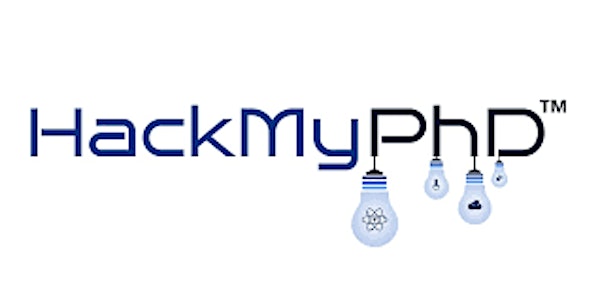 Hack My PhD 2018
When and where
Location
Mandel Center for the Humanities 415 South Street Brandeis University Waltham, MA 02453
Refund Policy
Refunds up to 7 days before event
Description
Introduction to entrepreneurship and startups for PhDs and Postdocs in the STEAM fields.
PhD candidates and postdocs get to learn about how skills they gain while completing their PhD are transferable and valuable beyond the lab and classroom. Through a day of inspiring stories, actionable advice, and informative sessions, participants understand what an entrepreneurial path entails and specific steps to undertake to pursue that path.
HackMyPhD congregates graduate students and postdocs to inspire design thinking through different lenses. Chemistry researchers have the chance to get inspired by Arts students or economics PhDs by their Sustainability counterparts. Capitalizing on Brandeis's diversity, we are all working together to inspire real innovation.
8:00am - 9:00am
Fuel For Your Best Summer Work Day Yet
Healthy Breakfast & Fresh Roasted Coffee + for everyone checked in before

8.25am

– opportunity to enter in a raffle for iPad
8:30am - 9:00am
Interactive Drumming Workshop By Respectful Beats
Respectful Beats™ is an interactive drumming business serving communities throughout New England since 2015. Founder, Steve Benedetto, will lead a fun and interactive workshop aimed at developing creativity, enhancing communication, team building and stress reduction. No better way to start the day!
9:00am - 9:45am
Opening Session
Welcome Words by Rebecca Menapace, Associate Provost for Innovation and Executive Director of the Office of Technology Licensing and Hassenfeld Family Innovation Center
Overview and Goal Setting
9:45am - 10:00am
Network And Game Kickoff
GSAS Career Services will introduce a list of challenges for the day such as making a number of LinkedIn connections, getting your resume/CV reviewed, speaking to panelists about life after PhD, completing a profile on Handshake, etc. Those that complete all challenges are part of an I-Pad raffle.
10:00am - 11:00am
Looking Back: Advice To Our Student Selves
Panelists will discuss decisions made, lessons learned, pitfalls survived, and how the skills gained through their PhD set them on the course of a successful entrepreneurial career.
11:00am - 12:00pm
Looking Forward: Real Opportunities Beyond Academia
Panelists will provide their assessment of opportunities in the wide and varied field of entrepreneurship and touch upon other channels such as industry (entrepreneurship), venture capital, government, etc.
12:00pm - 1:30pm
Small Group Discussion & Working Lunch With Speakers
Panelists will spread out during lunch at different tables to talk with attendees and brainstorm with them about their career plans post-graduation.
1:30pm - 2:30pm
NSF I-CORPS
™
Fellowship Demos
This summer, Brandeis University's first cohort of I-Corps Fellows have worked on innovative startup ideas. See the results of their hard work as they demo solutions in biotech, high tech, and more.
2:30pm - 2:45pm
Your Opportunities At Brandeis
Learn about all the great entrepreneurial opportunities here at Brandeis from the team at Brandeis Innovation. From funding to mentorship, we have the tools to help you succeed. Find out about how to apply for grants, participate in our startup competitions, and more.
2:45pm - 3:30pm
Your Career Development Plan
Develop your personal career plan. Map out your post-PhD goals with guidance from those who have gone the entrepreneurial route. Attendees will be given a workbook to help develop their personal plan, which was developed here at Brandeis to help doctoral students learn their options, needs, and goals for a fulfilling career.
3:30pm - 4:00pm
Closing Session
Fellowship fan favorite announcement + GSAS Game winner + Closing words