Description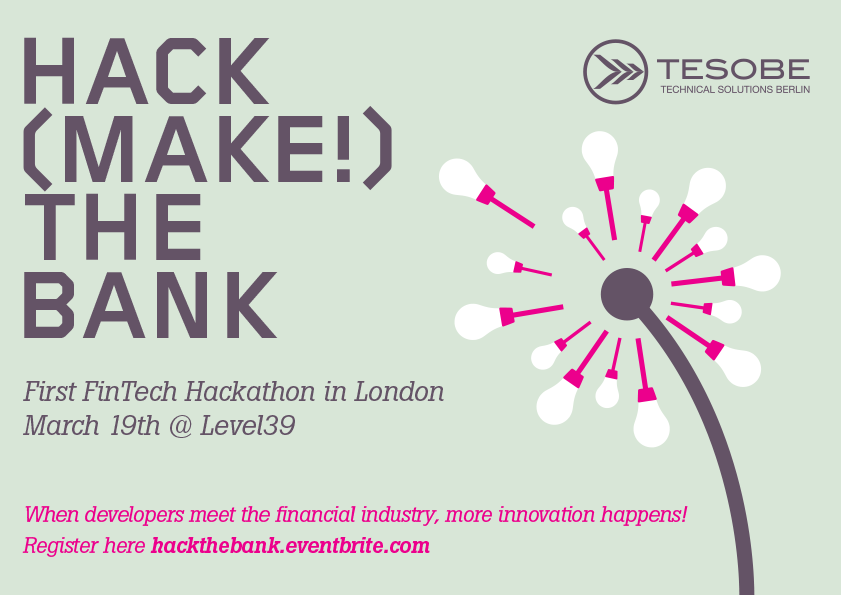 Overview
Located in a great place for sky high ideas, coding and views - this first of its kind Fin Tech Hackathon in London @ Level39 will host up to 50 programmers, designers and members of the financial services industry who will come together for a day of brainstorming and software creation.
Innovation and game changing ideas in retail banking, capital markets, payments, big data and beyond are all up for grabs.
A hackathon is a fun and collaborative session where a diverse crowd of designers and technology experts, collectively referred to as 'the hackers' quickly build (aka "hack together") cool innovative applications and show off the fruits of their labour at the end of the day.
Attendees will have a host of application programming interfaces (APIs) and services they can leverage and combine in order to bring their innovative ideas to life. They can participate alone or join a team. Each team will work on a FinTech idea developed during the hackathon or prior to it. All the participants will demo their hacks to a panel of bank executives, FinTech entrepreneurs and the general public at the end of the day.
This hackathon will be held at Level39, the biggest FinTech co-working space in Europe, located in Canary Wharf, the heart of London's financial industry and will include companies chosen for the first FinTech Innovation Lab London. The event is organised by TESOBE / Open Bank Project.
Agenda:
8:30 AM: Doors open
9:00 AM: Hello world & APIs Presentations
9:30 AM: Project fire-pitches and Group-forming
10:00 AM: hacking begins
13:00 AM: Lunch
6:00 PM: hacking ends
6:30 PM: Demos
7:30 PM: End
Break-out sessions with the API owners are going to be scheduled during the morning session in order to support the participants with the APIs they use.
API vendors onsite:
Registration
As the number of attendees is limited, registration is free but mandatory. Please make sure to register so that we can give you access to Level39. Beginners and non-developers are welcome!
Organiser of Hack (Make!) the Bank - Hackathon
Founder of the Open Bank Project, Berlin-based IT Consultancy - www.tesobe.com