Description
We have at our fingertips more tools than ever before. But are you using these resources to their fullest capacity? In this course, we'll explore how to maximize the platforms you use to make the biggest impact. From the latest, must-have apps for your phone and power tips for using your device, to the ins and outs of Instagram, to fresh design ideas for your school or library, get the inside scoop via top professionals in marketing, design, mobile tech, and more. Learn how you can build your library's brand and create a social media presence that wows. Best of all? You'll come away with professional skills you strengthen your own professional profile.

As a participant in the course, you'll take part in live speaker sessions and join the conversation via live chat. (All sessions are recorded for on-demand access.) Most importantly, you'll work with a dedicated advisor in an online coaching environment to gather resources and best practices and connect with peers from across North America (and beyond).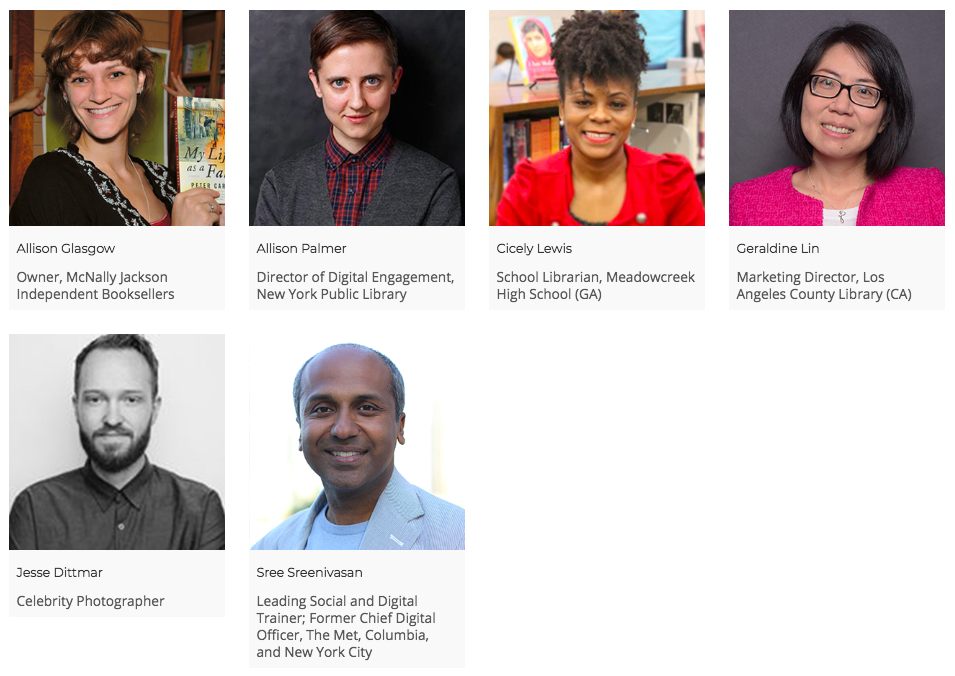 WEEK 1: Tuesday, October 30, 2018
Session 1 | 2:00-2:45 PM ET | Do Everything Better: Cultivating a Digital Brand
In this engaging opening session, we'll share how to make the most of your social toolkit, including Twitter, Facebook, and perhaps some new-to-you tools, with tips on marketing, branding, and how to use your phone to maximize your results. You'll hear from a top social media consultant and expert in personal branding with tips on how to do it all better and ensure your efforts yield the greatest results.
Speaker:
Sree Sreenivasan, Leading Social and Digital Trainer; Former Chief Digital Officer, The Met, Columbia, and New York City
Session 2 |
3:00-3:30 PM ET |

Low-Budget, High Impact: Brand-Building Guerrilla Marketing for Your Library


Looking for ideas to engage potential and current library users? Join the Director of the, 2018 LJ Marketer of the Year, marketing team who will lead this session, providing tips and best practices proven to render great results. Learn key elements for establishing your brand and capturing the attention of your community. Best of all: you can do it all on a budget!

Speaker:

Geraldine Lin, Marketing Director, Los Angeles County Library
Session 3 |
3:30-4:00 PM ET |

Hack Your Display!

Book displays can be a boon and a bane for librarians. How can you make the most of this critical marketing tool to engage and delight readers all year long? Ramp up your display skills in this dynamic workshop, where you'll work with a book design professional to learn key principles and apply them to real-life display scenarios. You'll come away with fresh ideas to craft knockout presentations. Learn to hack those commemorative dates and celebrations, glean creative ways to promote diverse books, and more, to create displays that wow.

Speaker:

Allison Glasgow, Owner, McNally Jackson Independent Booksellers
WEEK 2: Tuesday, November 13, 2018

Session 1 |
2:00-2:45 PM ET |

Understanding Instagram: Unlocking the Potential of the Hottest App

The red-hot social app for image sharing continues its meteoric rise, engaging one billion monthly users. It's a tool every institution should be using to spread its mission. Unlock its full potential in this program, with tips from a top account that you can apply at work and in your personal account. You'll learn how to make the most of Instagram Stories and longer video clips—a very recent development on the platform—to promote your brand and establish a following. We recommend reading our overview on InfoDocket about the #InstaNovels program, coordinated by speaker Allison Palmer, for the New York Public Library.

Speakers:

Cicely Lewis, School Librarian, Meadowcreek High School (GA)
Allison Palmer, Director of Digital Engagement, New York Public Library
Session 2 |
3:00-3:45 PM ET |

Getting the Shot: Lessons from a Celebrity Portrait Artist

Learn the secrets of taking better photos of people in this session featuring a top portrait photographer. He'll offer insight and beyond-the-standard advice to compose eye-catching images that capture the moment and pique your viewers' interest, including insider tips you can take with you to professional and personal settings alike.

Speaker:

Jesse Dittmar, Celebrity Photographer

Live Interactive Sessions: Tuesdays: October 30 and November 13. Plus, self-guided options and additional bonus content offered so you can follow along at your own pace. Certificate of Completion Provided.

Who should take this course?

Anyone seeking to advance their professional skills, including social media, from personal branding to institutional campaigns, and image-driven marketing. Course content will be relevant to library and K-12 professionals who serve the full age and demographic range.

Learning Outcomes: Guided by experts in the field, attendees of this course will:

Learn how to use the latest tools and social apps, through live demonstrations and tutorials.


Design a fresh approach to social media campaigns, book displays, and more, guided by marketing and design professionals.


Set goals based on their library's needs and develop a dynamic plan to meet those goals.

Discover and use available resources, including grants, to help support your efforts.


In the online classroom, you will: Work with a dedicated advisor and leading expert to define and refine your ideas, with one-on-one coaching and feedback. Connect with a group of like-minded professionals to workshop your plans.