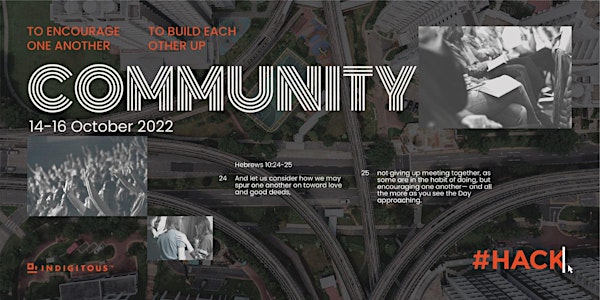 #HACK 2022 Singapore - Tech to gather, to love, and act.
#HACK 2022 is a global hackathon for believers and explorers of the faith to participate in digital missions and impact communities.
When and where
Location
Digital Mission@360 360 Dunearn Road Singapore, 299552 Singapore
Refund Policy
Contact the organizer to request a refund.
Eventbrite's fee is nonrefundable.
About this event
This year's event will be conducted in a hybrid form (both physically and virtually) between 14 and 16 Oct, and is centred around community.
Tech as a complement to community
Over the pandemic , we found novel ways to worship God and fellowship with one another, with the enablement of technology. As churches continue to reopen this year, many of these tech adoptions were retained, even becoming pivotal to several ministries.
Hence in this year's #HACK, we gather to strategise how we can use technology and the digital space to complement and enrich our physical communities, rather than being a mere alternative in a pandemic. We welcome anyone with an eager and Spirit-filled heart to come alongside - to "consider how we may spur one another on toward love and good deeds" (Hebrews 10:24)!
What can I expect?
We will first hear from challenge owners (a person from various churches or organisations) on an issue they face with regards to community. From there, we will form groups, making use of our various skills and talents to create solutions over the course of the weekend.
Afterwards, these solutions will be assessed with prizes to be won! We can also consider taking this project beyond the hackathon, further developing and implementing our solutions towards enriching God's kingdom!
What's the schedule like?
14 Oct 2022, Fri, 7:30pm – 10:00pm
#HACK Begins
Meet other participants and visitors as we come together to pray and align our hearts with the right posture.
The various challenge owners will then share about their challenge. From there we can further understand and clarify about the challenge, and form teams from there.
Thereafter, #HACKing officially begins!
15 Oct 2022, Sat, Whole Day
#HACK Continues
Day 2 of #HACK starts with a community worship, exhortation and prayers in small groups, followed by #HACKing as usual.
A consultation session is also made available from 5-10pm for teams to seek advice and hone their solutions.
In the evening, a global call is held with the rest of the #HACK cities around the world.
16 Oct 2021, Sun, 9.30am – 5pm
#HACK Concludes
Ready to submit your team's ideas? Be it a video, a deck, or a working prototype, your submission will be made available online.
All teams can present their solutions and experiences.
Who should join?
Anyone! We call out not only to kingdom entrepreneurs, technologists and designers, but to anyone who wants to serve the Lord and serve fellow brothers and sisters in novel ways. Don't worry, you are able to contribute to the team in one way or another!
We also invite both individuals and groups of friends to join! Teams are usually formed after the challenge owners share about their challenges. These teams will then discuss their ideas and strategies to tackle the problems, and can consist of groups of friends or individual participants.
What are the challenges?
There are a total of 4 challenges to choose from, focusing on different aspects of community! They are:
1. Technology in Spiritual Friendship
How can we make use of tech to encourage the development of Spiritual Friendship (Using the 3-2-1 model as a reference)?
2. Community 3.0
How can we have a digital church? Which part of it can be digital?
3. Community - The Digital Era Expansion Project (D.E.E.P)
How can we use technology to engage / build a community for people who cannot / will not attend a physical church and disciple them online?
4. Intergen Community
How can we bridge the digital divide between the young and seniors in church?
FAQ
1. If I can't join in person, can I participate online?
Yes! We are organising this event in a hybrid format. Participants can come online and form teams through zoom, though we hope to see you in person 😉
2. The event spans over 3 days, does it mean I can stay overnight at the venue?
You have sharp eyes and keen senses. Indeed, we welcome you to stay overnight at our partner's venue - Digital Missions at 360. Though there are no available beds, participants can experience the life of a #hacker and stay up overnight to develop a solution.
3. Are food provided during the event?
We are sad to let you down 😔 but no food will be provided. However, there are some great food around the area though like Adam Road Food Centre, a 24 hours McDonald's, Guzman Y Gomez, and cafes just round the corner.
4. Do I have to be a coder/developer 🧑🏻‍💻 to join this event?
Absolutely not! We hope people from all walks of life and experiences to come and join us. Just as a church is made up of different people, some are better at leading, some are better at worship, while some are better at teaching. Likewise, you might not be a coder/developer, but you provide different perspectives and value to the team.
#HACK 2019
Here is an overview of what you can expect at #HACK 2022 this year!