Location
Digital Mission@360
360 Dunearn Road
Singapore, 299552
Singapore
Sales Have Ended
Ticket sales have ended
Thank you! See you at #HACK 2019 on Oct 4, at 360 Dunearn Road, Singapore 299552. Registration begins at 6.30pm.
#HACK - a global missional hackathon happening in over 30 cities across the world, on 4th - 6th Oct 2019.
About this event
"Every heart without Christ is a mission field; Every heart with Christ is a missionary by vocation."
- David Kim
What would missions in a digital world look like?
Imagine a world where the fullness of technology is used to bring impact to wherever people are - on every screen. With willing hearts and our God-given skills, we can advance His Kingdom in the digital space.
Join us for the 4th edition of #HACK from 4-6 October 2019 (Friday - Sunday) as we come together to ideate and create solutions to various challenges on innovation and social issues.
For more than 3 years, Vivien has been a volunteer with Indigitous Singapore. This year, we are excited to have her lead the 4th edition of #HACK Singapore. Hear what she has to say about her vision of what this year's #HACK is about!
The Spirit Behind #HACK
A new commandment I give to you, that you love one another, even as I have loved you, that you also love one another. By this all men will know that you are My disciples, if you have love for one another.
- John 13: 34-35
The heart of #HACK is about loving and strengthening the Church (Body of Christ) through building digital strategies and solutions for God's missional work. This usually involves collaboration across organisations and teams.
Our actions stem from a desire to see selfless sharing of resources for God's Kingdom work, to deepen love and unity within the Church, and to see impact.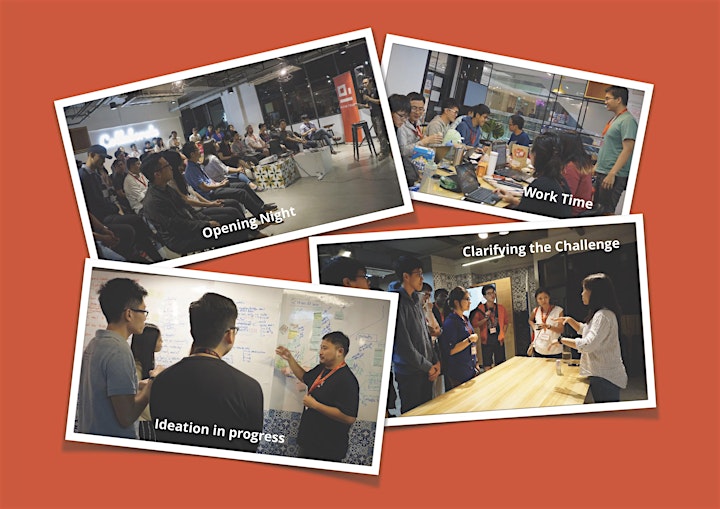 What You'll Work On
You'll get to choose to work on projects that you are passionate and care about.
Every year, challenges with different areas of impact are presented to #HACK participants to work on.
Challenge #1
The Sharing Economy. The Sharing Church.
"Now the multitude of those who believed were of one heart and one soul; neither did anyone say that any of the things he possessed was his own, but they had all things in common. And with great power the apostles gave witness to the resurrection of the Lord Jesus. And great grace was upon them all. Nor was there anyone among them who lacked; for all who were possessors of lands or houses sold them, and brought the proceeds of the things that were sold, and laid them at the apostles' feet; and they distributed to each as anyone had need." - Acts 4:32-35
Imagine a repository of Christian resources that can be shared and used for God any time. How can we share what we have with one another?
Churches and missional organisations can then focus on people, where we can value people for who they truly are. Content and other needs need not be a bottle neck anymore.
Sharing could be about:
a) Events, Venues, Amenities
b) Collaborative Devotions, Bible-Reading Plans, Christian Materials, Commentaries such as Church History, Life of Jesus, etc.
c) People for Missions: Connecting like-minded people for various Christian Projects (NGOs and VWOs such as Tamar Village, Focus Family, etc)
d) Data Repository: For digital strategy, data is important. How can we get aggregated sources of data that will help us measure the various diverse solutions? Accurate sources of data are required to make accurate assessments of the challenges faced in the ministry, in order to create the most impact.
e) Funds Transparency: How can we help missionaries establish accountability through blockchain or other technology? How can we spread fairly the distribution of missional funds? For example, when we sponsor a discipleship training material from IDMC to another young church plant in Mongolia, we would be able to know where the money is going to and what it is used for.
e) Others (feel free to ideate and discuss)
Challenge #2
Loving Our Strangers [Migrant x Me]
"The stranger who resides with you shall be to you as the native among you, and you shall love him as yourself" - Leviticus 19:34
In 2018, there were close to 1 million foreign workers who contributed to the continuous development of Singapore.
Many of them work in industries and jobs that Singaporeans shun away from (i.e. construction, cleaning and marine shipyards, etc.) Because of their hazardous job nature, workplace injuries are rather common.
How can we prevent injured migrant workers from being exploited by lawyers and employers, due to their lack of accessibility, awareness and understanding of the law?
Challenge #3
Mission without Borders
Part of our Singapore's call as the Antioch of Asia, we are partnering with Philippines in developing this challenge mission.
"Whoever receives one of these little children in My name receives Me; and whoever receives Me, receives not Me but Him who sent Me." - Mark 9:37
Cebu City is the Philippines's second most populated city. There are many families here who live in informal settlements and struggle to meet their daily basic needs. Many of them are in large families with many children, but there's only one primary caregiver (or none) who is working for an income, albeit a meagre one. Young parents are generally below 20 years old.
Malnutrition among children in the slums is high, not only because nutritious food isn't always affordable, but also because of a lack of knowledge about nutrition. This has a knock-on effect on the susceptibility of children to ill health and endemic diseases such as dengue. Travelling to a medical institution is time-consuming, especially if the journey needs to be made on foot because of their inability to pay for public transport.The time spent waiting for a medical appointment, rather than earning a livelihood through work where earnings are often dependent on the labour and time they can offer, presents an opportunity cost. The cost of medical services and medicines is also beyond what most of these families can afford.
Is there a technological solution for improving the accessibility and affordability of healthcare for children in urban poor communities in Cebu City, the Philippines?
Challenge #4
A Billion to Reach Billions [Antioch for Asia]
"How then shall they call on Him in whom they have not believed? And how shall they believe in Him of whom they have not heard? And how shall they hear without a preacher? And how shall they preach unless they are sent? As it is written: "How beautiful are the feet of those who preach the gospel of peace, Who bring glad tidings of good things!" - Romans‬ ‭10:14-15‬
Because Singapore has been blessed to be a blessing. We need to steward what God has given us as a nation to rise up to the call of being the Antioch of Asia. Singaporean Christians have the means and talents to play a part in the taking the gospel to the ends of the earth.
But the traditional missions narrative needs to be disrupted and all Christians in Singapore need to realise that they have something in their hands which they can lay down before the Lord of the Harvest to take the gospel to a people's who have never heard the name of Jesus. Within a 3 hour flight time from Singapore are 317m people in 701 Unreached people groups. Within a 7 hour flight time 2.7billions in 5431 Unreached People Groups (UPGs).
How can we help Christians in different phases in life discover, learn about and contribute towards reaching people at the 'ends of the earth' for Christ?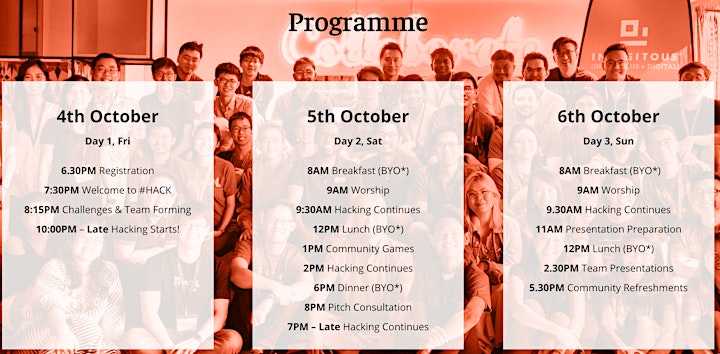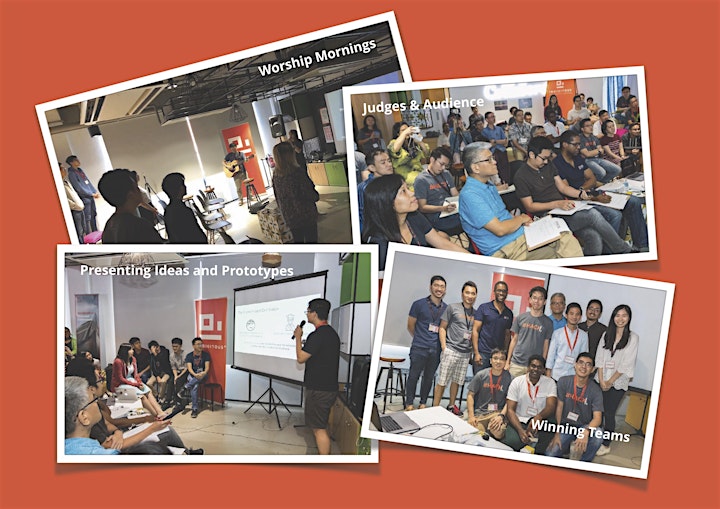 Who is #HACK For?
#HACK participants typically have skillsets in Web Development, Design, UX, Data Engineering, Software Engineering, System Design, Marketing, Project/Product Management.
However, the hackathon is open to everyone. In fact, we have had #HACKers that were from a non-digital background, and won awards!
What Will You Receive from #HACK2019
A community of friends (John 13:3) -> A new commandment I give to you, that you love one another: just as I have loved you, you also are to love one another. By this all people will know that you are my disciples, if you have love for one another."
SWAG items
Community Refreshments on 6 October (Sunday)
Proverbs 11:24-25 -> One gives freely, yet grows all the richer; another withholds what he should give, and only suffers want. Whoever brings blessing will be enriched, and one who waters will himself be watered.
Acts 20:35 - In all things I have shown you that by working hard in this way we must help the weak and remember the words of the Lord Jesus, how he himself said, 'It is more blessed to give than to receive.'"
Organised by Indigitous
Indigitous is a local and global community of believers from 4 broad backgrounds (tech, design, strategy/innovation, media), engaging one another with ideas to advance God's Kingdom in the digital space.
We are keen to bring like-minded folks together and grow our connections to fellow brothers and sisters who would like to do the same. One of the ways we do that is through #HACK, a missional hackathon engaging with challenges from ministries ministering to groups that burden His heart, such as suicidal people, red light workers, child abuse victims etc, and also with a missional focus. We've worked with local organisations such as Tamar Village, World Vision, Focus on the Family, CRU (Campus Crusade), and more.
God has placed in our hearts a vision that missional work can go beyond the traditional; that some efforts are ground-up, that is, from the everyday Christian, and can be in the digital realm where millions of souls now spend a big chunk of their time. We want to build a platform that helps Christians grow closer to God through fellowship and working for His kingdom, using the talents He gave us.
The core team organising efforts here in Singapore comprises of 8 people, from different churches and different backgrounds, but united in Him.