Event Information
Refund Policy
Contact the organizer to request a refund.
Eventbrite's fee is nonrefundable.
About this Event
"Every heart without Christ is a mission field; Every heart with Christ is a missionary by vocation."
- David Kim
What would missions in a digital world look like?
Imagine a world where the fullness of technology is used to bring impact to wherever people are - on every screen. With willing hearts and our God-given skills, we can advance His Kingdom in the digital space.
Join us for the 4th edition of #HACK from 4-6 October 2019 (Friday - Sunday) as we come together to ideate and create solutions to various challenges on innovation and social issues.
The Spirit Behind #HACK
A new commandment I give to you, that you love one another, even as I have loved you, that you also love one another. By this all men will know that you are My disciples, if you have love for one another.
- John 13: 34-35
The heart of #HACK is about loving and strengthening the Church (Body of Christ) through building digital strategies and solutions for God's missional work. This usually involves collaboration across organisations and teams.
Our actions stem from a desire to see selfless sharing of resources for God's Kingdom work, to deepen love and unity within the Church, and to see impact.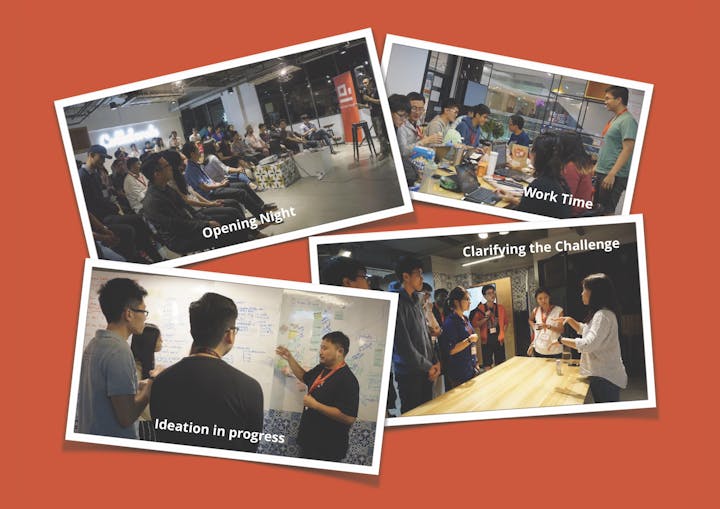 What You'll Work On
You'll get to choose to work on projects that you are passionate and care about.
Every year, challenges with different areas of impact are presented to #HACK participants to work on.
Challenge #1
The Sharing Economy. The Sharing Church.
"Now the multitude of those who believed were of one heart and one soul; neither did anyone say that any of the things he possessed was his own, but they had all things in common. And with great power the apostles gave witness to the resurrection of the Lord Jesus. And great grace was upon them all. Nor was there anyone among them who lacked; for all who were possessors of lands or houses sold them, and brought the proceeds of the things that were sold, and laid them at the apostles' feet; and they distributed to each as anyone had need." - Acts 4:32-35
Imagine a repository of Christian resources that can be shared and used for God any time. How can we share what we have with one another?
Churches and missional organisations can then focus on people, where we can value people for who they truly are. Content and other needs need not be a bottle neck anymore.
Sharing could be about:
a) Events, Venues, Amenities
b) Collaborative Devotions, Bible-Reading Plans, Christian Materials, Commentaries such as Church History, Life of Jesus, etc.
c) People for Missions: Connecting like-minded people for various Christian Projects (NGOs and VWOs such as Tamar Village, Focus Family, etc)
d) Data Repository: For digital strategy, data is important. How can we get aggregated sources of data that will help us measure the various diverse solutions? Accurate sources of data are required to make accurate assessments of the challenges faced in the ministry, in order to create the most impact.
e) Funds Transparency: How can we help missionaries establish accountability through blockchain or other technology? How can we spread fairly the distribution of missional funds? For example, when we sponsor a discipleship training material from IDMC to another young church plant in Mongolia, we would be able to know where the money is going to and what it is used for.
e) Others (feel free to ideate and discuss)
Challenge #2
Accelerating Innovation in the Kingdom.
#2 IDEA: Indigitous Hub as the Innovation Center
For precept must be upon precept, precept upon precept; line upon line, line upon line; here a little, and there a little. - Isaiah 28:10
Most of us have many ideas. What if we can spend less time on reinventing the wheel, and build upon what others have started?
Put forth by Indigitous, this challenge involves creating an innovation resource hub that supports members of the Indigitous community working on projects of Kingdom impact. Help us to build a suite of resources and micro-services that can help teams get started quickly, or continue work done by previous teams. We can encourage partnership and redefine "Kingdom (API/services) Building.
"Micro-services" and resources might include:
a) Beginner-friendly guides and codes to encourage non-techie participants to be able to build technical solutions
b) Common blueprint/lingo for coders to design, build and integrate solutions with other participants globally
c) Easy archival and test-on-demand of solutions that were built during #HACK or solutions in incubation
d) Long-term pipelines as a definitive model for solution incubation/acceleration
e) Interactive UI that enables "shopping" for solutions (both functions and data)
f) Sandbox to customise solutions for potential partners
Stay Tuned for More Challenges.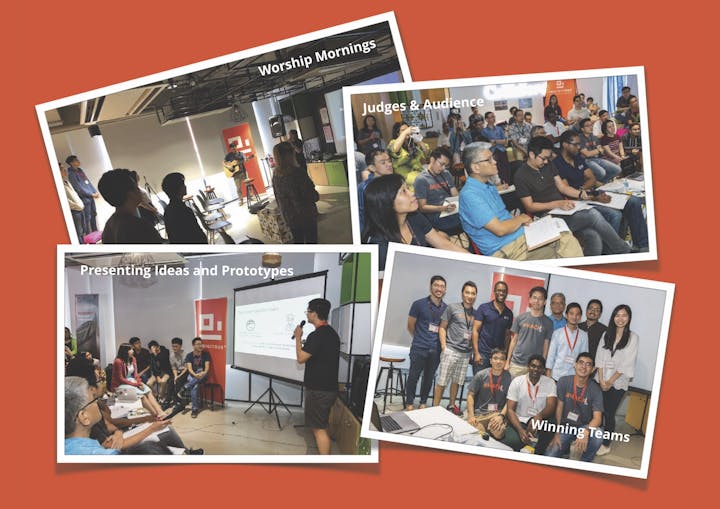 Who is #HACK For?
#HACK participants typically have skillsets in Web Development, Design, UX, Data Engineering, Software Engineering, System Design, Marketing, Project/Product Management.
However, the hackathon is open to everyone. In fact, we have had #HACKers that were from a non-digital background, and won awards!
Organised by Indigitous
Indigitous is a local and global community of believers from 4 broad backgrounds (tech, design, strategy/innovation, media), engaging one another with ideas to advance God's Kingdom in the digital space.
We are keen to bring like-minded folks together and grow our connections to fellow brothers and sisters who would like to do the same. One of the ways we do that is through #HACK, a missional hackathon engaging with challenges from ministries ministering to groups that burden His heart, such as suicidal people, red light workers, child abuse victims etc, and also with a missional focus. We've worked with local organisations such as Tamar Village, World Vision, Focus on the Family, CRU (Campus Crusade), and more.
God has placed in our hearts a vision that missional work can go beyond the traditional; that some efforts are ground-up, that is, from the everyday Christian, and can be in the digital realm where millions of souls now spend a big chunk of their time. We want to build a platform that helps Christians grow closer to God through fellowship and working for His kingdom, using the talents He gave us.
The core team organising efforts here in Singapore comprises of 8 people, from different churches and different backgrounds, but united in Him.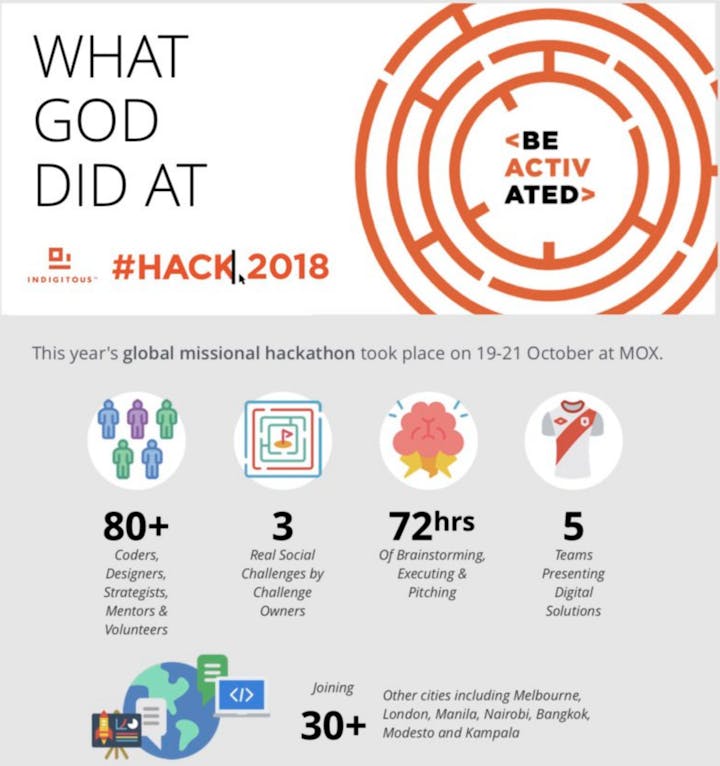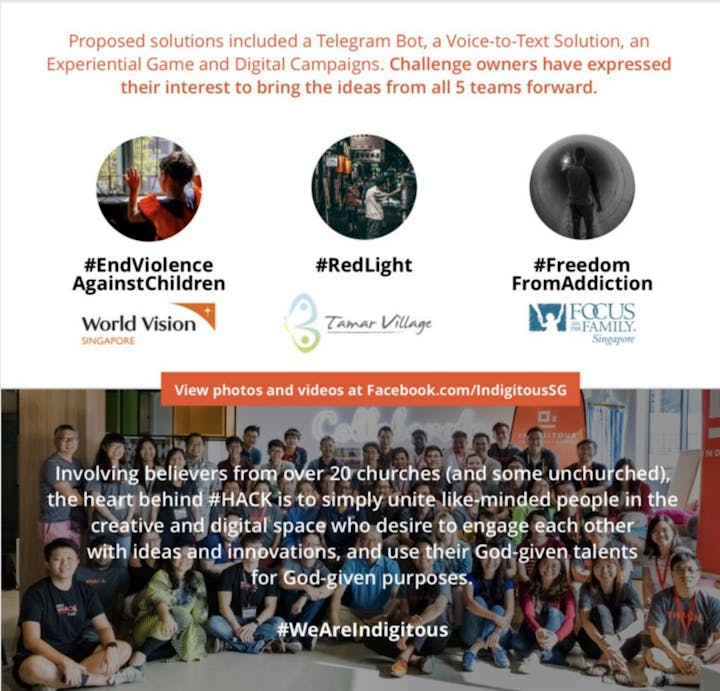 Date and Time
Refund Policy
Contact the organizer to request a refund.
Eventbrite's fee is nonrefundable.