Event Information
Refund Policy
Contact the organizer to request a refund.
Eventbrite's fee is nonrefundable.
About this Event
Imagine a world of possibilities - where we ride on the fullness of technology to being impact wherever we are. With willing hearts and skills, we can be the change that we want to see in our world.
We have seen the advancement of technology in recent years, and the best is yet to come.
How do we fully use technology for good? Let's gather, unite and collaborate on idea solutions to solve our world's challenges.
Join us for the 4th edition of #hack from 4-6 October 2019 (Friday - Sunday) as we ideate and engage with our community to work on the various digital and social issues. Every person or organisation, big or small, should have the chance to benefit from social innovation. No idea nor challenge statement is too small to warrant a new angle to re-examine it.
Bringing you a new series of #hack2019 - on top of problem challenges to be hacked, you can also hack through challenge-ideas (with Indigitous SG as the challenge owner) to envision various ideal possibilities.
WHY #hack?
1) Strengthen and build the Church (Body of Christ) by supporting one another through digital strategies and solutions for God's missional work. This means effective collaboration between organisations, engagement of communities and fragmented silo-ed teams.
2) Selfless sharing of resources for God and His Kingdom
Technology is a great tool/ vehicle that we optimise to accelerate God's Kingdom on earth.
3) Deepen love and unity within the Church
John 13: 34-35 - A new commandment I give to you, that you love one another, even as I have loved you, that you also love one another. By this all men will know that you are My disciples, if you have love for one another.
-----
Challenges and Ideas
Read through the various challenges and ideas put forth by various members in the Indigitous SG Team and other organisations. Back those that you are passionate about and would like to serve God with your skills.
#1 IDEAS: The Sharing Economy. The Sharing Church. The Collaborative Communities.
"Now the multitude of those who believed were of one heart and one soul; neither did anyone say that any of the things he possessed was his own, but they had all things in common. And with great power the apostles gave witness to the resurrection of the Lord Jesus. And great grace was upon them all. Nor was there anyone among them who lacked; for all who were possessors of lands or houses sold them, and brought the proceeds of the things that were sold, and laid them at the apostles' feet; and they distributed to each as anyone had need." - Acts 4:32-35
Imagine a repository of Christian resources that can be shared and used for God any time, anywhere around the world without the need to reinvent the wheel.
Organisations can focus on people, where we can value people for who they truly are. Content need not be a bottle neck anymore.
How can we build and expand God's Kingdom with what we have?
Information sharing might include:
a) Event Information, Venue, Amenities of Christian Events
b) Collaborative Devotions, Bible-Reading Plans, Christian Materials, Commentaries such as Church History, Life of Jesus, etc.
c) Missional Accelerator: Connecting resources for various Christian Projects (NGOs and VWOs such as Tamar Village, Focus Family, etc)
d) Data Repository
For digital strategy, data is important. How can we get aggregated sources of data that will help us measure the various diverse solutions?
As a Christian Entrepreneur, accurate sources of data is required to make accurate assessments of the challenges faced in the ministry, to create the most impact.
e) Funds Transparency
When people fund missionaries or projects, they can easily trace the progress status (i.e. acquisition, usage, transference, etc) of resources found in a secured technology network. Instead of relying on missionaries' accountability (or a lack of), funders and sponsors can have full clear transparency of the funds' progress status.
For example, when we sponsor a discipleship training material from IDMC to another young church plant in Mongolia, we would be able to know where the money is going to and what it is used for.
e) Others (feel free to ideate and discuss)
Skillsets: Web Dev, UX, Data Engineers, Software Engineers, Architects, Marketing, Project/ Product Management
#2 IDEA: Indigitous Hub as the Building Blocks
Most of us have many ideas. What if we can transform these ideas into realities?
Applying design thinking concepts and lean startup frameworks, we facilitate incubation for churches and organisations to transform ideas into viable solutions.
At the heart of our mission to raise and support missional projects, Indigitous Hub provides an innovation centre and API portal for everyone through a connected and collaborative community,
How do we build long-term continuity of ideas and proof of concepts as well as overcome challenges/ inefficiencies faced by across churches and organisation?
For precept must be upon precept, precept upon precept; line upon line, line upon line; here a little, and there a little [Isaiah 28:10]
Microservices might include:
a) Beginner-friendly guides and codes to encourage non-techie participants to be able to build technical solutions
b) Common blueprint/lingo for coders to design, build and integrate solutions with other participants globally
c) Easy archival and test-on-demand solutions that were built during #HACK or solutions in incubation
d) Long-term pipelines as a definitive model for solution incubation/accelerator
e) Interactive UI that enables "shopping" for solutions (both functions and data)
f) Sandbox to customise solutions for potential partners
g) Encourages partnership and redefines "Kingdom (API/services) Building"
Thy Kingdom come, Thy Will be done on earth as it is heaven (Matthew 6:10), through His people (of willing hearts and skills). Join us today.
With global presence across multiple cities, Indigitous engages various communities (regardless of Christian backgrounds) with their diverse skills for God. Ultimately, we want to strength the Body of Christ for His Glory.
Stay tuned for more challenges and ideas coming your way.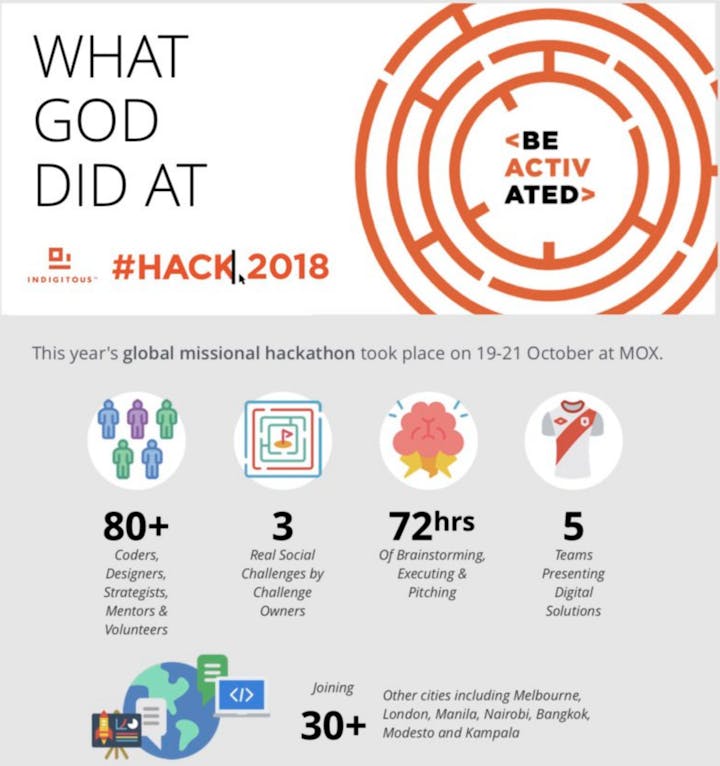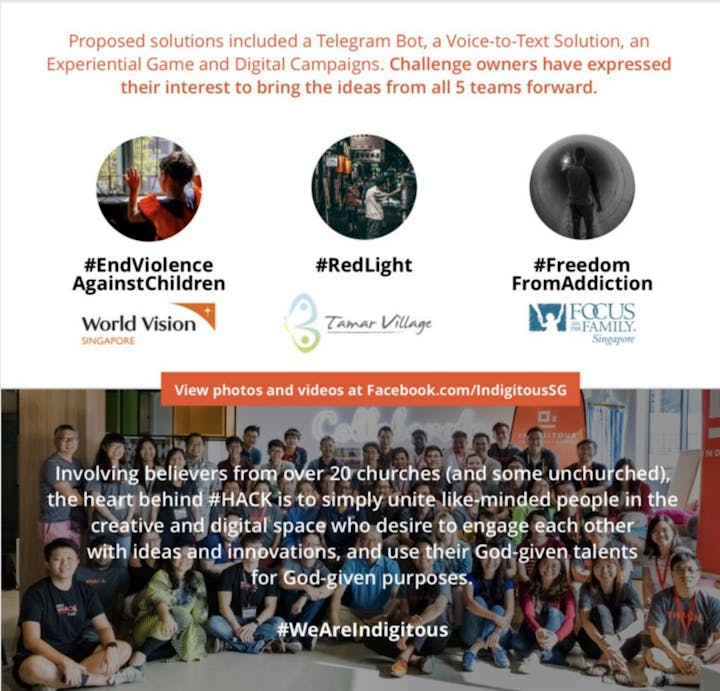 Date and Time
Refund Policy
Contact the organizer to request a refund.
Eventbrite's fee is nonrefundable.