Description
Join us on April 26-27 in Chicago for HACE's 36th Annual Leadership Career Summit and Awards Gala. The summit will be held in Fulton Market area, Chicago's quickly developing epicenter of innovation and technology or also nicknamed "Silicon Prairie".
This year's theme of "Dismantling Biases, Building Inclusive Leadership" will facilitate critical dialogues on various timely issues Latinos face in the workplace and showcase best practices and stories to inspire individuals to become leaders and owners of their own destiny in the workplace, life and for their communities.
HACE's Annual Leadership Career Summit attracts hundreds of engaged individuals from around the nation, from various sectors and industries, and from all experience levels. The summit provides a powerful learning and networking opportunity for all professionals, whether well established in their career, or looking to transition.
Locations
April 26, 2018 Conference at Morgan Manufacturing
April 27, 2018 Awards Gala at Revel on Fulton.
Register today! Summit Full Access tickets and Gala tickets available now.
Rates
All Day Access Conference Tickets:
Standard Rate: $125
HACE Alumni Rate: $100
Contact maria@haceonline.org for special rules.
Career Expo Fair Tickets:
Free (Allows access only to activities from 2pm - 5pm)

Individual Rate: $250
Tables Sponsorships for 10 seats: $5,000
Sponsorships:
For Sponsorships, please contact Michael@haceonline.org
Summit Agenda
Thursday, April 26, 2018
7:30am – 4:00pm
Registration Opens
8:00am – 9:30am
Opening Plenary Breakfast of Latino Executives: Dismantling Biases, Building Inclusive Leadership.
To kick off this year's event, we will feature a panel of Latino Executives to on dismantling biases and barriers Latinos face in the workplace while fostering spaces that build inclusive leadership.
9:30am – 11:30am
Career Exploration Expo
An interactive career expo with over 30 companies looking to connect and hire Latinos from entry level to experienced. Bring plenty of resumes and business cards to seize your next career move.
9:45 am – 10:45 am - Breakout Sessions - Part 1
The impact of Latina Women in Powerful Roles (Hosted by Mujeres de HACE)
Latino Authenticity in Corporate America (Hosted by HACE Young Professionals)
Take Your Career to the Next Level: from Manager to Director (Sponsored by Sodexo)
10:30am - 11:30am - Breakout Session - Part 2
Hombres de HACE - Exploring Personal Challenges Holding Back Latino Men at Work, Home and Life (Hosted by HACE Nonprofit Leadership Academy)
11:00am – 12:00pm - Breakout Sessions - Part 3
Mastering Emotional Intelligence to Lead Inclusive Teams (Hosted by HACE University Leadership)
BRG/ERG 2.0 – Demonstrating Impact on the Business (Sponsored by Merck)
Effective Recruitment Strategies for Latino Talent (Sponsored by Nielsen)
12:30 pm – 2:00 pm Luncheon & Awards Ceremony Celebrating 10 Years of Mujeres de HACE (Sponsored by MillerCoors)
Our women's leadership program, Mujeres de HACE, is celebrating 10 years of empowering and developing Latina leaders. Hear from a diverse panel of women who have gone through the program and continue to live the mission of HACE through their work. We will also be recognizing ten Mujeres de HACE alumnae who have given back to their community and have demonstrated leadership in their personal and professional life. Awards will be presented to the top four awardees.
Keynote: Julissa Arce, Immigrant Rights Advocate, Author, BusinessWoman

Lunch will be provided for All Day Access Ticket Holders and Sponsors.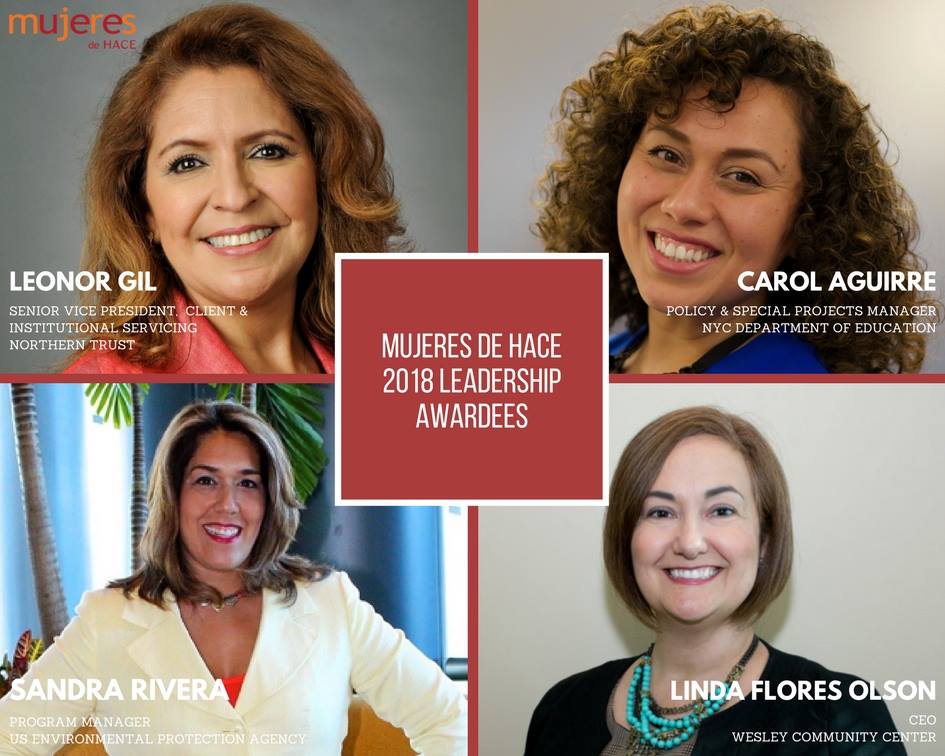 2:30pm – 3:30pm Breakout Sessions - Part 4
Why Internships Matter to Launch Your Career? (Track for University Students) (Sponsored by PepsiCo)
Millennial's Definition of Inclusion (Track for Young Professionals) (Sponsored by AT&T)
How to Achieve Personal Mastery (track for Experienced Professionals) (Hosted by HACE Leadership Academy)
3:00pm - 4:00pm Roundtable Discussions
Storytelling: Nonprofit/Education/Government Leadership (Hosted by West Loop Community Organization)
Launch Your Business Now! (Hosted by IHCC)
Leveraging Experience for Career Transition (Sponsored by U.S. Cellular)
3:45pm – 4:45pm Breakout Sessions - Part 5
Building the Latino Pipeline in STEM (Hosted by El Futuro)
The ABC's to Achieving a Prosperous Future: The Foundation Needed to Build Wealth (Hosted by HACE National Board of Directors)
2:00pm – 5:00pm

Career Expo Re-Opens
An interactive and innovative career expo with over 30 companies looking to connect and hire individual like you. Bring plenty of resumes and business cards to seize your next career move.
Career Coaching Sessions
Career Coaching sessions offer an opportunity for you to meet with professional career coaches. Receive top caliber coaching guidance on topics of your choosing, including but not limited to resume, career transitioning and salary negotiation.
Latino Authors Lounge
Conversation and book signing featuring four Latino authors.
Professional Headshots and Networking
Building your personal branding starts with your appearance. Free professional headshots for all attendees to improve your LinkedIn Profiles or personal websites and bios.
5:00pm – 7:00pm
Networking Reception
Don't miss this large networking event to expand your network, strike business connections and interact with recruiters. Event sponsored by Constellation Brands, Don Julio, Buchanan's, and Redbull.
Friday, April 27, 2018
8:30am 11:30am
Chief Diversity Officers Roundtable Breakfast (invite only to HACE partners)
6:00pm-11pm
HACE's Annual Awards Gala and Anniversary Celebration of Mujeres de HACE