Description
Members-Only Ask The Expert Call
Habits of Highly Effective CFOs
Friday, January 19, 2018
12:00PM - 1:00PM ET
Speaker: our very own Jack McCullough, Founder, CFO Leadership Council
Join us for our Ask The Expert where members join a virtual roundtable discussion lead by experts on different topics most important to members.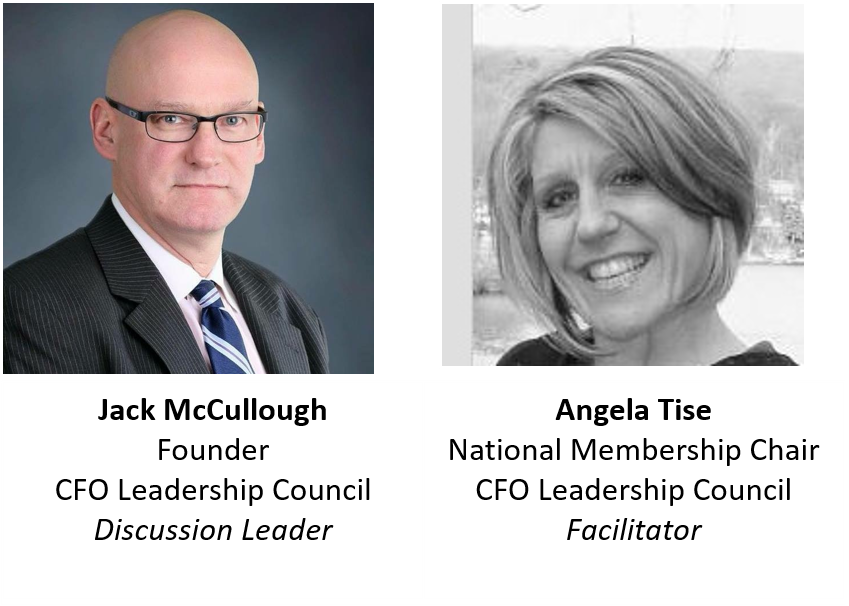 In this hour-long call "The Habits of Highly Effective CFOs" presentation, Jack will focus on the habits that separate elite CFOs from the merely competent ones, and he will also include a brief history of the evolution of the CFO from "best accountant" to "strategic partner". His presentation will highlight the key focus areas and he will discuss each in depth - think strategically, communicate effectively, master deal making, build teams, serve as a trusted advisor, behave cross-functionally, maintain financial expertise, and provide ethical leadership.
Whether you are an aspiring and first-time CFO or a financial leader with decades of experience willing to approach the CFO agenda with a different lens - this discussion will be perfect for you! This will be a highly interactive session that discusses the qualities that Jack's research indicates are most important for long-term excellence from financial leaders. Bring your questions!
In his role as the founder of the CFO Leadership Council, he has spoken to hundreds of CFOs and other executives including CEOs, venture capitalists, independent board members and others. A recognized expert on matters facing chief financial officers, Jack has been quoted by the Wall Street Journal, CFO Magazine, Treasury and Risk Management, and Business Finance Magazine, and has also been interviewed by Bloomberg, CNN, and Fox Business Network. Most recently, Jack spoke at the Intacct Advantage Conference in Oct 2017 and his presentation was ranked #2 among attendees.
Jack McCullough has been a CFO for 26 different companies, Founder of the MIT Sloan CFO Summit (most influential CFO conference in the history of western civilization) and most recently, Founder of the CFO Leadership Council. He is a financial genius, strategic visionary, and a surprisingly good dancer for a big man. He humbly will admit to being a world-class flamenco dancer and inventor of the high-five.
Registration
To register for this program, simply click on the green tickets button. All CFO Leadership Council members can attend this event for free. Non-member senior financial executives who are CFOs, Vice Presidents of Finance, Directors of Finance and Controllers (or the like) are welcome to attend this program.

Note: Dial In info will be sent in your registration confirmation
Please note that these calls are offered to current CFOLC members only. The CFO Leadership Council reserves the right to decline any registration.
---
More Information
For more information about this program or The CFO Leadership Council, please contact Angela Tise, Northeast Regional Director at angela@cfolc.com.
About our Speaker:
Jack McCullough, Founder, The CFO Leadership Council
With the vision of providing world class professional development programs and networking events for chief financial officers, Jack founded The CFO Leadership Council in 2006. Under his leadership, the organization achieved national recognition. Formerly, Jack was the Director of KPMG's Global Innovation Center, where he worked with early-stage investors, entrepreneurs, CFOs, and other members of the venture community. Prior to KPMG, he served as a CFO for 26 startups, raising more than $200 million in capital. In addition, Jack is a founder of the MIT Sloan CFO Summit, which has been recognized as the world's most influential conference for financial leaders.
As a former chief financial officer, entrepreneur, and recognized expert on financial matters, Jack can empathize with the challenges that corporate leaders face in growing today's businesses. In addition to developing a venture capital course for Harvard Business School and MIT Sloan MBA candidates, he has been interviewed by Bloomberg, CNN, and Fox Business Network and quoted by the Wall Street Journal, CFO Magazine, Treasury and Risk Management, the Boston Business Journal, and Business Finance Magazine. A true entrepreneur at heart, Jack recently partnered with Kevin O'Leary of Shark Tank fame to launch a new accelerated hair growth product. He attributes his sustained high-performance equally to the TB12 Method and his weekly ukelele street performances.
Jack holds an undergraduate degree from Suffolk University and an MBA from MIT's Sloan School of Management.