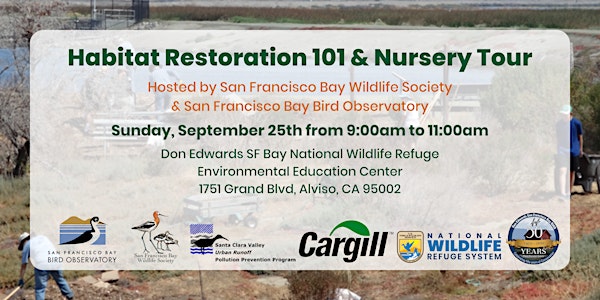 Habitat Restoration 101 & Nursery Tour
Want to know more about restoration projects taking place around the San Francisco Bay? Join us for Restoration 101 and a nursery tour!
When and where
Location
Don Edwards San Francisco Bay National Wildlife Refuge Environmental Education Center 1751 Grand Blvd San Jose, CA 95002
About this event
Want to learn more about the large-scale restoration projects taking place around the San Francisco Bay? Interested in how the Don Edwards SF Bay NWR and its partners take part in daily restoration activities? Looking to improve your outdoor spaces and make them more watershed-friendly and drought-resistant?
In this new program developed by San Francisco Bay Wildlife Society and San Francisco Bay Bird Observatory, you will learn about the various projects taking place on Refuge land, how you can get involved, and how our partners are doing the work to create more resilient ecosystems for a more sustainable future! We will spend time in the EEC's Butterfly Garden, maybe get our hands dirty pulling some weeds (just kidding, gloves will be provided), and check out the work that SFBBO is doing in the on-site plant nursery.
This program will also allow for a closer look at activity from Phase 1 of the South San Francisco Bay Shoreline Levee Project. Read more here: https://www.valleywater.org/project-updates/2012-e7-san-francisco-bay-shoreline-protection#:~:text=The%20United%20States%20Army%20Corps,Union%20Pacific%20railroad%20to%20the.
Other Considerations:
- Participants in this program will walk approximately 0.5 miles as we explore the Butterfly Garden and the Nursery.
- Driving Directions: We recommend using Google Maps and mapping to the "Environmental Education Center (EEC)" or 1751 Grand Blvd, Alviso, CA 95002.
- We expect the weather to be warm and sunny, so we encourage everyone to wear sun protection like sunscreen, hats, and sunglasses and bring plenty of water and snacks! We also encourage you to wear comfortable and breathable clothes that are good for exploring the trails and bring layers in case it gets a bit windy.
- ADA-compliant parking spaces, trails, and restrooms are available on-site.
- Restrooms will be available on-site in the form of an ADA-compliant portable toilet and hand-washing station.
- Please follow safety precautions and abide by CDC guidelines. https://www.sccgov.org/sites/covid19/Pages/home.aspx
- For information on how you can help keep our watersheds and the Bay clean by preventing urban runoff pollution, visit: http://www.mywatershedwatch.org/.
This program is brought to you by the San Francisco Bay Wildlife Society (SFBWS), the San Francisco Bay Bird Observatory (SFBBO), Cargill, Inc., and the Santa Clara Valley Urban Runoff Pollution Prevention Program (SCVURPPP).