Event Information
Refund Policy
Contact the organizer to request a refund.
Eventbrite's fee is nonrefundable.
Artists with disabilities and top designers partner on a series of events and online shopping experiences to make a home your habitat.
About this Event
Each year, Creativity Explored artists with disabilities partner with designer brands to celebrate the creative harmony of art and design.
This year our collaboration comes home with a virtual pop-up on the new CE website and a series of inclusive events that celebrate the process of imagination and creation.
Featuring original CE artwork and one-of-a-kind decor items, the Habitat collections offers three key elements that make a home your habitat – color, texture, form. Curated by top designers and architects each collection of art and objects will inspire you to create charming spaces where you can grow and thrive.
Plus, CE art will come to life on new limited-edition pillows and designer decor items transformed by CE artists.
If all of this doesn't spark joy, CE artists will earn 50% of proceeds from all original art sales.
Habitat will launch on the new Creativity Explored website on Thursday, November 5 at 9:00 am. Items and artworks in the collections will be available for direct purchase through Monday, November 30 at 9:00 am, while supplies last. Orders ship out weekly.
TICKETS
Tickets for Habitat Events are $20 each or $50 for the full series of three events. See the full schedule below. Ticketholders and the general public are invited to explore and shop the Habitat collections on the Creativity Explored website. Proceeds from ticket sales benefit Creativity Explored.
Creativity Explored VIP Donors and Partners - Check your email for a special access code for free access to all events. Didn't get an access code? Email us at social@creativityexplored.org.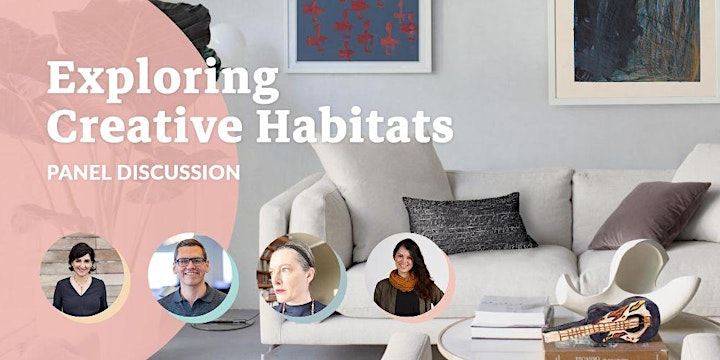 EVENTS
Exploring Creative Habitats: A Discussion about Living with Art
Thursday, November 12 | 6:00 pm - 7:00 pm (PST)
Three top design professionals will take you on a visual journey revealing new ways to think about and use art, in both private and commercial spaces. You'll come away from the conversation with fresh ideas, an expanded network, and an affordable source for unexpected art.
Panelists will share their favorite projects, best new discoveries, and treasured pieces by Creativity Explored artists. Plus, we'll see some of their top picks of original art and decor items from the Habitat collections.
Panelists include:
Laura Guido-Clark, Love Good Color & Founder, Project Color Corps
Samantha Lewis, Associate & Interior Designer, Gensler
Enrique Sanchez, Principal Architect, STUDIOS architecture & CE Board Member
Moderated by Alisa Carroll, writer & editor-in-chief, HENRY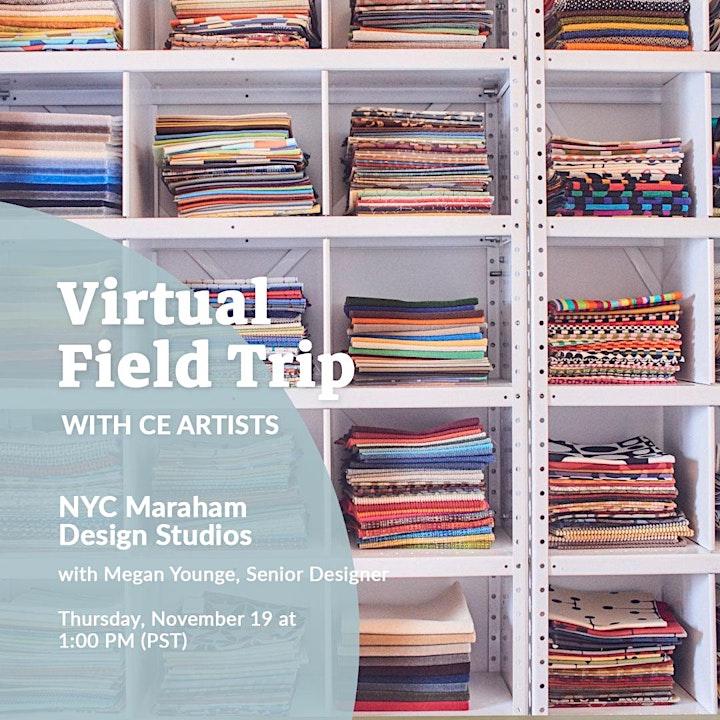 Virtual Field Trip: NYC Maharam Design Studio with Megan Younge, Senior Designer
Thursday, November 19 | Starting at 1:00 pm (PST)
Sponsored by Maharam | Facilitated by CE teaching artist Glenn Peckman
Join Creativity Explored artists and teachers for a live interactive community field trip to the Maharam Design Studio in New York City. Together we'll encounter fresh textile designs within the renowned skylit design studio.
Led by Maharam Senior Designer and Habitat guest curator Megan Younge, we'll weave through the design process at the fabled Park Avenue studio. Younge will show, from start to finish, several styles and collections by top designers like Paul Smith, materializing the seams that bind art and design.
CE teaching artist and designer Glenn Peckman will co-facilitate along with a crew of CE artists.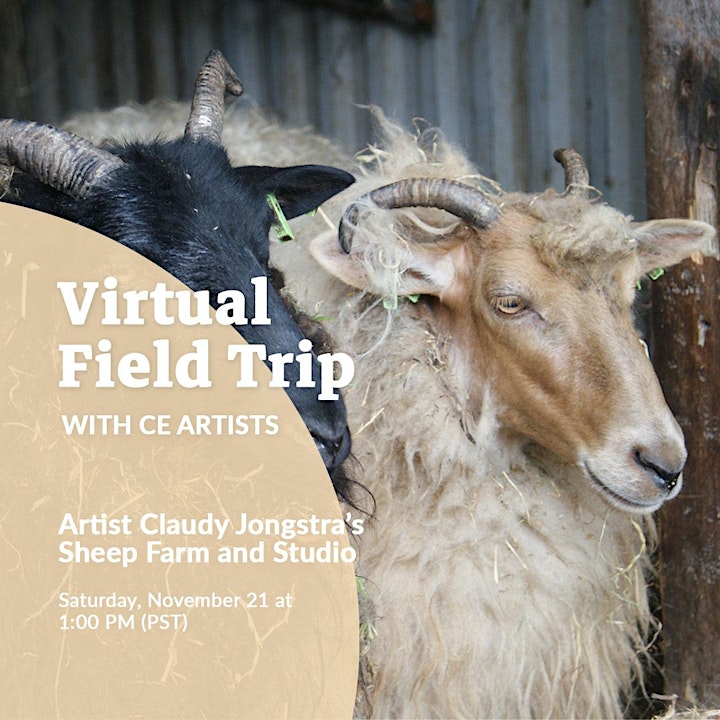 Virtual Field Trip: Artist Claudy Jongstra's Sheep Farm and Studio in Holland
Saturday, November 21| Starting at 1:00 pm (PST)
Sponsored by Maharam| Facilitated by CE teaching artist Geralyn Montano
Take a virtual trip with Creativity Explored artists and teachers to Holland. We'll meet artist, designer and Maharam collaborator Claudy Jongstra and her special flock of Drenthe Heath sheep.
We'll learn from the artist about the land-based processes behind her striking organic work from Jongstra and her community. Claudy will share her inspiration and philosophy for creating conscientious designs. Together, we'll get gorgeous behind the scenes footage of how the unique Drenthe Heath wool is sheared, naturally dyed, and spun into installations and couture garments.
We may even meet "Harry the Sheep," the mother of Jongstra's personal flock who inspired CE artists' sheep illustrations in our Habitat designs.
As part of the tour Creativity Explored teaching artist Geralyn Montano will faciliate a fun and easy art activity with CE artists.
Thanks to our sponsors
Despite challenging times our incredible partners and sponsors came together to support Creativity Explored artists with fiscal and in-kind donations for Habitat.
SPONSORS
Annecillary Furniture Services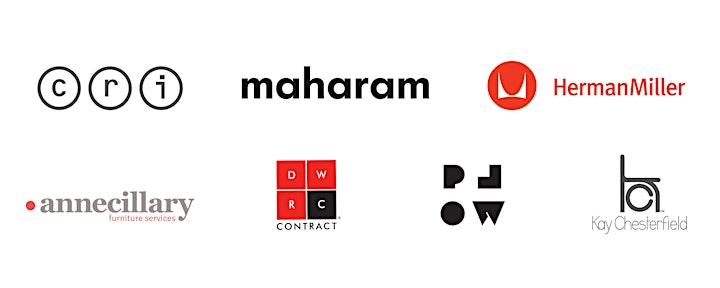 Meet the Curators
Brit Epperson, Owner of Studio PLOW, Vice President CE's Board of Directors and Guest Curator
Brit Epperson is a principal at PLOW, an architecture and design studio based in San Francisco. Her work focuses on "placemaking" through the shaping and articulation of interior spaces. Both Registered Architect and Certified Interior Designer, Brit holds a Masters of Interior Architecture and Product Design from Kansas State University. She was previously the Director of Interiors at David Baker Architects. Brit has been an advocate and patron of Creativity Explored; filling projects with wonderful art for over seven years.
Laura Guido-Clark, Designer and Founder of Project Color Core, Panelist & Guest Curator
Laura Guido-Clark is an expert in the skin of consumer products – their color, materials, and finish. Throughout her twenty-plus year career, Laura has analyzed the conscious and unconscious influences that drive buying decisions. She has been dubbed an 'Experience Consultant' because of her ability to translate those influences into prescient forecasting and concrete applications of color and finish for new products.
In 2017, Laura launched her groundbreaking color methodology called LOVE GOOD COLOR. LOVE GOOD COLOR integrates science and the senses, enabling designers to factor in emotive response when using color.
Enrique Sanchez, Principal Architect at STUDIOS Architecture, CE Board Member, Panelist & Guest Curator
Enrique Sanchez is a Principal at STUDIOS Architecture, an international design practice offering architecture, interiors, master planning, branding, and strategic programming services. He focuses on designing spaces that connect with the people who use them. His training as a certified professional coach enables him to listen, understand what makes others tick, and support them in contributing with their own voice. Enrique is passionate about accessibility, universal design, and creating spaces that welcome everyone. He has worked on a range of project types across industries, including interiors, new construction, and renovation. His clients include SFMOMA, Lyft, Nickelodeon and UCLA.
Enrique is a strong believer in CE's mission. He sees art as a universal means of communication that ties all people together.
Megan Younge, Senior Designer at Maharam, Field Trip Host & Guest Curator
Megan Younge is a Senior Designer at Maharam and has worked there for 14 years. She works mainly within the Nonwoven Upholstery, Nonwoven Wallcovering, Leather, and Privacy Curtain categories, but also enjoys designing pattern for Woven Upholstery. Megan's design process frequently involves starting from hand drawn or painted concepts.
Before Maharam, Megan worked for two years in the Home Design Department of Calvin Klein, designing pattern for bedding and home furnishings. She graduated from the Rhode Island School of Design in 2004 with a BFA in Textile Design.
Special Guests
Alisa Carroll, writer, editor-in-chief HENRY, Panel Moderator
Over the past two decades, she has interviewed and profiled artists, curators, collectors, gallerists, historians, conservators and many others, chronicling their philosophies and practices in essays, articles, and books of lyricism and lucidity.
Now in its fourth printing, her book Art House (Assouline, Fall 2016), chronicles the forty-year project of collector Chara Schreyer and designer Gary Hutton to house Schreyer's collection over 600 modern and contemporary works, tracing conceptual art from its origins in Duchamp to emerging artistic practices.
Alisa is editor in chief of, and a contributor to, In the Making (Fall 2019), a new book of essays and images profiling nearly forty artisans—ceramicists and textile designers, glassblowers and hand printers—leading the 21st-century maker movement.
Alisa programs and moderates talks internationally on collecting, curating, design, and art practices.
Claudy Jongstra, Artist & Designer, Maharam partner, Field Trip Host & Guest Curator
Claudy Jongstra is known worldwide for her monumental artworks and architectural installations, whose organic surfaces and nuanced tones reflect her masterful innovations in the ancient technique of making wool felt. Jongstra's oeuvre, often installed in large public spaces, is included in many international museums as well as private and corporate collections.
In 2001, Jongstra established her studio in the rural North of The Netherlands, where she began a sweeping ecological experiment in the local landscape. Maintaining a flock of rare, indigenous Drenthe Heath sheep (the oldest breed in Northern Europe) and cultivating a specialized dyers' botanical collection garden, Jongstra creates a completely sustainable chain culminating in her artworks.
Samantha Lewis, Associate & Interior Designer at Gensler, Panelist, IIDA Member
Samantha Lewis, Associate & Interior Designer at Gensler and member of IIDA contributes towards the knowledge and thought-leadership of Gensler San Francisco by developing workplace planning models that expand the growth of the workplace practice area. She designs experientially, inspired by light, color, movement, and emotion. Her spirited drive not only fuels her work but her team's culture in terms of sharing ideas and leading internal initiatives that promote inspiration and experimentation. Actively involved within the design community, Samantha holds the Student Affair chair position at IIDA's San Francisco City Center and consistently participates in community awareness projects such as Philanthropy by Design, Chairity & Scene Local.
Date and Time
Location
Refund Policy
Contact the organizer to request a refund.
Eventbrite's fee is nonrefundable.