Event Information
Refund policy
Refunds up to 7 days before event
Join hundreds of worldwide Habit Design® Certified Trainers who coach others to accelerate new habits, backed by NIH.
About this event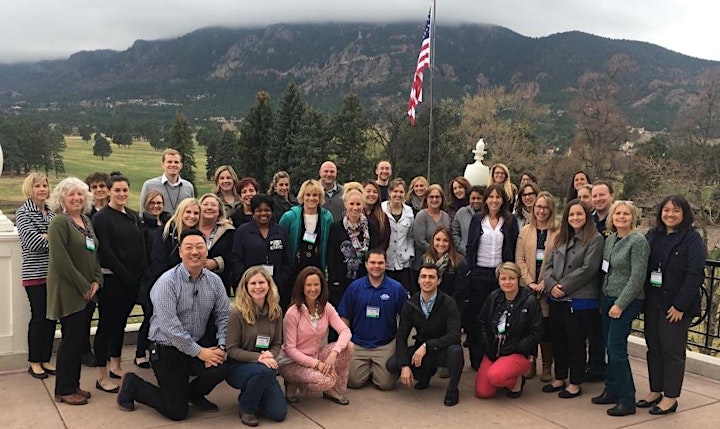 REGISTER AS A GROUP AND RECEIVE 50% OFF!
BEFORE REGISTERING FOR TRAINER CERTIFICATION, YOU MUST SUCCESSFULLY FIRST COMPLETE STEP 1 AND THEN STEP 2 OF THE HABIT DESIGN TRAINING PROGRAM. 
REGISTER FOR ALL 3 PROGRAMS AT ONCE AND RECEIVE A $500 REFUND (AVAILABLE TO INDIVIDUAL REGISTRANTS ONLY)! 
OVERVIEW:
Habit Design® Trainer Certification is a self-paced, 6-week program for professionals who wish to train others in the Habit Design Training Course and/or Workshop. You'll learn how to teach Habit Design's clinically validated habit formation protocols, directed by the licensed, certified, and published clinical psychologists who researched, tested, and developed the Habit Design discipline. You'll develop expertise in behavior change, habit formation, and coaching, and contribute to Habit Design's mission of helping anyone to "master the force of habit"™. As a participant, you will gain:
Teaching & coaching Habit Design training protocols
Habit Design is a unique integration of behavioral psychology, neuroplasticity, and deliberate practice methodologies that is supported by clinically validated research conducted by over 100 published behavioral scientists. Having already successfully completed Step 1 & Step 2 of Habit Design Training, you will be among a select group of experts who have mastered the Habit Design discipline sufficiently to teach, train, and coach your own clients and clients we may support together.
Deeply discounted sub-licensing of Habit Design training
When training clients outside your own company/employer (who are not already engaged by Habit Design, Inc.), certified trainers are provided a minimum discount of 50% off Habit Design's standard pricing (the discount increases based upon the number of trainee participants per cohort, contact us for more details). Standard pricing for Habit Design training options are below (in $USD) and may be updated periodically:
Two-Day Habit Design Workshop: $45,000
One-Day Habit Design Workshop: $30,000
Half-Day Introduction to Habit Design: $15,000
60-90 minute keynote/presentation: $7,500
Habit Design Training Course (6-Weeks): contact us for latest pricing
Habit Design 1-on-1 Coaching (60-Weekdays): contact us for latest pricing
As a certified trainer, if you would like to train colleagues inside your own company/employer, you may do so at a licensing fee payable from your company to Habit Design:
Two-Day Habit Design Workshop: $480/person
One-Day or Half-Day Introduction to Habit Design: $480/person
60-90 minute keynote/presentation: No licensing fee
Habit Design Training Course (6-Weeks): contact us for latest licensing fee
Habit Design 1-on-1 Coaching (60-Weekdays): contact us for latest licensing fee
For training colleagues inside your own company/employer, the first workshop taught at your company may be administered free for up to 12 people to help you build the case for continuing Habit Design training within your company. Note: suggested number of participants for all workshops and/or "introductions" is 25-50 people, ideally. 
Waived tuition and 15% referral commissions
If your company/employer engages directly with Habit Design to conduct training before your certification is completed, your trainer certification tuition may be waived, depending on the size of the engagement (contact us below for details). Also, if you provide Habit Design with a qualified sales lead for whom we complete a Habit Design training program, you will receive a 15% commission of the first year of revenue generated by that client, and may partner with us as a co-trainer for the engagement. The client (purchasing organization) must sign a contract with Habit Design, and the referral commission begins on the date the client completes payment for training. 
Peer coaching community
Habit Design Trainer Certification is an incredible opportunity to build lifelong relationships with other deep and committed Habit Designers transforming the lives of thousands every year through the creation of new, healthy, productive habits. Graduates who pass certification will also be invited to become active members of the Habit Design Certified Teacher community to share best practices and more.
LOGISTICS:
Self-Paced Training Videos, Diagnostics & Schedule
There are 6 sequential tutorial videos, each lasting 30-45 minutes. After each tutorial, you'll complete a brief online diagnostic survey. Our clinical team will review your responses and provide any necessary feedback via email (typically within 2 business days). This feedback may require that you redo a survey before progressing to the next session. After you successfully complete each session's requirements, you'll progress to the next session.
After your registration is processed (typically within 5 business days), you can choose any day to begin your training and any day/time to access your tutorial videos and diagnostic surveys, as long as you begin your training no later than 30 days after you complete registration. Access to the course will end 3 months after you complete registration.
Shadow Coaching
For the last 2 weeks, you'll begin training/coaching a designated "guinea pig" trainee (e.g., spouse, family member, friend, colleague, etc.). During this time, you may request daily shadow coaching support or advice via SMS/Text from our Clinical Training Director.
Curriculum Materials
Upon successful certification, you'll receive a license to Habit Design course materials, e.g., worksheets, slides, marketing/promotional content, videos, etc. This license will remain active for as long as your certification remains in good standing (e.g., see "Annual Recertification Fee" below).
Annual Recertification Fee
A standard $500 recertification fee is due within 30 days of your 1-year certification anniversary. This certification fee gives you access to program updates, marketing materials, and other teaching tools, and is required to continue selling and teaching Habit Design.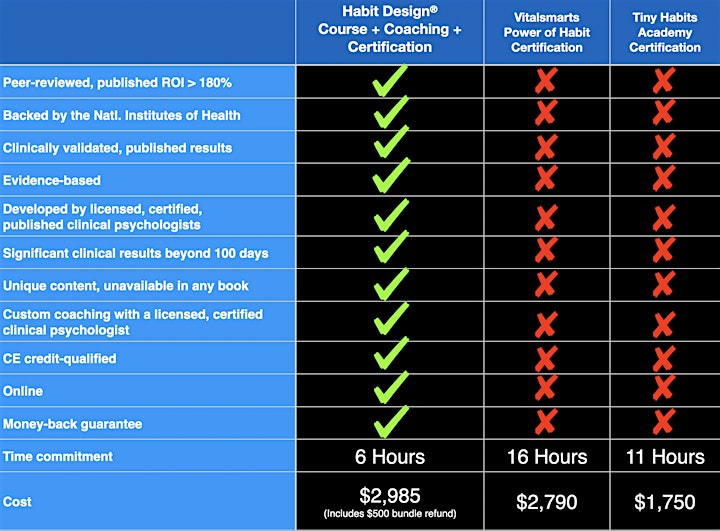 TESTIMONIALS:
"We had outstanding initial success with Habit Design internally: 93% of our health coaches were successful applying Habit Design towards automating a new daily habit within just nine days. To our knowledge, no other habit training protocol has matched this degree of success." - Terri Hanlon-Bremer, COO, TriHealth
"This should be required training for anyone in healthcare, corporate wellness, coaching, or behavior change." - The Art & Science of Health Promotion Institute
"After including Habit Design into my health coaching, I saw a 73% increase in client signups and 69% increase in their engagement with their health routines. This definitely led to my business growing 91% in revenue in just 1 year." - Marla S., Health Coach
"My clients saw such a dramatic improvement in their daily performance which led them to become more confident and excited about my training."  - Sam J., Wellness Coach 
"I was skeptical at first, but I saw such quick results that I was amazed I hadn't realized it sooner: Habits are a discipline that require real-time feedback and coaching. My trainer always had just the right suggestion for the issue I was facing that day." - Doug S., Trainee
"I never ran before in my life, but now after applying my Habit Design training, I'm about to run my first marathon!" - Richard O., Trainee
*****************************
GROUP DISCOUNTS: Please contact us directly at admin@habitdesign.com with your organization and the number of people your organization would like to register, and we will get back to you with details!
HOLIDAYS: Staff support is unavailable during holidays (e.g., national/federal, state, religious, et al.), although you may continue with your self-directed training as you wish in the interim. 
REFUND POLICY: Disregard the refund policy statement at the top of this registration page (i.e., "Refunds up to 7 days before event"), it's out of date, but Eventbrite can't let us change it for some reason. You may request a full refund up to 2 days after your access to the course begins. Trainees who purchase and refund multiple courses over an extended period may be subject to suspension for abuse of the refund policy.
MEDICAL DISCLAIMER: This course and its associated one-on-one support is not intended to be a substitute for professional medical advice, diagnosis, or treatment. Always seek the advice of your physician or other qualified health provider with any questions you may have regarding a medical condition. Reliance on any information provided by this course, participants, instructors, or other personnel associated with this course is solely at your own risk.
CODE OF CONDUCT: Should any registrant cause unwelcome or unnecessary disruption in the course to other participants or training staff, we reserve the right, at our sole discretion, to expel any such registrant at any time, after a careful review of their disruptive conduct. Upon expulsion, the registrant will receive a notice via email and, at our sole discretion, may receive a partial refund.
QUESTIONS: Reach us at admin@habitdesign.com or 650-485-3648
© Habit Design, Inc. All Rights Reserved.
Location
Refund policy
Refunds up to 7 days before event
Organizer of Habit Design® Trainer Certification ("Step 3")
Michael Kim is the first behavior scientist ever awarded a research grant in the field of habit coaching from the National Institutes of Health. He is founder of, and the leading international authority on, Habit Design®, the behavioral discipline for accelerating habit formation he developed with clinical psychologists from Yale, the University of Washington, and Kaiser Permanente.
Michael has been called "a leading authority in how organizations create sustainable behavior change" by The New York Times bestselling author Jim Collins and is the recipient of the ABAI B.F. Skinner Award for Organizational Behavior Management, TEDMED "Innovators to Watch", Seoul Digital Forum "Top 20 Global Innovators", and an adjunct faculty appointment at Stanford Medical School, where he taught the most popular behavior change class in Stanford's history (over 6,000 students). He has been also featured by TED, The New York Times, The White House, The World Bank, McKinsey & Company, Fast Company, CNN, Harvard Business School, Bloomberg TV, MIT Technology Review, IDEO, et al.
Previously, Michael served as a senior technology executive or innovation consultant for Google, Harvard, United Healthcare, Apple, Facebook, Kaiser Permanente, Nike, WebMD, Johnson & Johnson, Microsoft, Samsung, AT&T, et al. He has served as science policy advisor to The White House, advisor to the Chief Scientist of IBM, and advisory board member to the MIT Media Lab. Michael holds Bachelors and Masters degrees from Yale and Harvard focusing on Innovation Management and fellowships from the Coro Foundation and IRTS Foundation. He and his family live outside Seattle, WA.