Event Information
Refund policy
Refunds up to 7 days before event
Live, one-on-one coaching from a licensed Habit Design® Certified Trainer. "Step 2" of Habit Design® Training Curriculum.
About this event
THIS IS 60-WEEKDAYS OF ONE-ON-ONE COACHING. ONCE REGISTERED, YOU CAN SET ANY MONDAY TO START YOUR COACHING.
BEFORE REGISTERING FOR PERSONAL COACHING, YOU MUST SUCCESSFULLY COMPLETE STEP 1, THE HABIT DESIGN TRAINING COURSE. BEFORE REGISTERING FOR OUR TRAINER CERTIFICATION PROGRAM, YOU MUST SUCCESSFULLY COMPLETE THE TRAINING COURSE AND THIS PERSONAL COACHING PROGRAM. 
REGISTER FOR ALL 3 PROGRAMS AT ONCE AND RECEIVE A $500 REFUND (AVAILABLE TO INDIVIDUAL REGISTRANTS ONLY)! 
Habit Design® Personal Coaching ("Step 2")
Congratulations on completing The Habit Design Training Course ("Step 1")! You've now been taught the key techniques, tools, and approaches to begin mastering the force of habit for greater wellbeing and productivity. 
But, there's a big difference between knowing the path and walking the path; To support you on your journey ahead in applying what you've learned towards automating new healthy habits, we offer personal, one-on-one, live coaching with a certified Habit Design Trainer. This coach will be with you every step of the way with helpful advice, guidance, suggestions, and encouragement. 
For those of you interested in proceeding on to "Step 3: Trainer Certification", we require that you have successfully completed this personal coaching program first. 
LOGISTICS:
Daily (Weekday) Check-Ins via SMS/Text
For each weekday over the 60-weekdays covered in this program (with the exception of holidays), you will briefly check in with your coach via SMS/Text message, immediately after you practice your Habit Design. You must use a smartphone. (S)he will ask you two quick and simple questions, and, if you like, you can share any difficulties or questions. The entire conversation takes a minimum of just 30 seconds, but might take longer depending on when your coach is able to respond (typically within minutes) and how long you wish you converse with him/her (note: if you are based outside the U.S., coaching responses may take up to 24 hours). Standard SMS/Text data rates apply, depending on your SMS plan with your wireless carrier.
Progressive Mastery of Advanced Techniques
As you reach certain milestones, or challenges, your coach will introduce additional training techniques that will help you succeed in your habit formation journey. One of these will be gradually adding new Habit Designs to your daily routines, based on your progress. 
60-Weekdays
Coaching support ends 60 weekdays after your first check-in with your certified Habit Design Trainer. To continue support afterwards, you may re-register for another 60 weekdays. Holidays are not supported. If you miss any weekdays, there is no penalty per se, but missed days are not refunded or credited.
Equivalent to 12 hours of licensed and certified clinical therapy
Your coaching is directed and managed by licensed and certified clinical psychologists who have designed, tested, and validated the Habit Design training method. Typically, this training is only provided in-person at 4x the cost, but we've figured out a better way of bringing you real-time support at a fraction of the cost without losing direct, one-on-one personalization.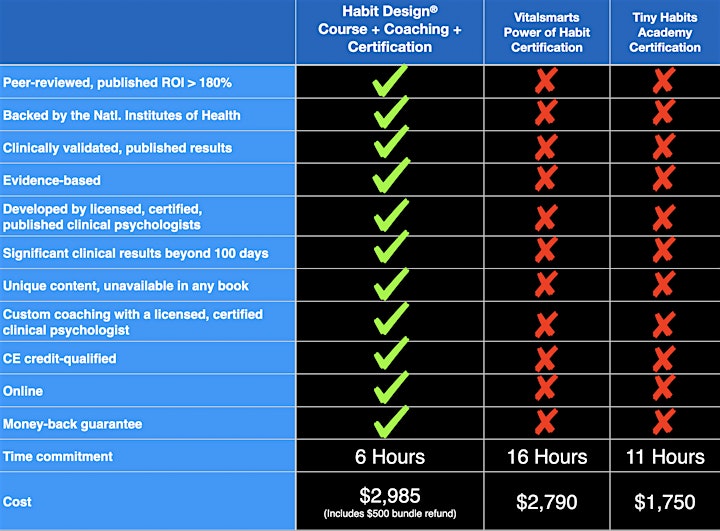 TESTIMONIALS:
"We had outstanding initial success with Habit Design internally: 93% of our health coaches were successful applying Habit Design towards automating a new daily habit within just nine days. To our knowledge, no other habit training protocol has matched this degree of success." - Terri Hanlon-Bremer, COO, TriHealth
"This should be required training for anyone in healthcare, corporate wellness, coaching, or behavior change." - The Art & Science of Health Promotion Institute
"After including Habit Design into my health coaching, I saw a 73% increase in client signups and 69% increase in their engagement with their health routines. This definitely led to my business growing 91% in revenue in just 1 year." - Marla S., Health Coach
"My clients saw such a dramatic improvement in their daily performance which led them to become more confident and excited about my training."  - Sam J., Wellness Coach 
"I was skeptical at first, but I saw such quick results that I was amazed I hadn't realized it sooner: Habits are a discipline that require real-time feedback and coaching. My trainer always had just the right suggestion for the issue I was facing that day." - Doug S., Trainee
"I never ran before in my life, but now after applying my Habit Design training, I'm about to run my first marathon!" 
- Richard O., Trainee
HOLIDAYS: Staff support is unavailable during holidays (e.g., national/federal, state, religious, et al.), although you may continue with your self-directed training as you wish in the interim. 
REFUND POLICY: Disregard the refund policy statement at the top of this registration page (i.e., "Refunds up to 7 days before event"), it's out of date, but Eventbrite can't let us change it for some reason. You may request a full refund up to 2 days after your access to the coaching begins. Trainees who purchase and refund multiple courses over an extended period may be subject to suspension for abuse of the refund policy.
MEDICAL DISCLAIMER: This course and its associated one-on-one support is not intended to be a substitute for professional medical advice, diagnosis, or treatment. Always seek the advice of your physician or other qualified health provider with any questions you may have regarding a medical condition. Reliance on any information provided by this course, participants, instructors, or other personnel associated with this course is solely at your own risk.
CODE OF CONDUCT: Should any registrant cause unwelcome or unnecessary disruption in the course to other participants or training staff, we reserve the right, at our sole discretion, to expel any such registrant at any time, after a careful review of their disruptive conduct. Upon expulsion, the registrant will receive a notice via email and, at our sole discretion, may receive a partial refund.
QUESTIONS: Reach us at admin@habitdesign.org or 650-485-3648
© Habit Design, Inc. All Rights Reserved.
Location
Refund policy
Refunds up to 7 days before event
Organizer of Habit Design® Personal Coaching ("Step 2")
Michael Kim is the first behavior scientist ever awarded a research grant in the field of habit coaching from the National Institutes of Health. He is founder of, and the leading international authority on, Habit Design®, the behavioral discipline for accelerating habit formation he developed with clinical psychologists from Yale, the University of Washington, and Kaiser Permanente.
Michael has been called "a leading authority in how organizations create sustainable behavior change" by The New York Times bestselling author Jim Collins and is the recipient of the ABAI B.F. Skinner Award for Organizational Behavior Management, TEDMED "Innovators to Watch", Seoul Digital Forum "Top 20 Global Innovators", and an adjunct faculty appointment at Stanford Medical School, where he taught the most popular behavior change class in Stanford's history (over 6,000 students). He has been also featured by TED, The New York Times, The White House, The World Bank, McKinsey & Company, Fast Company, CNN, Harvard Business School, Bloomberg TV, MIT Technology Review, IDEO, et al.
Previously, Michael served as a senior technology executive or innovation consultant for Google, Harvard, United Healthcare, Apple, Facebook, Kaiser Permanente, Nike, WebMD, Johnson & Johnson, Microsoft, Samsung, AT&T, et al. He has served as science policy advisor to The White House, advisor to the Chief Scientist of IBM, and advisory board member to the MIT Media Lab. Michael holds Bachelors and Masters degrees from Yale and Harvard focusing on Innovation Management and fellowships from the Coro Foundation and IRTS Foundation. He and his family live outside Seattle, WA.