Description
UPDATE (1/23): RSVP QUICKLY TO GET THE $500 EARLY-BIRD INDIVIDUAL DISCOUNT AND $750 EARLY-BIRD GROUP DISCOUNT (PER PERSON)!


Featured by TED, The New York Times, McKinsey & Company, Stanford Medical School, and many others,
Habit Design accelerates habit formation:
93% of recent trainees have automated new habits in just 9 days, compared to the average 66-88 days (source: NIH).
Our methods are clinically validated, evidence-based, and have only been shared with clients in private therapy… until now.
Over 100,000 people from over 500 companies have applied these techniques to create over 1 Million new health and productivity-related habits, resulting in (on average):
83% success rate in automating at least 1 target habit of their choosing
Double the weight loss vs. a control group (after 1 year)
1-2 points of BMI improvement (after 1 year)
69 extra minutes of daily productivity
190% return-on-investment (vs. -50% for typical lifestyle wellness programs)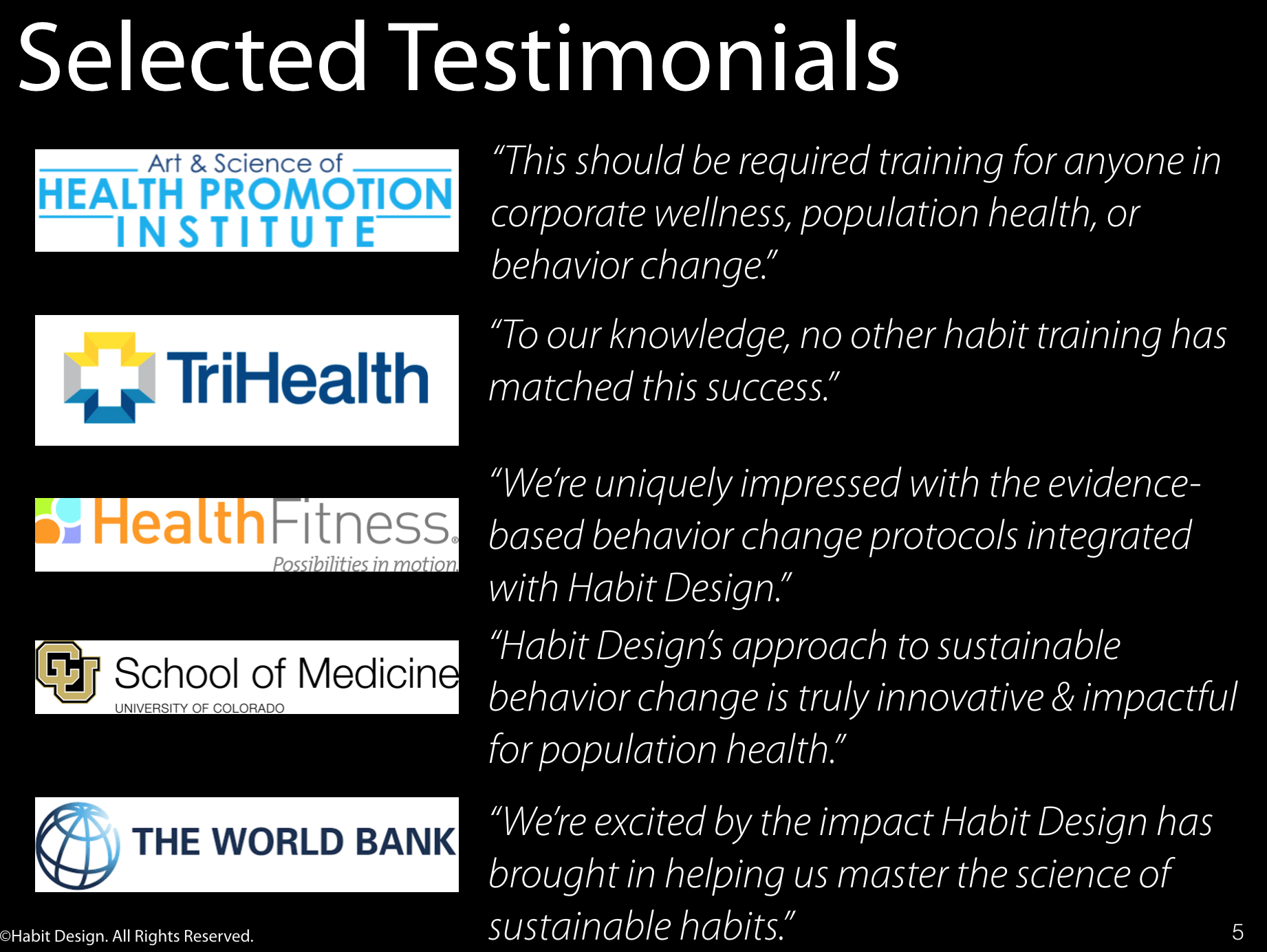 ---
WHAT PROBLEM DOES HABIT TRAINING SOLVE?

Why is it so hard to change our behavior? Why do we find it difficult to exercise, eat better, be more mindful, quit smoking, or to be more productive?
Because, despite the common wisdom, it doesn't take just 21 days to form a habit. Research now tells us it can take at least 66 days to form the kind of habits that really matter. But, no matter how motivated we are, 80% of us still give up on our resolutions after just six weeks.
Despite the pop psychology you may have read, there's no clinical evidence that habits rely on extraordinary willpower, motivation, growth mindset, mindfulness, or moral character. "Grit", tracking, challenges, motivational interviewing, and even positive self-affirmations also do NOT create lasting habits either for most people.
---
THE ANSWER: LEARN HOW TO MASTER THE FORCE OF HABIT
Designed and clinically validated by licensed, certified, and published clinical psychologists from Yale, the University of Washington, and Kaiser Permanente Research Institute, this training workshop will train you to apply proven cognitive behavioral techniques to create new, automatic, habitual routines that dramatically increase your personal wellbeing and productivity. This 8-hour workshop summarizes what is typically provided in our 8-week online introductory training course.
Through a combination of short tutorials, exercises, and personalized, clinically-directed coaching, the workshop will present a synopsis of the best clinically tested, evidence-based behavior change research, distilled via easy-to-use, practical diagnostic tools. By the end of the workshop, you will know how to incorporate and, more importantly, sustain important new habits into your daily routines and, if applicable, the routines of your clients.
This workshop is for personal, non-commercial use only and may not be reproduced, redistributed, re-interpreted, or adapted in any way without prior express approval by Habit Design, Inc. If you're interested in teaching or coaching Habit Design Training to others (e.g., clients, employees, etc.), you'll want to complete this workshop and then the subsequent "Personal Coaching" (Step 2) and "Trainer-Affiliate Certification" courses (Step 3).
This workshop is qualified for 12 CE credits (e.g., CHES, MCHES, ACSM, et al.); see the FAQ below. Feel free to contact us for more details.
This is the first time this training has been made available in DC, open to the public. Enrollment is limited to ensure a high level of one-on-one training quality. Every workshop has sold out thus far, so RSVP quickly.
---
WHAT WILL YOU LEARN?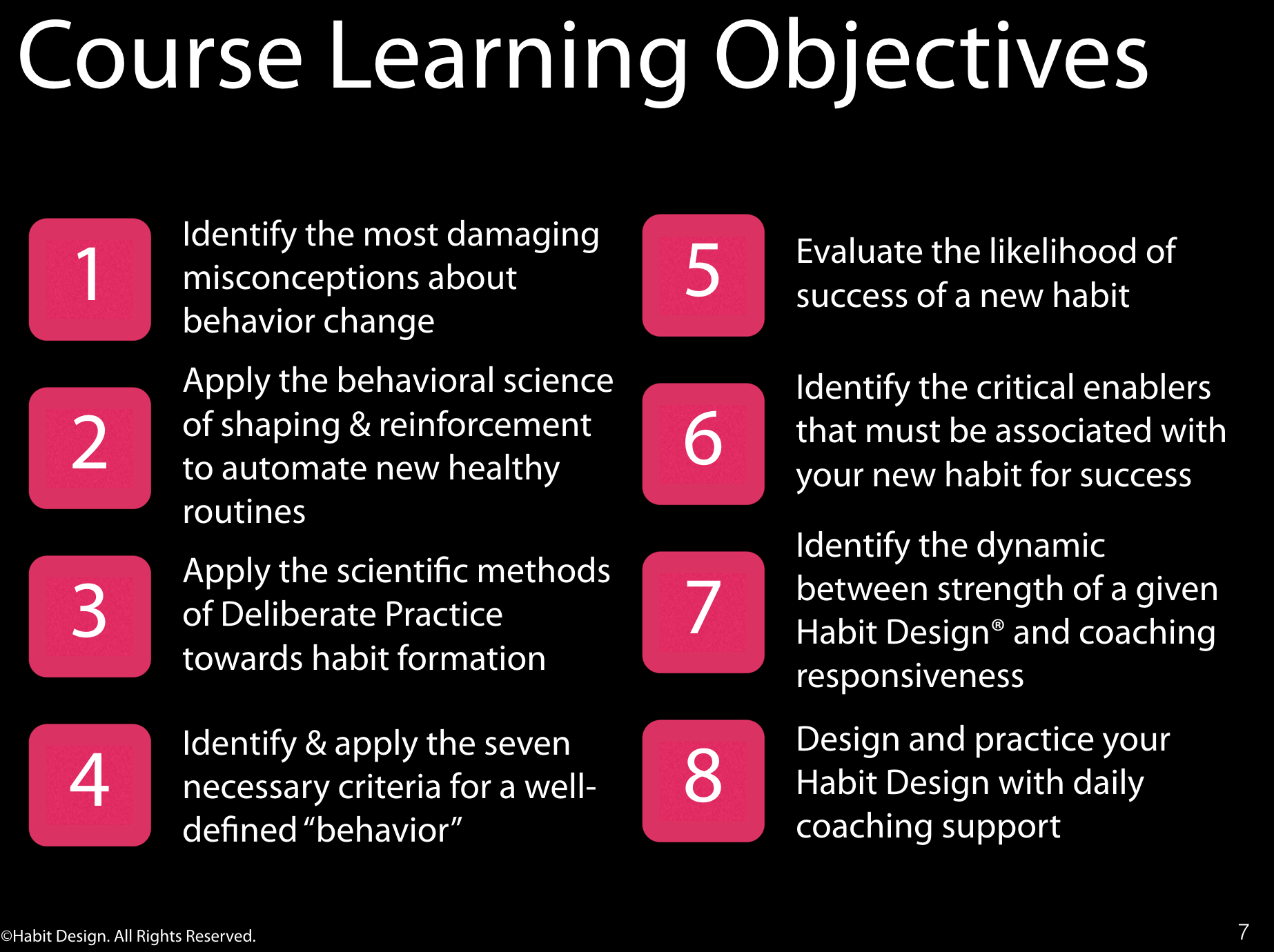 8 Learning Objectives
There are 8 sequential tutorials, each lasting 30-40 minutes (see graphic above). After each tutorial, you'll complete a brief online diagnostic survey for a new habit you would like to make automatic. The group's responses will be reviewed in real-time. This feedback may require that you redo a survey before progressing to the next tutorial.
Personal, One-on-One Coaching from a Licensed, Clinical Psychologist (Optional)
After successfully completing the last tutorial survey, you'll be eligible to train a Habit Design of your own design and choosing daily with the feedback and support of a licensed, certified, clinical psychologist via SMS/Text over 10 consecutive weekdays (for domestic U.S. participants only). While not required, it is highly recommended as a means to immediately integrate what you've learned with real-time coaching. Please note this does NOT constitute a patient-doctor relationship (see "Medical Disclaimer" below). This support alone is equivalent to 2 hours of clinical therapy (or $400 USD).
Curriculum Materials
You'll receive access to workshop materials, e.g., worksheets, slides, etc. for personal, non-commercial use for up to 14 days after the workshop.




---
WHAT DID PAST TRAINEES HAVE TO SAY?
"We are excited by the impact Habit Design has brought in helping WBG individuals, teams, and clients learn, practice, and master the science of sustainable habits." - Monika W., The World Bank

"This workshop was immediately useful to my team in helping us dramatically increase the engagement and impact of our behavior change initiatives." - Sharon B., The World Bank

"This should be required training for anyone in healthcare, corporate wellness, coaching, or behavior change." - The Art & Science of Health Promotion Institute
"I've tried so many self-improvement programs, but none of them stuck beyond a month. This is the only program where I was successful in making lasting habits, and I'm still doing them everyday a whole year later! Not to mention, I've lost over 40 pounds and gotten off my blood pressure medication." - Kristin A., Trainee

"I was skeptical at first, but I saw such quick results that I was amazed I hadn't realized it sooner: Habits are a discipline that require real-time feedback and coaching. My trainer always had just the right suggestion for the issue I was facing that day." - Doug S., Trainee
"I never ran before in my life, but now after applying my Habit Design training, I'm about to run my first marathon!" - Richard O., Trainee
"After including Habit Design into my health coaching, I saw a 73% increase in client signups and 69% increase in their engagement with their health routines. This definitely led to my business growing 91% in revenue in just 1 year." - Marla S., Health Coach
"My clients saw such a dramatic improvement in their daily performance which led them to become more confident and excited about my training." - Sam J., Wellness Coach
---
FREQUENTLY ASKED QUESTIONS (FAQ):


"Is food provided?"
Light refreshments will be available in the morning. There will be a 1-hour lunch break which will be on-your-own.
"How is this training different than other behavior change programs?"
Here's how our value proposition stacks up against some of our primary competitors (although none of them focus on habit formation):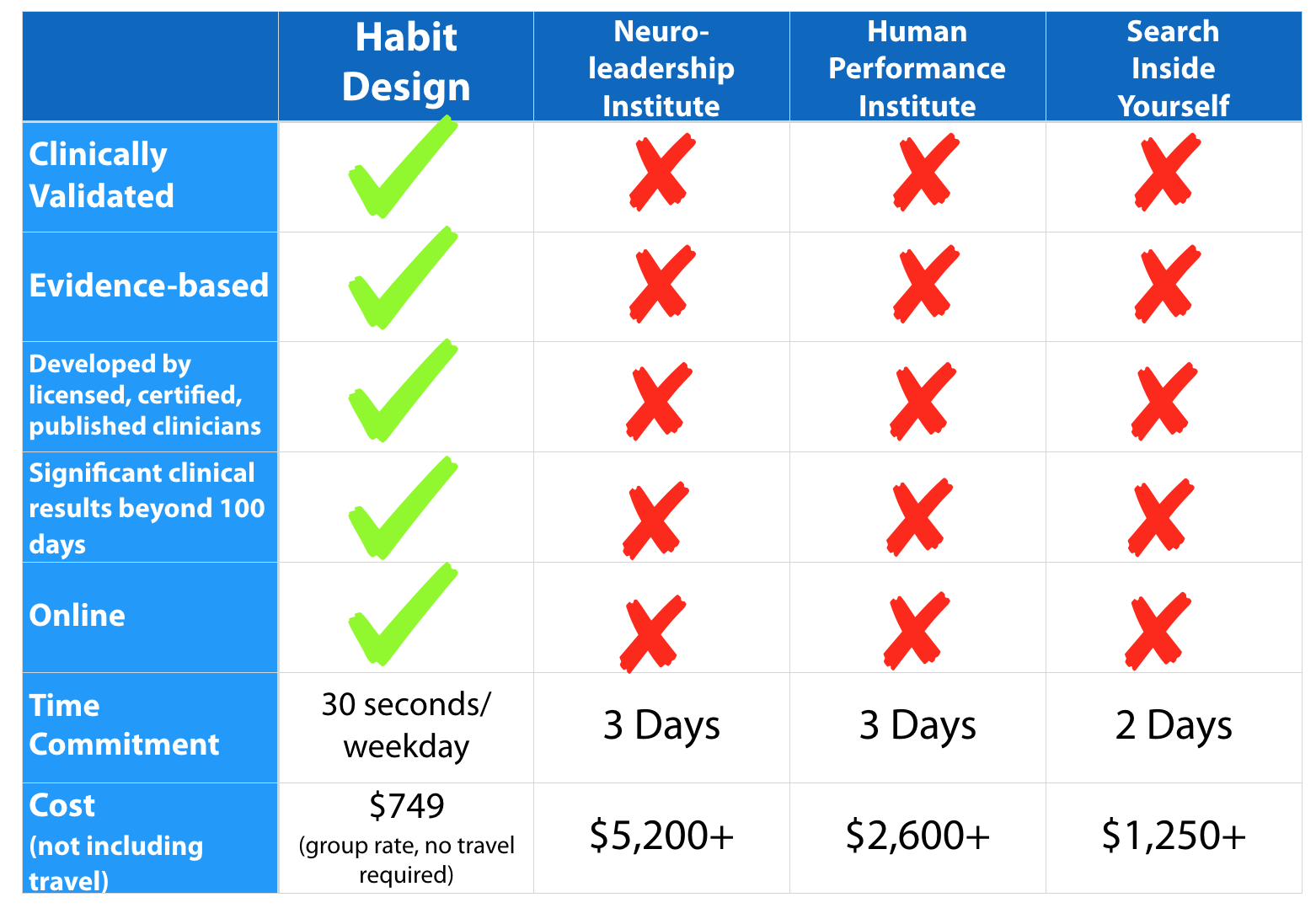 "Why can't I just pick this up in a book or one of the many free self-improvement guru websites?"
Unfortunately, there's a tremendous amount of incorrect, simplistic, and outright misleading claims in pop psychology, especially related to "habits". Most of these sources are not licensed, certified, and published clinicians. 62% of our trainees come to us having had disappointing experiences from these kinds of pop psychology sources. You get what you pay for.
Our Habit Design® techniques are not available from any books, websites, videos, or self-improvement gurus, but have been carefully clinically validated over ten years, published in peer-reviewed journals, and previously made available only to our corporate clients.
"Can I receive CE credit for this workshop?"
This workshop has been qualified for 12 CE credits by several professional accreditation organizations. Upon successful completion of the workshop, you will receive a Certificate of Completion which you may submit to the accreditation agency of your choosing. We do not guarantee nor manage accreditation processing, that is up to you. Feel free to contact us for more details.
"If I successfully complete this Step 1, what is Step 2 and how does it lead to Trainer Certification?"
After successfully completing this training workshop and subsequent 10-days of personal training, you will receive an invitation and details for optionally continuing your personal Habit Design training through daily coaching support with one of our certified trainers and/or clinical staffers via SMS/Text. This is called "Step 2" and involves 60 weekdays of brief text-based coaching, taking just a few seconds each day. If you wish to continue on to becoming a certified Habit Design Trainer, successfully completing Step 2 is a pre-requisite for continuing onto Trainer Certification, "Step 3".
"I want to be a certified Habit Design trainer. If I want to register for all 3 steps at once, is there a discount?"
Yes! We offer a $500 refund for registering to all 3 together (available to individual registrants only). Just register for each program via the links above and your refund will be processed within 2-3 business days. Contact admin@habitdesign.org for details.
---
HOLIDAYS: Staff support is unavailable during U.S. holidays, although you may continue with your self-directed training as you wish in the interim.
MEDICAL DISCLAIMER: This workshop and its associated one-on-one support is not intended to be a substitute for professional medical advice, diagnosis, or treatment. Always seek the advice of your physician or other qualified health provider with any questions you may have regarding a medical condition. Reliance on any information provided by this course, participants, instructors, or other personnel associated with this workshop is solely at your own risk.
CODE OF CONDUCT: Should any registrant cause unwelcome or unnecessary disruption in the workshop to other participants or training staff, we reserve the right, at our sole discretion, to expel any such registrant at any time, after a careful review of their disruptive conduct.
QUESTIONS: Reach us at admin@habitdesign.org or 650-485-3648
© Habit Design, Inc. All Rights Reserved.