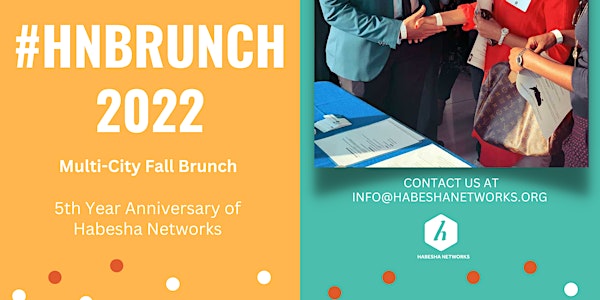 Habesha Networks Fall Brunch 2022
Habesha Networks Fall Brunch Series: Different cities, all the same day! FREE to attend ( Attendees purchase their own food and drinks) Pro
Refund Policy
Contact the organizer to request a refund.
Eventbrite's fee is nonrefundable.
About this event
Habesha Networks Fall Brunch Series: Different cities, all the same day! FREE to attend ( Attendees purchase their own food and drinks) 
Program: Sunday, November 13, 2022 1:00pm-3:30pm EXCEPT for Philadelphia 4-6:30pm & San Diego 2-4:30pm & DC 12:30-3:30 pm
Our goal is to connect locally and globally on this day. Join the movement and come to our brunch.
Los Angeles, CA - Jonny's West Adams ( 4327 W Adams Blvd, Los Angeles, CA 90007)
New York, NY - Ras Plant Based (739 Franklin Ave, Brooklyn, NY 11238)
Washington DC 12:30-3:30pm- Lost Society (2001 14th St NW, Washington, DC 20009)
Boston, MA - Hava Boston (246 Tremont St, Boston, MA 02116)
Atlanta, GA - Mela Bar & Lounge (1359 Clairmont RD, Decatur, GA 30033)
Dallas, TX - Level (3005 Routh St, Dallas, TX 75201)
Austin, TX - Habesha Ethiopian Restaurant & Bar (6019 N Interstate Hwy 35, Austin, TX 78723)
San Diego, CA 2-4:30pm - Louisiana Purchase SD (2305 University Ave, San Diego, CA)
Charlotte, NC - Pilot Brewing (1331 Central Ave Charlotte NC 28205_
Addis Ababa , ET - Hanubet (Roosevelt St, Addis Ababa, Ethiopia)
Philadelphia, PA 4-6:30pm - Dahlak Paradise (4708 Baltimore Ave, Philadelphia, PA 19143)
Bay Area - Meskies (Formerly Ethiopia Restaurant) - (2955 Telegraph Ave, Berkeley, CA 94705)
Columbus, OH in collaboration with Mehaber 614 - The Habesha Garden Restaurant (4520 Josephus Ln, Columbus, OH)
Interested in sponsoring? Select the 'SPONSORSHIP' option at the link here or send us an email at info@habeshanetworks.com! Each Sponsorship includes:
1 table for promotional items and marketing collateral at event
Acknowledgement of sponsorship over social media and email blast
1 promotional item or service to include in the raffle
We are also open to in-kind sponsorships from photographers, videographers and DJs!
OR
if you are interested in volunteering in these cities please email us too. 
*This is not just for Habesha members, it is open to anyone who is connected to the community or wants to be connected to the community. 
Habesha Networks (HN) is a grassroots non-profit organization committed to developing and implementing methods of connectivity and support between Habesha communities across the globe. With an emphasis on community development, philanthropy, thought leadership, and social and professional networking, our goal is to provide members resources while bridging the gaps and growing a stronger Habesha Network.
@habeshanetworks