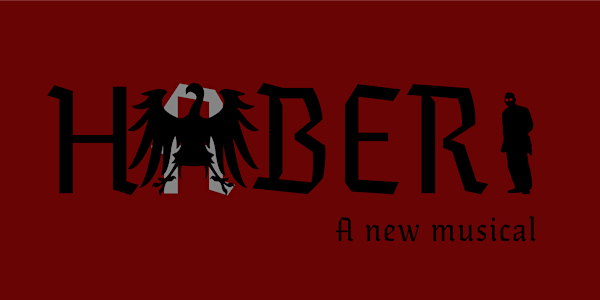 Haber: A New Musical (Concert-Style Staged Reading)
When and where
Location
The Center for Arts at the Armory 191 Highland Avenue #1c Somerville, MA 02143
Refund Policy
Refunds up to 7 days before event
Description
Join us on June 8th for a concert-style reading of this new historical rock opera exploring the life and times of Fritz Haber -- we are excited to finally present it to the world, and have got a fun show lined up for you!
Fritz Haber was a paradox. He was the winner of the Nobel prize for his invention of the nitrogen fixation process without which it would be impossible to sustain agriculture on today's scale, but also a driving force behind the invention of chemical weapons, which won him notoriety that has far outweighed his other legacies. He was an intensely patriotic German Jew, but the sting of anti-Semitism would hound him throughout his life, leading him to go above and beyond the call of duty to prove himself. And despite essentially having sold his soul for his country during WWI, he would ultimately die a broken man and in exile, a victim of the new, darker incarnation of the dangerous nationalism behind which he had once rallied.
The tale of his ill-fated wife Clara is equally poignant and compelling. She represented a hopeful -- and in retrospect, somewhat naive -- view of science as a force for the betterment of humanity, and many historians have since depicted her suicide during World War I as a protest against the perversion and misuse of science.
A century has now passed since WWI ended, but their story is still relevant today. WWI exposed the harsh truth that science is a tool like any other, employable for purposes both virtuous and bestial. When we discuss the Manhattan Project; when we discuss the still lingering effects of napalm; when we discuss drone attacks and the extent to which science and technological progress are now inextricably linked to warfare, the ghost of Fritz Haber looms large. Especially in today's dangerous climate of increasing nationalism, which has ominous echoes of the volatile climate in Europe leading up to WWI, it is important to ensure that Clara's final protest was not in vain.
If you can't make it, donations are much appreciated and any amount helps! Between the costs of transcription services, musical direction, singer salaries and theater rental, it takes a lot of funding to bring a show like this to life, and you can help support independent theater and artists with your contribution. Thank you!