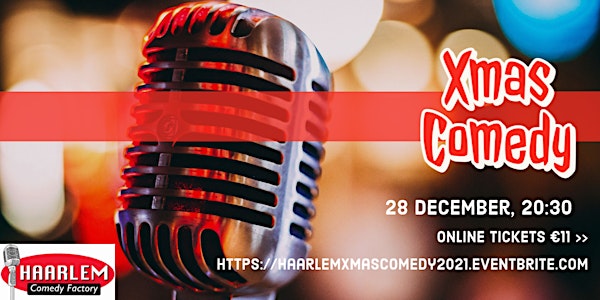 Haarlem Xmas Comedy
Christmas Comedy
When and where
Location
Leidseplein 49, 2013 PW Haarlem De Witstraat 1A Parkeergarage de Kamp 2011dv Haarlem Netherlands
About this event
Come and join us for some festive cheer this December as our Christmas Comedy Special. Here is a crack(er)ing Christmas comedy shows that'll have you laughing through till January.
We have a line-up consisting of established names and new talent from all over the world. On stage: Kendra Borgen (Alaska); Mikaela Burch (U.S.A); Jeroen Bloemhoff (The Netherlands); Ellie Connor (U.K); Lupe Estrada (U.S.A.).
Online price €11,00 (€ 12,73 inclusive Eventbrite transaction costs); €15 at the door. A Corona Entry Pass (Corona QR-code) is required.
➝ Book your tickets online
Program
- 8:00- 8:30 PM: Doors open.
- 8:30-10:00 PM: Comedy by the Haarlem Comedy Factory. Entrance with tickets and Corona Entry Pass (QR-code).
- 10:00-11:00 PM: Drinks for who wants to discuss the comedy or just have a chat and a drink.
Comedians
Kendra Borgen
Born into a Reagan-era hunter-gatherer society in Alaska, Kendra started playing saxophone at age 8 inspired by the musical stylings of Lisa Simpson. In 1999 she packed up her Subaru (Betsy) and made the treacherous journey down the infamous Alaskan-Canadian hi-way to study Music at the University of Oregon (GO DUCKS). Ever a wondering soul she bought a one-way ticket to Amsterdam in 2004 to expand her musical education and start her first production company. An avid student of history (and in need to pay the rent) she also started a tour business in 2010 and currently spends her days guiding people around Amsterdam and entertaining people at night for a living
Mikaela Burch
Detroit raised Mikaela Burch has recently been giving the Amsterdam comedy scene a new look. She is not afraid to tackle controversial topics in society and expose them in causal, smooth comedic demeanour.
Lupe Estrada
He is a comedian who spent years in the L.A. scene before moving to Amsterdam for work and the city has been grateful ever since for his hilarious insights on life, love and comedy.
Jeroen Bloemhoff
Jeroen is a comedian born and raised in Rotterdam, who's more often the zero than the hero. He talks about how he copes with his fears, the scenarios he imagines and why vegetarians don't always make sense. A nice mix of self-deprecation, observations and absurdism.
Ellie Connor
Ellie Connor is a comedian from the UK who moved to the Netherlands before Brexit was cool. Ellie's specialty is having embarrassing things happen to her that she then tells on stage with no shame.
Tickets
Online tickets: € 11 p.p. (€ 12,73 inclusive Eventbrite transaction costs); €15 at the door (cash). 
➝ Book your tickets online:
Venue
The Xmas Comedy's venue is the monumental building Badhuis/Bathhouse.
The Badhuis was built in 1903 to a design by the architect S. Roog. This second public bath in Haarlem served as a bathhouse for the citizens of the Leidsebuurt, a working-class neighborhood that developed from 1876 on the western edge of Haarlem. It served until 1979. The Badhuis will now be turned over in a cozy comedy spot.