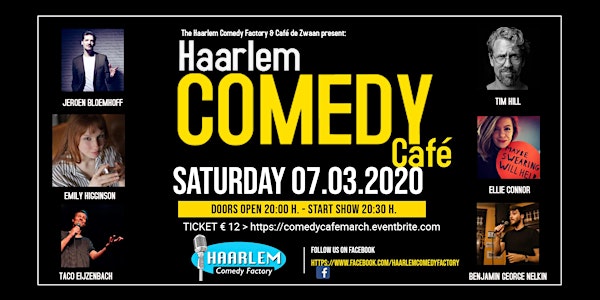 Haarlem Comedy Café March
When and where
Location
Café de Zwaan Kinderhuisvest 53 2011NR Haarlem Netherlands
Description
This comedy show is sold out. Our next comedy show is on Friday, March 13th at deDakkas. More info & tickets here.
-----------------------------
Exciting line-up of international and locally based comedians, ranging from established professional performers to exciting local new-comers.
Online price €12; €15 at the door. Show is 100 % in English.
We have a private bar so plenty of time to have a drink and a chat in the break or after the comedy.
Program
- 8:00- 8:30 PM: Doors open & Drinks.
- 8:30-10:00 PM: Haarlem Comedy Café
- 10:00-11:30 PM: Drinks for who wants to discuss the comedy or just have a chat and a drink.
Comedians
Tim Hill
Tim Hill is a recovering cynic. A backpacker who settled down to become a dad. A sweet guy with a sting in his tail. But above all, a smartass who loves referring to himself in the third person (he really does). Tim does not approve of people calling him a hipster - meaning he probably is one - and sees the world as a meaningless yet endlessly fascinating place. Tim is cheap, clean and sustainable and is therefore considered by many to be a viable alternative to fossil fuels. Tim is co-founder of The Comedy Embassy, as well as writer and co-creator of sketch channel Infinite Monkey Theory, which has amassed literally tens of followers.
Jeroen Bloemhoff
Jeroen is a comedian born and raised in Rotterdam, who's more often the zero than the hero. He talks about how he copes with his fears, the scenarios he imagines and why vegetarians don't always make sense. A nice mix of self-deprication, observations and absurdism.
Benjamin George Nelkin
Although he has lived here for close to two years, Benjamin is still struggling to adjust to European life. Sometimes referring to himself as "terminally American", he explores topics like nationality, race, sex and culture in his own unique style. Benjamin was born and raised in New Orleans, LA.
Taco Eijzenbach
Taco is 42 years old and still doesn't know what he wants to be when he grows up. In the mean time, humour and self-deprecation keep him going. He thinks he still has a whole life ahead of him. Who knows? But he does have a lifetime of experience to share.
Ellie Connor
Ellie Connor is a comedian from the UK who moved to the Netherlands before Brexit was cool. Ellie's specialty is having embarrassing things happen to her that she then tells on stage with no shame.
Emily Higginson
Emily Higginson is a young comedian from America, but don't hold that against her. Friends have described Emily as "an average performer" and "kind of funny I guess". Emily has described herself as "very tall" and "extremely funny".
Venue
We are at cozy and typical Cafe de Zwaan, a concept in Haarlem. With more than 40 beers, both on tap and in bottle (and wine and soft drinks as well), bitterballen and view on the canal!
Tickets
Online tickets: € 12 p.p. Tickets at the door: € 15,00 p.p.. Make sure you don't miss it and buy your tickets online.