#HAAB2018: THE AUDIO VISUAL REVOLUTION >> BE SEEN. BE HEARD. IN THE DIGITA...
Description
THE AUDIO / VISUAL REVOLUTION
BE SEEN.
BE HEARD.
IN THE DIGITAL WORLD.

AUG 4, 2018
BISONG ART GALLERY
1305 STERRETT ST
HOUSTON, TX 77002
10:00AM - 3:30PM
Members of the Houston blogging community will have the pleasure of a ground-breaking keynote session with MARIKE OWEN, Director of Technical Support for Americas at BMC SOFTWARE at the annual #HAAB Blogger Bootcamp. Ms. Owen will be addressing the #HAAB community about leveling up in the business world through authentic collaboration while leveraging digital platforms. We are so excited to have Ms. Owen speak at our bootcamp.
The theme of the #HAAB2018 bootcamp is THE AUDIO / VISUAL revolution. The Houston African American Bloggers Association is exploring this theme in an effort to not only give our community an edge in the ever changing world of social and digital media; we also want to inspire and motivate our talented influencers to push their platforms by increasing their knowledge base of collaborative and digital tools. Here at #HAAB we believe in the following: "New Technology is not good or evil in and of itself. It's all about how people choose to use it." - David Wong
The #HAAB2018 bootcamp will be filled with some dynamic influencers from the Houston Area discussing the following:
Levelling Up using Collaborative Tech & Digital Platforms (Keynote Session)

How to Gain Exposure Through Collaborations

Increasing your brand exposure through video

Podcasting & Personal Branding

Leveraging Social Media for Business

How to use Content to Build a Tribe
For more information please reach out to Bootcamp@HoustonAfricanAmericanBloggers.com
---

Houston African-American Bloggers Association want to help you to leverage your blog / brand while building your social media influence. Come and engage with Houston's premiere content creators and social media influencers as we share industry lessons, give tips and help you focus on increased profitability of your blog / brand.
You will be able to knowledge share with the local creatives and network within YOUR community.
The #HAAB2018 Blog Bootcamp is open to anyone and everyone who considers themselves part of the online content creator and social media digital space. We are focused and committed to championing the skills, talents and experiences of Black American content creators who have diverse and empowering stories to tell.
All ethnicities, interest, ages, genders and levels of blogging knowledge are welcome to attend. Like the great city of Houston, #HAAB's circle of supports, creators and leadership has a "little bit of something" for everyone to share!

---
#HAAB2018 Sponsors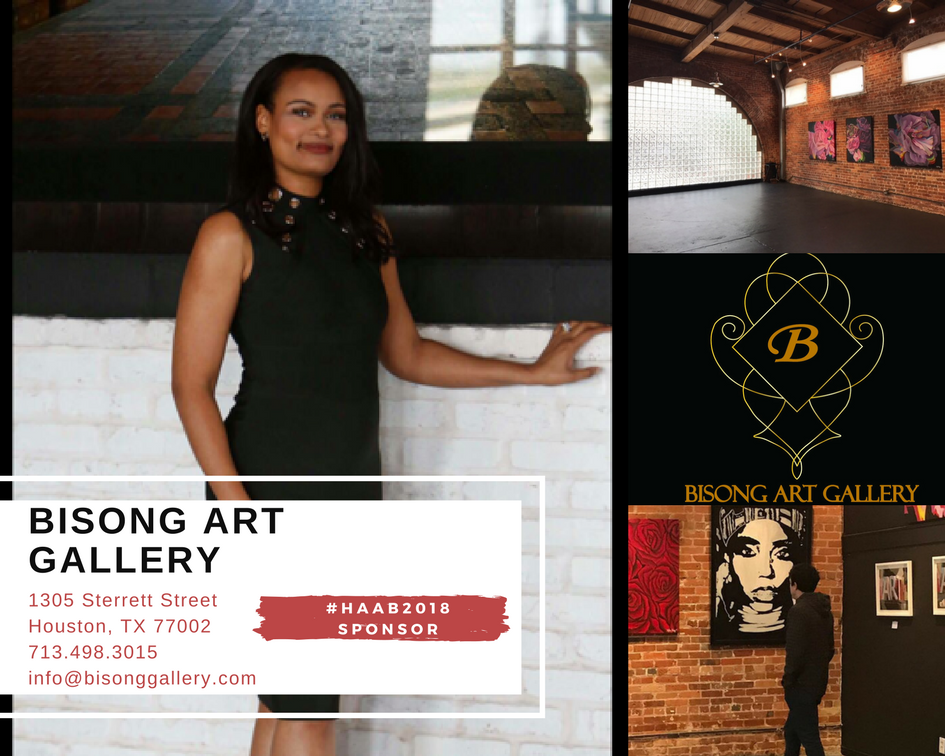 Owner Carla Bisong founded Bisong Art Gallery in 2013 inside a 1300sqft loft located in downtown Houston Texas. She brings her love for marketing and art while providing a platform for artists and art lovers to connect. The gallery is deeply rooted in the community providing workshops, painting classes, weddings and corporate receptions.
Types of Art
Art featured at Bisong Art Gallery includes:
Acrylic on Canvas

Oil Paintings on Canvas

Photography

Mixed Media

Sculptures

Hand Blown Glass Art

More
Bisong Art Gallery personally selects artists who use the highest quality of materials in order to ensure their artwork will last for many years to come.
Many first time collectors feel intimidated to purchase their first original artwork, Bisong Art Gallery makes the process enjoyable with personalized service and will not complete the sale until you are 100% satisfied.
Contact
1305 Sterrett Street
Houston, TX 77002
713.498.3015
http://www.bisonggallery.com/about
---
#HAAB2018 #socialmedia #marketing #SMM #SEO #business #Facebook #DigitalMarketing #Audio #Visual #BeSeen #BeHeard #SocialMediaMarketing #HAABCollective #HTXAABloggers #bloggers #blog #WordPress #bbloggers #blogging #fbloggers #writers