About this Event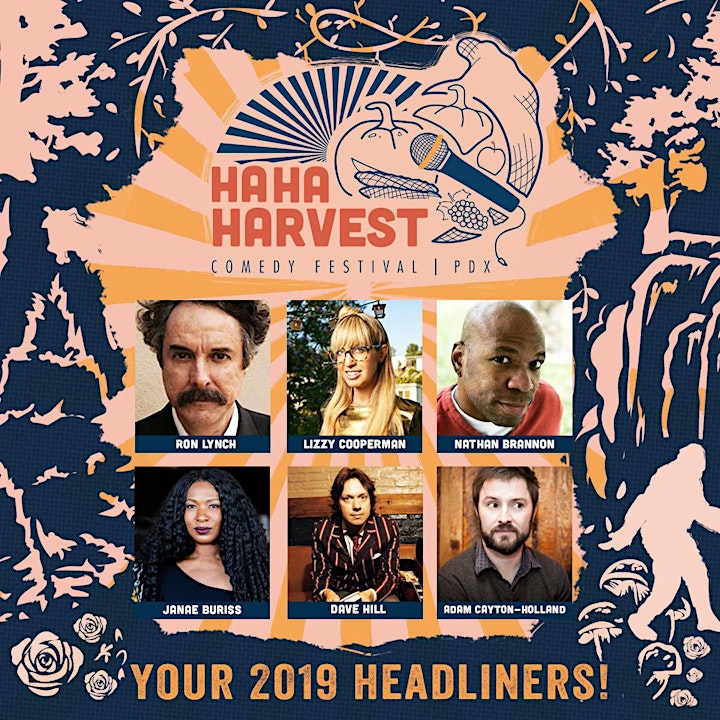 Join us the weekend after Thanksgiving November 29-Dec 1st.
7 venues!
over 90 performers!
Over 30 shows and podcasts!
3 days!
In downtown Portland!
Headliners include Janae Buriss, Adam Cayton-Holland, Ron Lynch, Lizzy Cooperman, Nathan Brannon and Dave Hill!
More comedians to be announced! check out www.hahaharvestcomedyfest.com to stay up to date!
VIP passes (limit of 10) are just $79 for reserved front row seating at all shows for all 3 days (seats will be given away on a first come first serve basis if you arrive more than 5 minutes after show start), a festival T-shirt, swag bag, and access to the Friday night afterparty.
Festival passes (limited) are on sale and are just $49 for early bird (until sold out!) and $59 for all 3 days!
Day passes will go on sale Oct 10th and are just $29 for a full day of shows!
Individual tickets to shows will go on sale Nov 10th and will range from $7-$20
Tickets at the door will range from $7-$20
MEET YOUR HEADLINERS:
DAVE HILL
Dave Hill is exploring his roots and we're all invited along on his genealogical joyride. His latest book, "Parking the Moose: One American's Epic Quest to Uncover His Incredible Canadian Roots" explores the homeland of his grandfather and his own childhood obsession with his ¼ ancestry. Hill, a comedian, writer, musician, actor, radio host, and all-around joy maker in many forms, originally hails from Cleveland, OH. He's appeared on "The Unbreakable Kimmy Schmidt," "Full Frontal with Samantha Bee," and others, and performs live comedy all over the world on stages like SXSW, Bumbershoot, and the Edinburgh Fringe Festival. Hill might be only a quarter Canadian, but his work across media is 100% hilarious.
Dave Hill is a comedian, writer, musician, actor, radio host, and man-about-town originally from Cleveland, Ohio but now living in New York City in a totally sweet apartment with a party deck and everything. Hot chicks come over to hang out and eat cheese plates and stuff with him all the time and it's awesome.
Anyway, on the show business front, Dave has appeared on Netflix's The Unbreakable Kimmy Schmidt, Amazon's The Tick, Comedy Central's @midnight and Inside Amy Schumer programs, TBS' Full Frontal with Samantha Bee, TV Land's The Jim Gaffigan Show, and TruTV's Comedy Knockout among a bunch of others. He is a frequent on-air host for HBO and Cinemax and has been on channels like MTV, VH1, BBC-America, and the Sundance Channel a whole bunch too. Dave also starred in his own television program The King of Miami on the Mojo Network, which was cancelled even though Dave really liked it. The show also aired in the United Kingdom on Sky TV's Film24 Channel. And you can still watch The King of Miami on Hulu too, which Dave is super pumped about. Oh, and Dave was a correspondent on Hoppus on Music starring Blink 182's Mark Hoppus on the Fuse channel, which ruled. Dave has been on other shows and in obscure movies too but let's keep moving for now.
Dave performs live comedy over the world and has appeared at such festivals as the Melbourne International Comedy Festival, SXSW, San Francisco Sketchfest, the Edinburgh Fringe Festival, the U.S. Comedy Arts Festival in Aspen, Sasquatch Festival, Bumbershoot, Bonnaroo, the Bridgetown Comedy Festival in Portland, the Crap Comedy Festival in Oslo, Outside Lands in San Francisco, and then some other ones too. He has also performed comedy at Sing Sing Correctional Facility twice and even ripped some guitar solos inside a Mexican prison once. In 2007, Variety magazine named Dave one of their "10 Comedians to Watch," something he still won't shut up about.
Dave hosts his own radio show The Goddamn Dave Hill Show on WFMU in Jersey City, New Jersey every Monday night from 9pm to midnight. The show is also broadcast on the UK's Fubar Radio. Dave is also a frequent contributor to public radio's This American Life. He has also appeared on podcasts like WTF with Marc Maron, The Adam Carolla Show, The Nerdist, and then roughly 78 other ones besides those.
Dave is the author of two books, Tasteful Nudes (St. Martins Press, 2012) and Dave Hill Doesn't Live Here Anymore (Blue Rider Press 2016). He has also written for the New York Times, GQ, Salon, The Paris Review, McSweeney's, New York Observer, The Cleveland Plain Dealer, VICE, Guitar World, and a bunch of other places too. Comedy legend Dick Cavett called Dave "a major figure among American comic writers, past and present," which is pretty much the coolest thing that has ever happened as far as Dave is concerned.
Dave is also a musician who currently sings and plays guitar in the power pop band Valley Lodge, whose song "Go" is the theme song to HBO's Last Week Tonight with John Oliver, and the psych/garage rock band Painted Doll. He was also a member of Cleveland rock bands Sons of Elvis and Cobra Verde as well as Diamondsnake, a heavy metal band with Moby. Additionally, Dave has played guitar for Walter Schreifels and muscle metal band Thor and bass for Lucy Wainwright Roche and former Faith No More singer Chuck Mosley. He also contributed musical scores to films such as Dirty Deeds, Shoot First and Pray You Live, and then some other ones besides those two.
Additionally, Dave's mostly imaginary Norwegian Black Metal Band Witch Taint is currently bringing its own disturbing brand of comedy and music to audiences all over the world. They've also sold a lot of T-shirts.
Dave has made out with a lot of chicks, is sweet at guitar, and smells really great. You can ask anyone.
https://www.youtube.com/watch?v=oAPjTHA19Kw (his bands song)
ADAM CAYTON-HOLLAND
Adam Cayton-Holland is a national touring headliner who was named one of 25 "Comics to Watch" by Esquire magazine and one of "10 Comics to Watch" by Variety. Along with his co-horts in the The Grawlix comedy troupe, Adam created, wrote and starred in truTV's "Those Who Can't," which ran for three seasons on truTV.
He has appeared on CONAN, The Late Late Show with James Corden, The Meltdown with Jonah and Kumail, Happy Endings, Deadbeat, Flophouse, Hidden Americaand @midnight. He has also been featured on WTF with Marc Maron, Nerdist, Comedy Bang Bang and Sklarbro County podcasts. Cayton-Holland has performed at the Montreal Just For Laughs, SXSW, and Bridgetown Comedy festivals, and helms his own comedy extravaganza in Denver, the High Plains Comedy Festival. He has also performed at The Kennedy Center and Carnegie Hall.
Adam has three albums, "I Don't Know If I Happy," "Backyards," and "Adam Cayton-Holland Performs His Signature Bits," all available on iTunes, and his first book, Tragedy Plus Time, was published by Simon & Schuster in 2018. Adam lives with his wife Katie, his son Malcolm, and a purebred Chesapeake Retriever named Annabel Lee. He once threw out the opening pitch at a Colorado Rockies game and people have described him as "genial," and "with decent teeth."
NATHAN BRANNON
Nathan Brannon is a comedian originally out of Portland (OR), who is consistently adding to his list of accomplishment year after year. In 2018, Nathan's work with "The Hamster Village," a podcast examining interracial families, recently presented a new opportunity for him as Lead Audio Instructor for the "Rural American Digital Lab(RADLab);" a program that promotes dialogue, through digital storytelling, between urban & rural areas.
In 2016, Nathan recorded his second album, 'Because'. The album was produced by distinguished record label, Kill Rock Stars, who signed him in 2015. In 2014, was the winner of the Seattle International Comedy Competition, was included in the Willamette Week's "Portland's Funniest" in 2013, released his first comedy album 'I Black Out' that same year, and was crowned "Portland's Funniest Person" in 2012.
He has been featured in publications & programs such as NPR's 'Weekend Edition,' 'Laughs' on Fox, NBC, The Los Angeles Times, and The Guardian Newspaper. Nathan has also worked with comedians such as Dave Chappelle, Damon Wayans, Maria Bamford, Roy Wood Jr, and has photoshopped himself into photos with many more. Currently, Nathan is seeking a funnier way to end this paragraph.
Also, check out Nathan's podcast, 'The Hamster Village', a show examining interracial experiences. The show has listenership in over 25 countries, and has been very active with outreach in the interracial community. Check out the show website, TheHamsterVillage.com, for more about that outreach, including "Mixed Memories"; an event for interracial families/individuals to create collective family-history albums, using fun arts & crafts techniques. Download an episode! Tell a friend!
RON LYNCH
Ron Lynch is an American stand-up comedian, actor, and writer. He has appeared in a number of movies and television shows, including Corporate, Corpse Tub, Another Period, Dope State, Comedy Bang! Bang!, and Portlandia. He has worked as a voice actor for several animated shows, including Home Movies, Bob's Burgers, and Tom Goes to the Mayor, and has made guest appearances on Dr. Katz, Professional Therapist, The Sarah Silverman Program, Andy Richter Controls the Universe, Adventure Time, and Star vs the Forces of Evil.
Lynch hosts a weekly musical and comedic variety show called Tomorrow! comedy show, every Saturday night at midnight at The Steve Allen Theater in Hollywood, California.
LIZZY COOPERMAN
Lizzy Cooperman is a comedian, actor, and writer who was named one of TimeOut LA's Comedians to Watch in 2018. She's appeared on HBO's Crashing, and will be on the second season of Corporate on Comedy Central. Her tarot reading character, Mountain Schwartz, has been featured on Super Deluxe and Funny Or Die and she can be seen in the new Lord Huron video for Vide Noir. Lizzy co-hosted Gunpowder and Sky's That Detox Life and has written for several shows including Not Safe with Nikki Glaser, The Eric Andre Show, The Soup, The Dish, and a show that only aired in the Ukraine and Germany called Naked and Funny. She's been featured on The Late Late Show with Craig Ferguson, MTV, E! and the Style Network . She recently performed as part of the Headliner Series at New York Comedy Festival and has been featured at Bentzen Ball, Red Clay Comedy Festival, RIOT LA, New Faces at Montreal, Bridgetown Comedy Festival, and the Las Vegas Comedy Festival. Lizzy's a published poet and her work was featured in Volume 16 of Hotel Amerika.
She's been described by the Portland Mercury as "…a witchy Lady. In her act, she writhes around the stage like a crazy combination of Sarah Jessica Parker in Hocus Pocus and Norma Desmond." And the LA Times wrote, "At times, laughter nearly drowned out her keyboard. No drink minimum necessary, Cooperman killed."
JANAE BURRIS
Janae Burris (JFL/NBC First Look) is a comedian, actor and event host in Denver Colorado. She is a South Los Angeles native and a California Institute of the Arts alumna. Since moving to Colorado Janae has worked with Local Theater Company, Colorado Shakespeare Fest & The Denver Center for Performing Arts. She's opened for Michael Che, Roy Wood Jr., Cameron Esposito, Josh Blue and Gary Gulman to name a few. Janae has been a featured performer at Just For Laughs Montreal, Portland's Bridgetown Comedy Festival and High Plains Comedy Festival in Denver. She is a regular performer at Comedy Works in Denver and was crowned the 2016 New Faces Champion. Most recently Janae was chosen to receive a grant through Spotify's Sound Up Podcast Bootcamp and will be launching her new podcast in the near future.