Description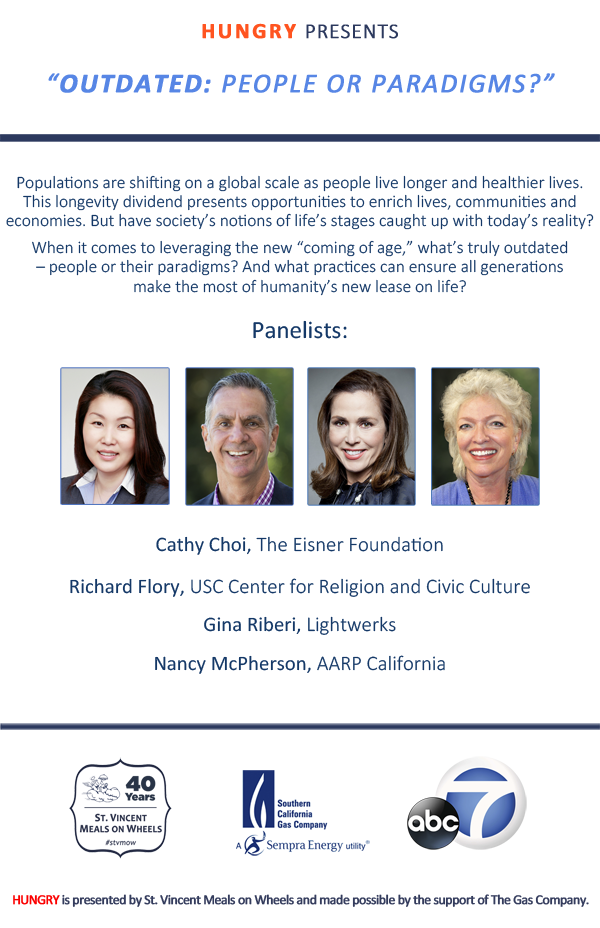 #HUNGRYtalks #stvmow
April 20, 2017 - HUNGRY presents "OUTDATED: People or Paradigms?"
Do society's notions of life's stages reflect or distort today's reality? What has become outdated – people or their paradigms? Living creative, purposeful lives in the future's unprecedented demographic landscape calls for new practices that engage people across generations, cultures and technologies. We'll explore the best prospects for making the most of humanity's new lease on life. Featuring: Cathy Choi, The Eisner Foundation; Richard Flory, USC Center for Religion and Civic Culture; Gina Riberi, Lightwerks; and, Nancy McPherson, AARP California.

Previous episodes of HUNGRY:
"Mission Control: What Happens When the Message Meets the Masses?"
"Currency: The Social Impact of Dollars vs. Deeds"
"Mission or Mania: What Drives Pioneers of Change?"