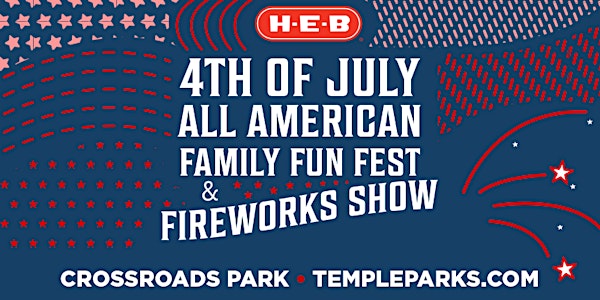 H-E-B All American 4th of July Family Fun Fest FOOD VENDOR APPLICATION
FOOD VENDOR APP Vendor applications are now being accepted for the H-E-B All American 4th of July Family Fun Fest taking place Monday July 4
When and where
Location
Crossroads Recreational Complex Prairie View Rd Temple, TX 76502
About this event
FOOD VENDORS 2020
Celebrate Independence Day at the 24th Annual H-E-B All American Family Fun Fest & Fireworks Show Monday, July 4, 2022, at Crossroads Recreational Complex! Star Spangled Festivities start @ 4:00pm with the GREATEST FIREWORKS show in Central Texas @ 9:30pm. Estimated attendance for this event is 8,000-12,000.
* The H-E-B All American 4th of July Family Fun Fest & Fireworks Show is free and open to the public, no fireworks allowed in the park.
CLICK HERE: MANDATORY RULES AND REGULATIONS
Vendor applications for food vendors are now being accepted for this event and are due by Wednesday June 22nd , 2022. Vendors must review the MANDATORY RULES AND REGULATIONS prior to submitting your online application as you will be responsible for all information contained therein.
WHERE:       Crossroads Recreational Complex (Prairie View Rd, Temple, TX 76502)
WHEN:         Monday, July 4, 2022, 4pm -10pm
VENDOR SPACE: Vendor space is limited to a single 15 x 15 booth (including all wires, stakes, poles, etc.) with a good roof that can withstand wind, rain and inclement weather If you require a larger space (Example: 15 x 20) then you would need to purchase additional space. All items being sold must be contained in booth space. Vendors are responsible for providing all their own equipment, including tables, chair, etc.
FEES:
Food Vendor (1) Single 15 x 15 Space) $230 ($75 for additional space)      
Non Profit Vendor  (1) Single 15 x 15 Space) $75 ($75 for additional space)      
 Electricity -All FOOD Vendors will have access to power, as it is included in the fee above.
Must provide your own OUTDOOR Extension Cords with the correct amperage.
CERTIFICATE OF INSURANCE: Vendors must furnish CITY OF TEMPLE with a Certificate of Insurance with general liability coverage of not less than $1,000,000 and will name the City of Temple as an "additional insured". If VENDOR does not carry insurance, then the AFFIRMATION AND LIABILITY RELEASE must be completed and signed by the VENDOR in lieu of a Certificate of Insurance. All, VENDORS agree to indemnify and hold harmless the City of Temple, its officers, agents, directors, employees and assigns from any and all claims arising from any act or omission of the Vendor. Certificate of Insurance and/or AFFIRMATION AND LIABILITY RELEASE must be provided before set-up. 
REQUIREMENTS: Vendors must remain open until event closing, even if vendor is sold out. Leaving early makes the festival look in disarray; and concessionaires who leave early will not be invited to participate the following year. Your booth must be neat, attractive and well-maintained. Signage with visible and clear pricing is required. You are responsible for setting up, maintaining and removing your own booth, merchandise and trash.      
APPLICATON CHECKLIST/ACCEPTENCE: The following items MUST be submitted for your application to be considered. Completed online application with payment @ templeparks.com
Food Menu with pricing      
Photo of your booth
Certificate of Insurance and/or AFFIRMATION AND LIABILITY RELEASE        
 ** (photos and certificate of insurance can be emailed to (aweckbacher@templetx.gov).
For more information, please contact
Amanda Weckbacher, Special Events Coordinator
City of Temple Parks & Recreation Department
(O) 254.298.5774 (C) 254-493-5095
aweckbacher@templetx.gov