Location
In Zagreb, at a secret location to be announced prior to the dinner...
10000 Zagreb
Croatia
Refund policy
Refunds up to 7 days before event
Description
The Gypsy Table is coming back to Zagreb and this time the theme is one that is near and dear to our heart. We are calling it, Forces of Nature...Elemental and will showcase an ALL FEMALE led Gypsy Table event. Be prepared to experience an all-inclusive feast full of food, wine, cocktails, beer, music, art and more...showcasing some of the top female talent as they unleash the forces of nature in a fury of flavors, sights and sounds. This will truly be a magical night, one not to be missed. The event will take place Friday, January 4th, 2019 at a secret location in Zagreb which will be revealed prior to the dinner.
Unfortunately, sexism and chauvinism are still running pretty rampant in Croatia and we don't feel women are getting nearly enough respect for their efforts, especially in the food and beverage world. Is it for that very reason that we wanted to put together a dinner featuring a who's who of the best female talent from every industry together to showcase the amazing skills that they possess and to bring awareness to this behavior in the hopes that things may change for the better. We also strive to encourage and celebrate women's empowerment, independence and confidence. So far, we have commitments from some of the best women in their fields and we hope that you can join us as we celebrate "Women Power".
Our List of Participants-
Jo Ahearne-Wine
Maja Beus-Art Illustration
Irena de Basttiani-Culinary
Zrinka Ferina-Media/PR
Petra Jelenić-Culinary
Ružica Jukičić-Culinary
Ivana Urem Marohnić-Culinary
Marija Mrgudic-Wine
Antonija Nikolic-Culinary
Đurđica Palandžić-Culinary
Morana Petričević-Media/PR
Ana Teskera-Beverage
Rebeka Tratnjek Vučko-Culinary
Ines Trickovic-Mistress of Ceremony
Jelena Tomljanović-Beverage
And more signing on soon…
After dinner, we will have the music flowing with our DJ for guests to enjoy tunes in the event space, so stay longer and enjoy the spirit of the night.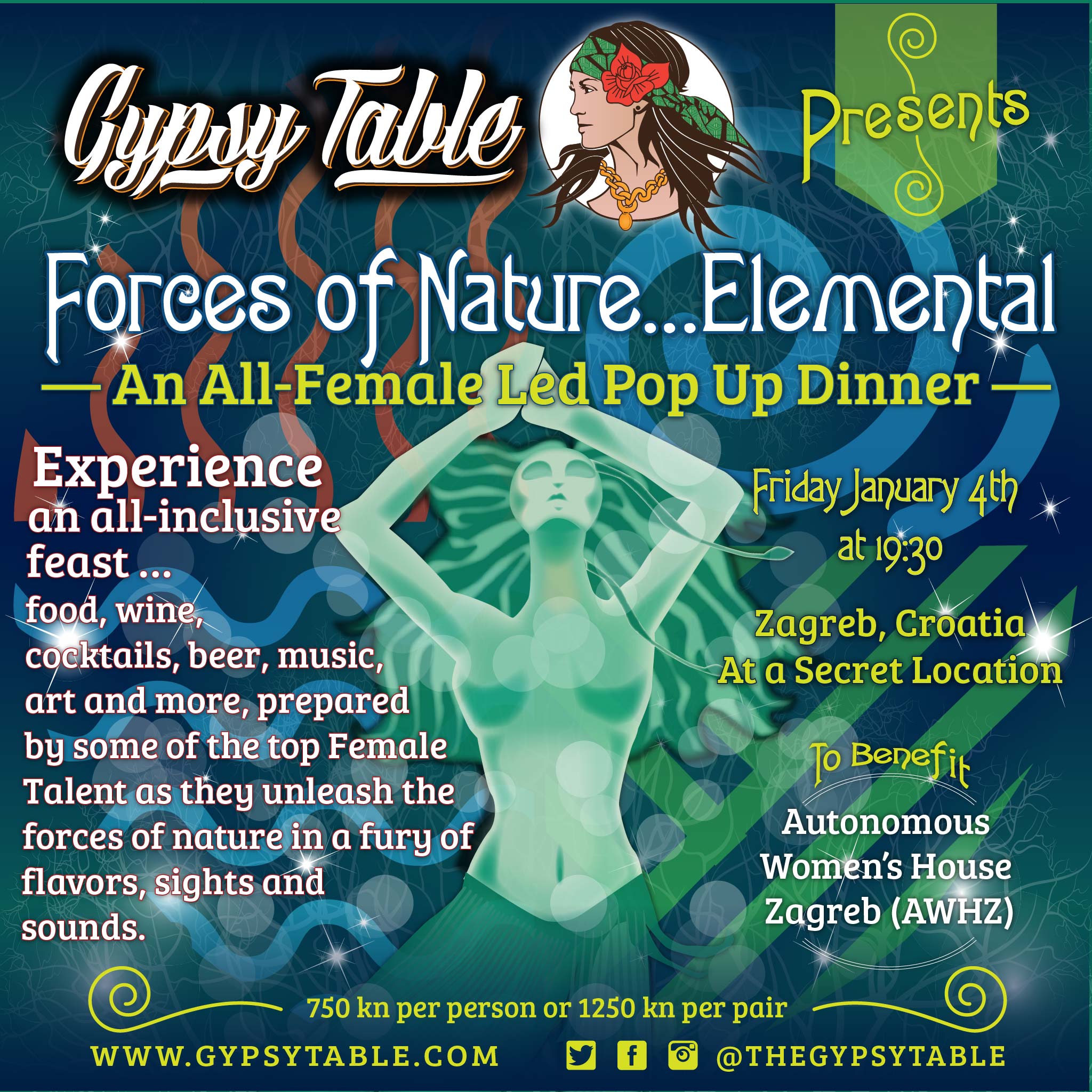 What is a Pop-Up Dinner?
Pop-up dinners are one-time food events offering guests a taste of something different. These events cater to the "Experiential Diner"–one who craves not just an amazing meal, but a new and exciting dining experience. Whether it's an unexpected location, a personal interaction with the chef, or a unique menu or theme, pop-up dinners serve up something no ordinary restaurant can deliver.
What is The Gypsy Table?
The Gypsy Table, is Europe's premier roaming pop-up dinner series. The Gypsy Table brings together top culinary talent and prepares the best locally-sourced products available, all served up in the most beautiful and unique locations.
Charity
Each Gypsy Table event will support and help raise awareness of a unique local charity, with a portion of the proceeds being donated on behalf of The Gypsy Table to the charity. By attending a Gypsy Table event, guests will not only have an amazing experience, but will learn all about the charity and the good that you are doing by attending the Gypsy Table event. It is the commitment of Gypsy Table to be a bridge between community and charitable organizations. This event will support the Autonomous Women's House Zagreb (AWHZ), which is a feminist organization, founded in 1990, build around the principle of women's solidarity with the aim to enable women to live their lives free of violence and enjoy all the human rights in a gender equal society. It provides free shelter and counselling to women and their children survivors of gender based and specifically intimate partner violence. It monitors the relevant legislation, advocates and takes legal action to protect women's rights, to prevent violence against women and to ensure better legal frameworks and public policies.
Join us at the Table-
All guests need to reserve their space ahead of time as seating is limited and no walk ups are allowed. A seat is 500 kunas. Every Gypsy Table event has sold out prior to the event, so we encourage you to get your tickets as early as possible in order to assure your attendance.
You can follow us at @thegypsytable on Instagram and at https://www.facebook.com/TheGypsyTable/