About this Event
LEARN THE BEAUTIFUL FOLK ART OF JAPANESE FISH PRINTING (Gyotaku): Join artist Duncan Berry to learn this artform in a matter of minutes and create original pieces of art printed directly from the fish themselves.
Saturday, May 11, 10 am.
This will be a 120 minute class
Includes all materials, instruction and 2 or 3 finished pieces of art.
Students and 17 and under ~ $25
Adults ~ $50.00
No prior experience needed!
Beautiful artwork you create yourself AND everything you ever wanted to know about fish!
We will be working with Salmon, Ling Cod, Dungeness Crab, Albacore Tuna and other heroic Northwest species.
As a special bonus participants will be learning fascinating facts about the lives of these species and about the Marine Reserve program in Oregon...as they print! These are fun stories to share with your friends and family as they admire you're prints.
Limited to 25 persons per class.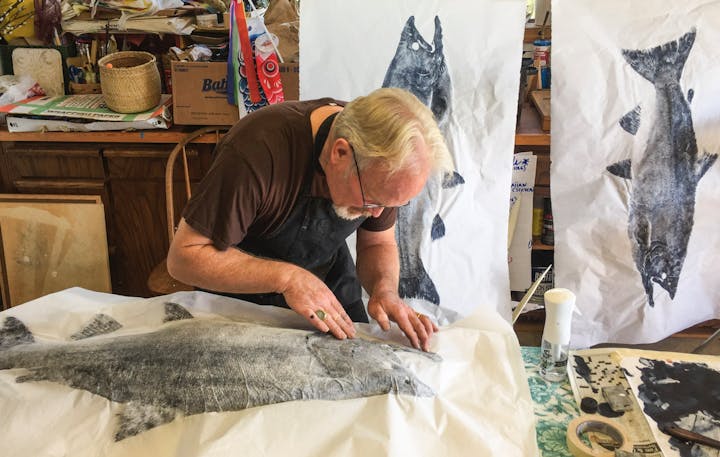 Make it a full weekend on the Oregon Coast!
Friday Night join Artist Duncan Berry at the Chessman Gallery at the Lincoln City Cultural Center for a reception and the grand opening of the Gyotaku Exhibit "Thanks be to the Sea." The artist will also be giving a public presentation that evening and is your chance to immerse yourself in the art prior to our Saturday workshop.
Friday, May 10, 2020
5:30 - 6:30 pm Art Opening ~ Chessman Gallery, Lincoln City Cultural Center.
6:30 - 7:30 pm Presentation ~ Auditorium, Lincoln City Cultural Center.
Thanks be to the Sea currently be displayed at the Oregon Coast Aquarium....Click the Video for a preview.
PLANNING YOUR TRIP ~ Make it a weekend event!
Getting there..
All events will be held at the Lincoln City Cultural Center. 540 NE Hwy 101, Lincoln City, OR 97367
Friday Night ~ Art Opening and Presentation - Chessman Gallery and Auditorium.
Saturday ~ Gyotaku Workshop - Ceramics Studio in the basement of the LCCC.
What to bring...
This is a family friendly event. Register and bring your friends and family, other than that all materials will be provided.
Looking for accommodations...