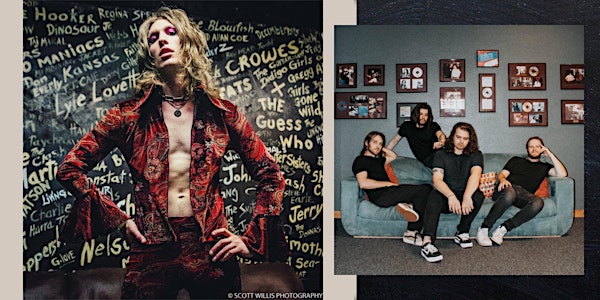 Location
The Evening Muse
3227 N. Davidson Street
Charlotte, NC 28205
Bringing the golden age of rock n' roll into the 21st Century!
About this event
Having made a name for himself in Nashville with squalling riffs, catchy hooks and incendiary live shows driven by a magnetic and theatrical persona, Gyasi (pronounced Jah-See) is a flamboyant artist who brings the golden age of rock n' roll into the 21st Century. Self produced and recorded to tape in his home studio, Gyasi's Alive Records debut vinyl full length, "Pronounced Jah-See," proves with his songwriting, producing, and guitar prowess that rock and roll still has room to move forward. His music can be described as a glorious hybrid of early David Bowie and Marc Bolan but through a vision all his own. Raised in the woods of a West Virginia holler by bohemian parents and currently living in Nashville, Gyasi has been championed by rock luminaries as diverse as Rodney Bingenheimer and Henry Rollins.
Instagram | Facebook | Spotify
Regence is a four-piece alternative rock band based in Charlotte, North Carolina that delivers both power and passion with their songs and live performances. Nasty riffs and massive guitars combine with explosive vocals to create a colossal and all-encompassing sound. Accompanied by introspective lyrics and lush, harmonic landscapes, Regence takes you on a sonic joyride with every twist and turn. Influenced by bands like the Foo Fighters and Royal Blood, Regence easily bridges the divide between the past and the future with a sound that is both timeless and classic yet innovative and inventive.
The roots of Regence go all the way back to their high school years when bass guitarist Eli Helms and vocalist Trey Spears met in band class and formed a group known as The Walbournes with drummer Nick Papazekos. A few years later, D.J. joined as their new drummer and they began recording music and playing local shows. The band went on to become a four-piece with the addition of Colin Moser on guitar who they met through mutual friends in the Charlotte music scene. Under The Walbournes moniker, the band has played two sold-out shows at the iconic Charlotte club The Evening Muse and has established themselves as a force to be reckoned with in the Carolinas music scene.
After spending the better half of two years writing music and developing their craft during the pandemic, the band recently changed their name to Regence in order to better reflect their new music and the direction of the band.