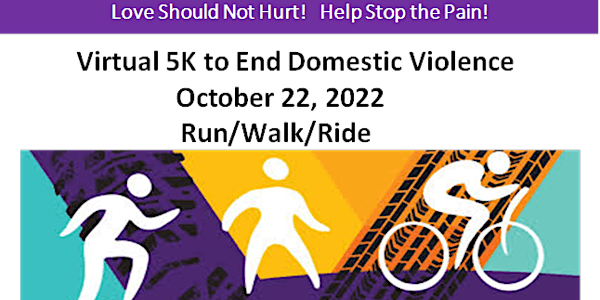 Gwinnett Family Violence Task Force's Virtual 5K to End Domestic Violence
Join us as we run, walk or ride to raise awareness about Domestic Violence in our community.
About this event
October is Domestic Violence Awareness Month, and the Gwinnett County Family Violence Task Force is hosting a virtual 5K to end domestic violence on Saturday October 22nd. Come out and join us as we run, walk, and ride to bring awareness and shed light on this issue. On average 1 in 4 women and 1 in 9 men experience some form of violence from an intimate partner. Domestic Violence (DV) is a pattern of behavior that is used to gain or maintain power and control over an intimate partner. DV can include intimidation, economic mistreatment, emotional manipulation, coercion & threats, isolation tactics, humiliation, and physical and sexual violence. (source: https://www.un.org/en/coronavirus/what-is-domestic-abuse).