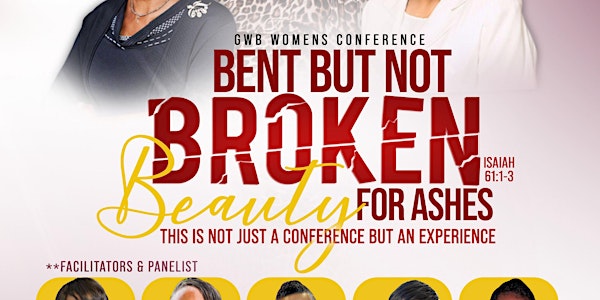 GWB Bent But Not Broken - Beauty For Ashes
GWB Ministries is a women's ministry designed to bring clarity to difficult situations. For women to bond, nurture, and network together.
When and where
Location
Holiday Inn Long Beach Airport, an IHG Hotel 2640 North Lakewood Boulevard Long Beach, CA 90815
About this event
Greetings to you and thank you for your interest in GWB Ministries. I look forward to getting away and spending quality time with you in worship and fellowship at the Bent But Not Broken - Beauty For Ashes Women's Conference.
Please join me for this 2-day Bent But Not Broken Series event where we will come together to bond, nurture, and network with one another.
When you purchase your ticket, the revival process will begin!  So, register today and make plans to join us for two days of excitement, refreshment, and fun! Your emotional, spiritual and physical well-being is important to God and it's time for you to take care of yourself!
We have an awesome conference planned for you to take a much-needed break!
Each aspect of the "Beauty For Ashes" Conference will be a time of encouragement, empowerment, impartation, inspiration, healing, and deliverance!
We have carefully selected experienced panelists, facilitators, and anointed speakers to uncover areas of brokenness and to evoke a sense of comeback in the midst of so much destruction and evil.
WHAT TO BRING? Bring your prayers, your worship, your burdens, your secrets, and all of your places that need healing. The prayer encounters and worship experiences will usher in the presence of the Lord and set the atmosphere for breakthrough and healing. The Panel will give much-needed answers to those questions that are rarely asked.
Our prayer is that you will be encouraged and inspired by the experience created for you this weekend by Pastor Lorie Givins.
FULL REGISTRATION INCLUDES: Both days October 21st & 22nd, the Prayer Encounter, Worship Experiences, Breakout Sessions, Empowerment Breakfast, and access to our Vendor Pop-up Boutique. VIP and reserved table registration include everything of full registration plus a Beautiful Custom GWB bag and preferred seating.
Hotel accommodations are NOT included in your Registration Fee.
The conference will be casual, but plan to be classy, comfortable, and cute! GWB T-Shirts will be available for purchase for $25. We plan to wear them at the Empowerment Breakfast on Saturday the 21st.
CONFERENCE AGENDA:
Friday | October 21st
2:30 Registration Opens
Breakout Session #1 - Managing Through Grief
Breakout Session #2 - Understanding Spiritual Warfare
Breakout Session #3 - The Benefits of an Accountability Coach
Breakout Session #4 - Building Business Credit
Breakout Session #5 - Mental Health - The Struggle is real
Breakout Session #6 - Overcoming the Spirit of Rejection
7:00 PM Worship Experience / Impartation Service
Saturday | October 22nd
9:00 AM Registration Opens
10:00 AM Worship Experience
10:30 AM Breakfast Served
12:00 PM Panel Talk
1:00 PM Impartation
*Note: The agenda, topics, and speakers are subject to change without notice.
MEN AND CHILDREN ARE WELCOME, however, REGISTRATION IS REQUIRED to attend.
HOTEL RESERVATIONS: Our conference is located in the beautiful City of Long Beach at the Airport Holiday Inn.
HOTEL RATE: 20% off per night rate | plus taxes. This rate does not include the parking fee. The Hotel provides FREE parking for all Conference attendees unless you are staying overnight.
YOU MAY BEGIN MAKING YOUR HOTEL RESERVATIONS NOW! USE THE FOLLOWING LINKs:
https://www.holidayinn.com/redirect?path=hd&brandCode=HI&localeCode=en&hotelCode=LAXLB&rateCode=ILHC8&_PMID=99502056&corpNum=100230154&cn=no&viewfullsite=true
Rate Code: ILHC8
VENDOR POP-UP BOUTIQUE: We have selected unique vendors for your shopping experience. Please stop by the vendor tables.
AIRLINE TRAVEL: If flying into California, the closest Airport is Long Beach. Other Airports are Ontario and LAX.
YOUR HEALTH & SAFETY IS OUR PRIORITY! We continue to follow the CDC's safety protocols whether you have been vaccinated or not. MASKS ARE REQUIRED TO BE WORN!
This is a limited capacity in-person conference for only 300 attendees so Register as soon as possible to avoid disappointment. Temperatures will be checked before admittance on both days!
FOR QUESTIONS: Please contact Pastor Lorie Givins at 562-607-9112.
DISCLOSURES: ALL REGISTRATION FEES ARE NON-REFUNDABLE. TICKETS WILL NOT BE SOLD AT THE DOOR. TICKETS ARE REQUIRED FOR ALL CHILDREN. SPEAKERS & TOPICS ARE SUBJECT TO CHANGE WITHOUT NOTICE. YOUR REGISTRATION SERVES AS YOUR PERMISSION FOR US TO UTILIZE YOUR IMAGE THAT MAY BE CAPTURED IN VIDEOS AND PHOTOS FOR FUTURE PUBLICATIONS AND MARKETING PURPOSES.
GWB Ministries Founder, staff, volunteers, and affiliates shall not be held liable or responsible to the conference registrants or Pop-Up Vendors, nor be deemed to have defaulted under or breached this conference registration for failure or delay in fulfilling or performing any obligation under this conference contract, when such failure or delay is caused by or results from causes beyond the reasonable control of the affected party, including but not limited to fire, floods, embargoes, war, acts of war, insurrections, riots, strikes, lockouts or other labor disturbances, or acts of God; pandemic, epidemic, provided, however, that the party so affected shall use reasonable commercial efforts to avoid or remove such causes of non-performance, and shall continue performance hereunder with reasonable dispatch whenever such causes are removed. Either party shall provide the other party with prompt written notice of any delay or failure to perform that occurs because of force majeure.
If CDC guidelines, GWB Ministries, or the Hotel cancels or postpones this conference due to pandemic-related safety precautions, there will be no refunds, as deposits and payments will have been made to various vendors, and necessary supplies would have been ordered in preparation for your time with us. Although refunds will not be processed, we will apply 100% of your registration payment to a future conference date that is safe for all. Your registration confirms your understanding of this disclosure. Conference registrants and vendors are required to follow CDC safety precautions at all times while attending the conference, whether they have been vaccinated or not.