Description
SOLAR ENERGY: Going Global

April 23 - Free! Register Now!
The Solar Institute at the George Washington University will hold its Fifth Annual Symposium, "SOLAR ENERGY: Going Global," on April 23, 2013.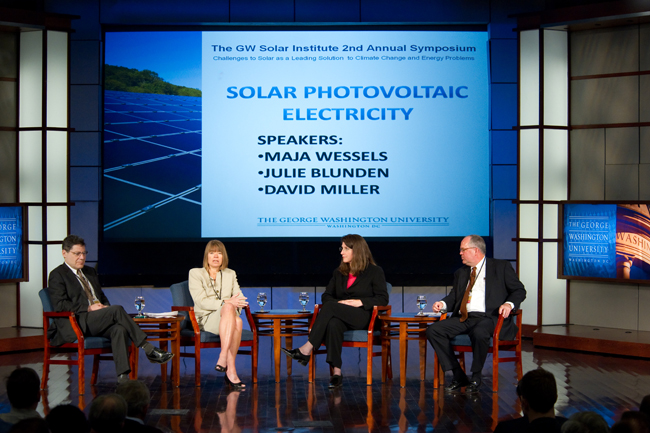 This free event is the largest annual solar energy conference in Washington, DC. As in previous years, the Symposium will feature high-level speakers with globally recognized expertise in solar policy, technology, and industry. Past speakers have included Maja Wessels, Executive VP of Public Affairs for First Solar; Jon Wellinghoff, Chairman of FERC; Hans-Josef Fell, German Member of Parliament and author of the feed-in tariff legislation; Representative Gabrielle Giffords (AZ-08); and Ted Turner, entrepreneur and philanthropist.
The 2013 Symposium will be an important event for solar energy. Sessions will cover expansion of photovoltaics and solar thermal electric to new global markets; and leadership in the private sector from key corporations. The event will also feature a free networking lunch to engage fellow participants.
---
Past Sponsors:
Contact for sponsorship opportunities: gwsolar@gwu.edu
---
Agenda:
Registration (8:45–9:15 AM)
Welcome (9:15–9:30 AM)
– Peg Barratt, Dean, GW Columbian College of Arts and Sciences
– Ken Zweibel, Director, GW Solar Institute
Keynote (9:30–10:00 AM)
– Kathleen Weiss, US Regulatory Affairs, First Solar

Panel: Solar Photovoltaics: Going Global (10:00–11:45 AM)
Moderator: James Johnson, PV Technical Strategist, GE
Panelists: from SunPower, First Solar, MEMC (SunEdison), and Berkeley
Networking Lunch (12:00–1:15 PM) Marvin Center, 3rd Floor
Panel: Solar Thermal Electric: Going Global (1:30–3:00 PM)
Moderator: Alan Miller, World Bank
Panelists from BrightSource, Abengoa, and the World Bank
Break (3:00-3:15)
Panel: The Economic and Political outlook for global development of solar power (3:15–4:45 PM)
Moderator: Jerry Bloom, Partner, Winston and Strawn
Panelists from GW, other universities, and World Bank
Public Reception (4:45–6:00 PM) Media and Public Affairs Building, 2nd Floor (free)
---
Learn more:
If you missed last year's Third Annual Symposium, you can still watch all the important speakers and presentations on the Solar Institute's website.
Read the Institute's Annual Report to learn about the many accomplishments, ongoing research and growing partnerships of the Institute.
Follow the Solar Institute:
---
Speakers:
TBA
Organizer of GW Solar Institute Symposium 2013