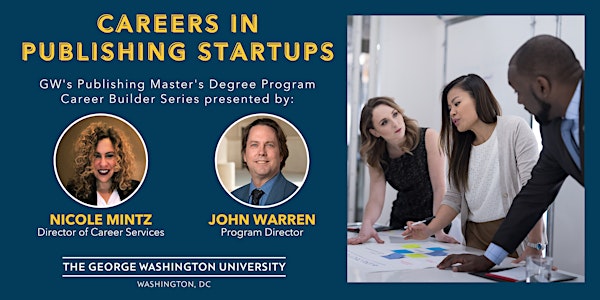 GW Publishing CareerBuilder: Careers in Publishing Startups
Join us to explore the benefits of working for a startup within the field of publishing and lessons learned from young professionals.
By GW's Publishing Master's Degree Program
Date and time
Tuesday, February 21 · 3 - 4pm PST
About this event
Calling all publishing professionals — aspiring and experienced! Let us help you prepare for that next opportunity!
Thad McIlroy's exhaustive report on startups within the publishing industry identified more than 1,300 publishing startups, mostly within the United States. These new ventures, designed to help authors, readers, and publishers innovate and grow, provide career opportunities for publishing professionals and lessons for those seeking to launch new businesses that can actively reshape the publishing world.
In this Publishing Career Builder, we'll explore the benefits of working for a startup within the field of publishing, as well as lessons from young professionals who have launched their own ventures. We'll hear from Thad McIlroy, principal, The Future of Publishing, on high-level findings from his report; GW MPS in publishing alumni Brittany Smith, senior editor, Community.co, and Amy Megill, founder, Editor Amy; and GW MPS in publishing student Isabella Greene, project manager, Pubvendo, and founder, AbiliTeam Consulting.
PANELISTS:
MODERATORS:
Nicole Mintz, Director of Career Services, the George Washington University College of Professional Studies
John W. Warren, Director and Professor, MPS in Publishing program, the George Washington University College of Professional Studies

BIOS:
Thad McIlroy is an electronic publishing analyst and author based in San Francisco and Vancouver, BC. Through The Future of Publishing, Thad provides in-depth coverage of the book publishing industry. He is a contributing editor to Publishers Weekly, covering digital innovation and publishing startups. McIlroy is a partner in Publishing Technology Partners, and an adjunct professor in the Masters of Publishing Program at Pace University in New York. Publisher's Weekly issued his updated Book Publishing Startups in the United States report and database in November 2022.
Brittany Smith is a senior editor for Community.co, a global leader for professional communities of influence that provides content marketing through brand licensing and fee-based memberships. She graduated from the University of Central Florida in 2015 with a degree in creative writing, and completed her MPS in Publishing at GW in 2017. Previously, she worked as copy editor for Liftable Media and as a book editor for WorldatWork, an HR association.
Isabella Greene is in her last semester of the MPS program in Publishing at George Washington University while working as a project manager at Pubvendo. She earned her BA in English from Boston College and remained in the Greater Boston Area. In her free time, she runs a mobile bookstore and is mom to two Australian Shepherds—Miles and August. She recently founded an accessibility consulting firm, AbiliTEAM Consulting LLC, after witnessing the need for improved transparency and advocacy for chronic and invisible illness in the publishing industry.
Amy Megill, a professional editor of over fifteen years, is the founder of Editor Amy, an editorial services firm for authors, publishers, and other organizations. She also works as a technical content editor for Alchemy Technology Group. Amy has a BA in mass communication from Sam Houston State University, an editing certificate from the University of Chicago, and an MPS in Publishing from George Washington University.

MODERATOR BIOS:
Nicole Mintz is an ICF Professional Certified Coach specializing in career management, strengths-based coaching and leadership development. She is a certified practitioner in both the Strong Interest Inventory and a Myers-Briggs Type Indicator® (MBTI®) and facilitates CliftonStrengths assessments. Nicole currently serves as the Director of Career Services for the George Washington University College of Professional Studies.
John W. Warren is the Director and Professor of the MPS in Publishing program at the George Washington University College of Professional Studies. He has 30 years of senior management experience in publishing, having led groundbreaking initiatives in digital content development and distribution, including eBooks and enhanced eBooks, short-form digital content, open access journals, and open educational resources. Prior to leading GW's publishing program, he launched a new university press and library publishing program at George Mason University and directed marketing and ebook development efforts at Georgetown University Press, the RAND Corporation, and Fondo de Cultura Económica USA.
The CareerBuilder Series is designed to provide training and discussion on areas that are somewhat out of course goals but may be important to your career or interests.
______________________________________
Connect with us on social media: