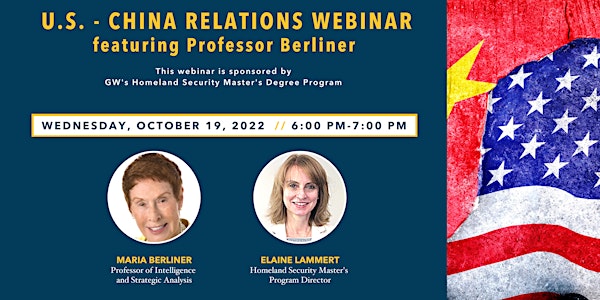 GW Homeland Security Program: U.S. - China Relations Webinar
The George Washington University College of Professional Studies introduces the fourth in a series of webinars on U.S. - China Relations.
About this event
U.S. - China Relations: What should the U.S. be thinking and preparing for?
In the fourth installment of the series, "U.S. - China Relations," we will update our discussion on the Russian war on Ukraine and what lessons we have learned so far, with particular focus on the ways China is expanding its influence in the region and how the United States can concurrently be involved in assisting Ukraine and Taiwan. Juxtaposed to this is the current economic and political environment in China (Zero Covid-19 policy, the severe drought) and what this all means for the future of President Xi and U.S. – China relations.
Please join us as we extend the conversation with Maria Velez de Berliner, Professor of Intelligence and Strategic Analysis, in GW's Homeland Security Master of Professional Studies Program. We will continue to examine the key areas of competition between the two countries, the challenges each country faces, and what the United States should do in response.
GUEST SPEAKER:
Maria Velez de Berliner, Managing Director, RTG-Red Team Group, formerly known as Latin Intelligence Corporation, and faculty member in the Homeland Security Program, is recognized as a subject-matter expert on risks and threats to the United States, its government, and its private industry, in Latin America's volatile operational environment. She is also known for her analyses on the Middle East and China in Latin America. She is a Professor of Intelligence and Strategic Analysis, Political Violence and Terrorism, Inter-Agency Cooperation, and Managing Strategic Change at The George Washington University. Professor Berliner is also an Invitational Instructor on Strategic and Tactical Security Threats/Latin America at various USAF installations.
Her interviews on risk and security in Latin America, the Middle East, China, and Africa appear in América Economía, Bloomberg News, Latin Business Chronicle, International Investor, The Miami Herald, Your Money (Lima), and El Colombiano (Colombia). As a TV commentator, she appears as Latin American Security Analyst on Latin America and the Middle East on Voice of America, and a Middle East analyst on RCN's TNT24 Noticias in Colombia.
Professor Berliner has been a regular Guest Lecturer on Security, Global Corporate Strategy, Risk Analysis, Development Economics, International Relations, and Comparative Politics at Lake Forest College, Florida International University, Universidad EAFIT (Colombia), and Canning House (London).
______________________________________
This webinar is sponsored by the GW College of Professional Studies Homeland Security Master's Program. The conversation will be moderated by the Homeland Security Master's Program Director Elaine Lammert.
Click here to join the webinar on U.S. - China Relations
Learn more about the College of Professional Studies Homeland Security Master's Program:
GW's Homeland Security Master's Program is designed to prepare working professionals with experience in fields including law enforcement, emergency management, government contracting, intelligence, corporate security, public safety, public health preparedness, and the military for future leadership positions. The program is taught by acknowledged experts who draw upon their firsthand knowledge and strategic expertise.
______________________________________
Connect with us on social media: