Description
Sea Tea Improv presents
GUTENBERG! THE MUSICAL!
Written by Scott Brown & Anthony King
In this two-man musical spoof, a pair of aspiring playwrights perform a backers' audition for their new project - a big, splashy musical about printing press inventor Johann Gutenberg. With an unending supply of enthusiasm, Bud (Dan Russell) and Doug (Greg Ludovici) sing all the songs and play all the parts in their crass historical epic, with the hope that one of the producers in attendance will give them a Broadway contract - fulfilling their ill-advised dreams. Featuring accompanist Kevin Scott as Charles. Produced by Julia Pistell. Directed by Casey Grambo.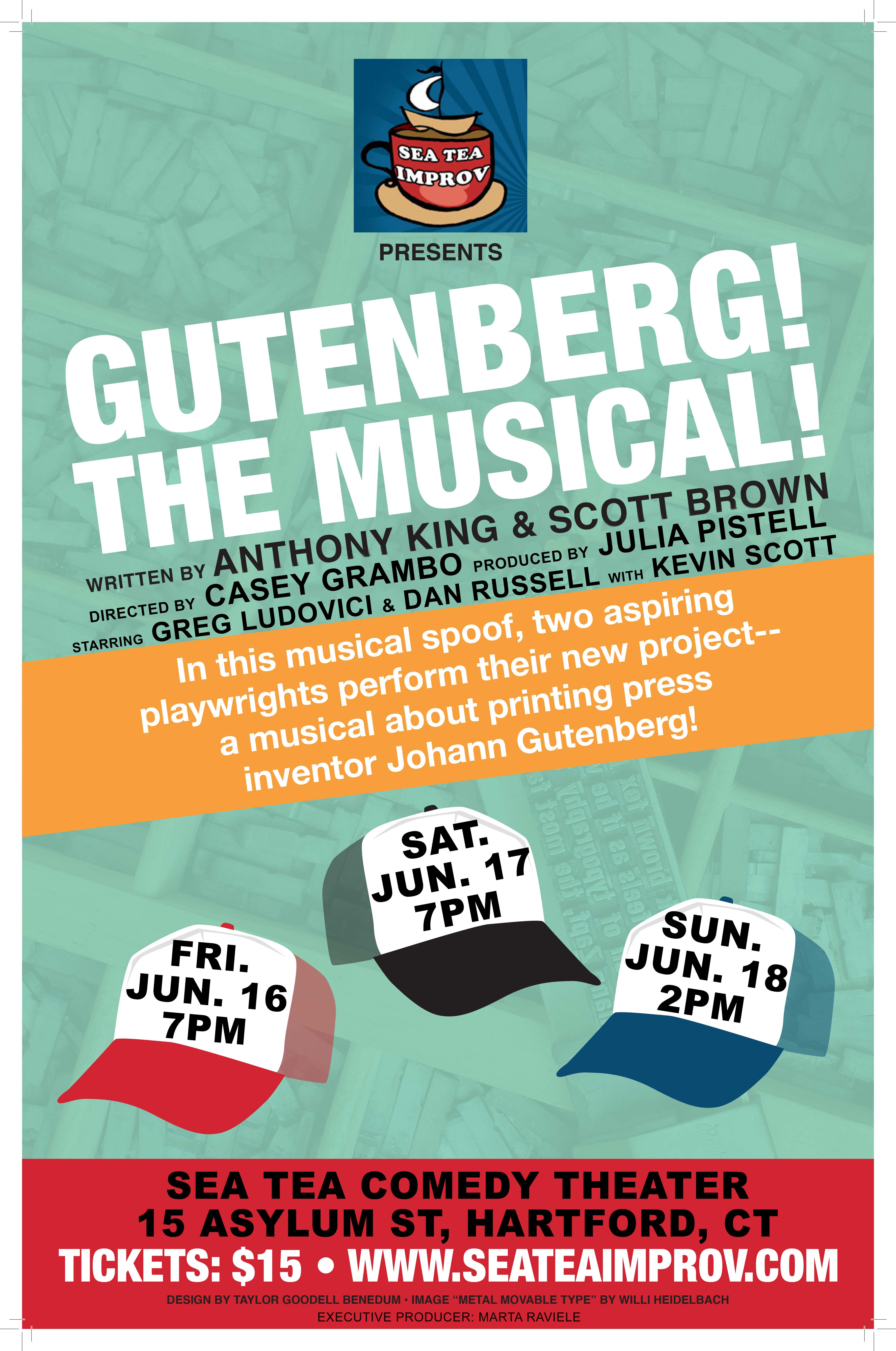 Three performances!

Friday, June 16th at 7 p.m.

Saturday, June 17th at 7 p.m.

Sunday, June 18th at 2 p.m.
Original Music Direction and Arrangements by T.O. Sterrett. "Gutenberg! The Musical!" was produced Off-Broadway in 2007 by Trevor Brown, Ron Kastner, Terry Allen Kramer, and Joseph Smith in association with the Upright Citizens Brigade Theatre. American Premiere presented at The 2006 New York Musical Theatre Festival. Originally produced by Trevor Brown at Jermyn Street Theatre, London, January 2006. Originally developed at the Upright Citizens Brigade Theatre.
"A smashing success! Scott Brown and Anthony King are superb comic writers." - The New York Times
GUTENBERG! THE MUSICAL! was the first Off-Broadway transfer for the acclaimed Upright Citizens Brigade Theatre. After the developmental run at UCBT, the show enjoyed its critically acclaimed world premiere at the Jermyn Street Theatre in London in January 2006. These performances featured authors Scott Brown and Anthony King in the starring roles of "Bud" and "Doug."
In September 2006, the U.S. premiere of GUTENBERG! THE MUSICAL! was presented as part of the third annual New York Musical Theatre Festival, where it received three NYMF Awards, including Excellence in Musical Theatre Writing (Book) for Scott Brown and Anthony King. A limited Off-Broadway engagement followed at the 59E59 Theater in December 2006, followed by a transfer to The Actors' Playhouse in Greenwich Village in January of 2007. The Off-Broadway production closed on May 6, 2007.
Sea Tea Improv presented GUTENBERG! THE MUSICAL! in November 2014 at the Hartbeat Ensemble's Carriage House Theater, and they are extremely excited to do it all again at their very own theater.
The show is licensed and published by Samuel French Inc.
ABOUT THE AUTHORS
Scott Brown is a writer, critic and performer. His work has appeared in Wired (for which he is a monthly columnist), Entertainment Weekly, GQ, New York, and Time, among other outlets. He's appeared at The Upright Citizens Brigade Theater on several occasions. Also with Anthony King, he's developed pilots for CBS and A&E. Also with Anthony King, he was raised in Durham, NC. Scott's "funny" "songs" sometimes appear suddenly and without warning on the internet, and disappear almost as fast. He's cool with that.
Anthony King is a writer, director, and performer currently living in Los Angeles where he performs regularly at the Upright Citizens Brigade Theatre. His TV writing credits include Save Me (NBC), Best Friends Forever (NBC), A Night of Too Many Stars (Comedy Central) (for which he received an Emmy nomination) and more. Anthony's regional and NYC theatre directing credits include: 1940s Radio Hour, Joseph And The Amazing Technicolor Dreamcoat, Mister (starring Anthony Rapp), A Chorus Line and many others. Other notable directing credits: The Patriots (HBO Aspen Comedy Festival), Aziz Ansari Punched A Wall, Who's your Daddy? (Edinburgh Fringe Festival), God's Pottery (Edinburgh Fringe Festival, "Best Newcomers"), Listen Kid (NY Music Theatre Festival), and others. He was also the Assistant Director of the Off-Broadway shows Summer of '42 and The Wild Party (Lippa). And he was the Artistic Director of the UCB Theatre in NYC from 2005-2011. Anthony has written for GQ, Details, and Entertainment Weekly magazines and he's a regular contibuter to the work of Improv Everywhere. You can find him online at theanthonyking.com
In addition to GUTENBERG!, Scott and Anthony have written other music together, including the titular song in the TheatreworksUSA touring production of If You Give A Pig A Pancake & Other Story Books, the songs "Can I Get A Napkin Please," "I Love Lunch," "Let's Squish Our Fruits Together" and "You're Never Too Old To Sit On Santa" for Improv Everywhere's Spontaneous Musicals (seen by more than 9 million people on YouTube!), and a series of songs based on real Craigslist posts for Details Magazine. They are currently at work on the most amazing new musical ever.