GUSOM Asylum Program: Fall 2017 Training Workshop, Clinician Registration
Event Information
Location
Georgetown University School of Medicine
3900 Reservoir Road Northwest
New Research Building Auditorium
Washington, DC 20007
Description
Thank you for your interest in working with the GUSOM Asylum Clinic! The goal of the Asylum Clinic is to pair clinicians and students to meet with an asylum seeker, perform a comprehensive physical or psychological evaluation, and submit an affidavit to support their case in immigration court. This process can drastically improve the chances of a survivor of human rights abuses obtaining legal status in the US. For more information, visit phrgeorgetown.org or email gusomphr@georgetown.edu.

In order to work with asylum seekers, volunteers must attend a training workshop. Our next workshop is scheduled for 10/14/2017 from 9 AM - 4 PM. Topics will cover Asylum Law, Practical Tips for Working with Asylum-Seekers, Physical Evaluation, Psychological Evaluations, and Best Practices for Writing Affidavits.
The workshop includes coffee, breakfast and lunch, and materials. Registration for clinicians is $25 to cover costs.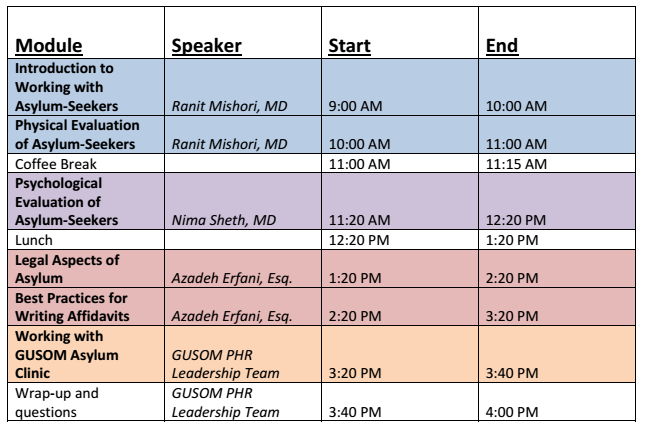 Date and Time
Location
Georgetown University School of Medicine
3900 Reservoir Road Northwest
New Research Building Auditorium
Washington, DC 20007