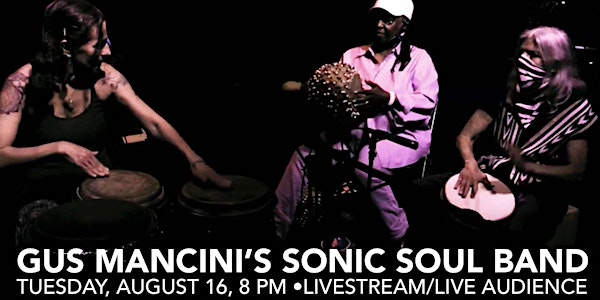 Gus Mancini's Sonic Soul Band, August 16, 8 PM, Livestream/Live Audience
Gus Mancini's Sonic Soul Band will perform on Tuesday, August 16 at Green Kill .
Refund Policy
Contact the organizer to request a refund.
Eventbrite's fee is nonrefundable.
About this event
Gus Mancini's Sonic Soul Band will perform on Tuesday, August 16 at Green Kill featuring The Daughters Of Oshun on percussion with Peter Head on Guitar, Gary Kelly on Bass, the Sultan on Synth and Saxophone.
The sonic Soul Band performace have been exceptional. Come out and see them in person. You can also watch them on Youtube.
This event will be livestreamed on the Green Kill Sessions YouTube Channel and will be open to a live audience of 30. Tickets are 5 dollars.
1. Please click "Tickets" button to access livestream or live audience ticket.
2. Select "Livestream Ticket" or "Live Audience Ticket". Audience members attending in person must be masked! Please choose the right ticket. A Livestream Ticket provides you with a link to the Green Kill Sessions livestream which can be accessed remotely on your own equipment. A Live Audience Ticket puts you on a list for a reserved set at the event, and also provides you a livestream link. If you are coming to the event, please arrive 15 minutes before starting time. There are no ticket sales at the door. All tickets must be reserved on Eventbrite.
3. Enter the number of tickets you would like to buy.
4. Enter your credit card information: Name, Number, Expiration Date, and CVV code. Double-check the info you entered. Make sure it's correct. It's easy to slip up!
5. select "Place Order". You will then have access to the page which has a watch event link. Click on that link to see the YouTube event address. An email will also be sent to the email address you provided with the link.
Shortly before the event, you will receive a reminder link.
Please be advised that tickets are not transferable. If you wish to buy a ticket for someone else, you must use their email when buying a ticket for an event.
Because COVID is still a potential hazard guests attending the livestream in person must be masked and vaccinated. Artists organizing events can limit the number of a live audience or decline to invite any in-person attendance.
Gus Mancini's Sonic Soul Band
Gus Mancini, also known as The Sultan Of Sonic Soul, is a family member of the Woodstock Roundtable's Sunday morning Radio Show on WDST at 100.1 FM. Gus has now performed on the show over 300 times, live on air, spanning 20 years and counting. The Sonic Soul Band is one of the most unique bands in the Hudson Valley because their performances are TOTALLY improvised. The Sultan, a master of improvisational saxophone, with a varied musical career spanning 60 years, has performed with many of the elite of all genres of music. Most notably he's performed with the Flagstaff Symphony Orchestra and the Hudson Valley Philharmonic and for many years in the great Cathedral of Saint John Divine in NYC. At the Cathedral, he's been accompanied by the well known Native American contemporary group The Hawk Project.
Now what truly makes the Sonic Soul Band unique is the addition of Master Nfamara Badjie. Master Badjie is one of the very few remaining (drum)masters from Gambia, West Africa with dual citizenship in the USA. In fact, he is the only ONE in America playing the Bugaraboo drums. Nfamara is helping to keep this ancient tradition of gathering and dancing alive. Badjie has been drumming since he was 4 years old. The Sonic Soul Band creates grooves and explorations in the moment. Master Badjie plays his ancient rhythms with an unparalleled energy alongside world class improvisers weaving spontaneous musical forms ranging from modern experimental jazz to classical, to funk, and to blues soundscapes. As The Sultan likes to say about these performances, "What you're hearing will be for the first time and the last!"