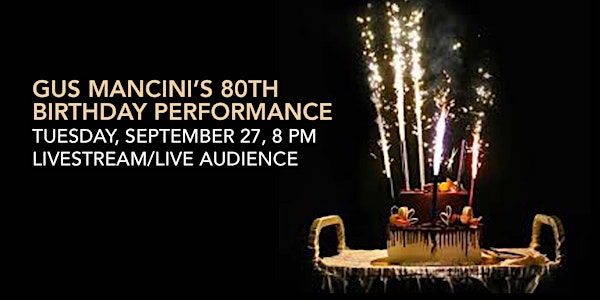 Gus Mancini's 80th Birthday Performance, September 27, 8 PM, Livestream/Liv
Join Gus Mancini's for his 80th Birthday Performance with Brian Melick on Tuesday, September 27, 8 PM
Refund Policy
Contact the organizer to request a refund.
Eventbrite's fee is nonrefundable.
About this event
Join Gus Mancini's for his 80th Birthday Performance with Brian Melick on percussion. Mancini sharing his meditation, with a twist, compositions on Saxophone, Synth, Native American Flutes and Electrix Horn on Tuesday, September 27, 8 PM.
This event will be livestreamed on the Green Kill Sessions YouTube Channel and will be open to a live audience of 30. Tickets are 5 dollars.
1. Please click "Tickets" button to access livestream or live audience ticket.
2. Select "Livestream Ticket" or "Live Audience Ticket". Audience members attending in person must be masked! Please choose the right ticket. A Livestream Ticket provides you with a link to the Green Kill Sessions livestream which can be accessed remotely on your own equipment. A Live Audience Ticket puts you on a list for a reserved set at the event, and also provides you a livestream link. If you are coming to the event, please arrive 15 minutes before starting time. There are no ticket sales at the door. All tickets must be reserved on Eventbrite.
3. Enter the number of tickets you would like to buy.
4. Enter your credit card information: Name, Number, Expiration Date, and CVV code. Double-check the info you entered. Make sure it's correct. It's easy to slip up!
5. select "Place Order". You will then have access to the page which has a watch event link. Click on that link to see the YouTube event address. An email will also be sent to the email address you provided with the link.
Shortly before the event, you will receive a reminder link.
Please be advised that tickets are not transferable. If you wish to buy a ticket for someone else, you must use their email when buying a ticket for an event.
Because COVID is still a potential hazard guests attending the livestream in person must be masked and vaccinated. Artists organizing events can limit the number of a live audience or decline to invite any in-person attendance.
Gus Mancini
Gus Mancini is a rare blend of classically trained musician, composing scores and classical works, and a master of improvisational jazz. A graduate of New York University, with a B.S. in Music Education, he has studied and performed with many of the principle soloists for the New York Philharmonic and Jazz elite as well.He has produced and performed on many albums including Samadhi and Sunrise with didgeridoo master Phil Jones on Intuitive Sound productions with both c.d.'s reaching the top 10 on the Indie charts. He has also produced a Parents' Gold choice award children's album, The Shooting Star Express. He has produced the eclectic group of jazz and poetry Odd City, and co-produced and performs with The Hawk Project, one of the leading contemporary Native American Jazz ensembles in the country.He established the Brooklyn Conservatory Jazz Program and has lectured on the directions of world music at Oxford University and the Royal Conservatory in England. He is currently co-producing the Woodstock Roundtable radio show broadcast live on WDST radio in Woodstock, NY, and webcast over WDST.com and AOL. He performs with some of the top poets, writers and musicians in the nation such as poet laureate Robert Bly and author Robert Thurman.Some of Mancini's compositions were recently performed by Mancini and The Hawk Project with the Flagstaff Symphony Orchestra under the direction and orchestral arrangements by Maestro Randall Craig Fleischer in Flagstaff, Arizona.
Brian Melick
Brian Melick has been professionally involved in music for over 42 years starting his career at the age of 14. As a recording artist he has been featured on over 400 releases both for independent as well as major labels. He has four releases under his own name "Percussive Voices", "uduboy", "Diverse Elements" and "In Motion". The first three respectfully have also been released as sound libraries for commercial industrial use and are finding much success on several major networks, cable networks and motion picture organizations such as Discover Channel, The Learning Channel, Disney, Columbia Pictures, and NBC to name just a few. As an Educator Brian has developed several diverse participatory programs exploring the world of percussion, the world of udu drum as well as creating percussion instruments out of found objects. He has authored "The How To of Udu" as well as "Percussion Instruments Made Out of Found Objects" which are methods and building percussion instrument resources respectfully. These books are supported with audiophiles as well as dvds for a well-balanced offering. The dvd for "The How To of Udu" is available worldwide through Alfred Publishing. Most recently Brian has authored a 15 week course curriculum used in both the classroom as well as in afterschool enrichment programs entitled "Playing with Percussion". He holds several US Patents for his custom designed percussion stands and built and performs on the first ever Lego Drum Set which was featured in the international drum magazine Modern Drummer. Brian made a second Lego Drum Set for the permanent collection of Percussive Arts Sociey's international percussion museum known asRhythm! Discovery Center in Indianapolis Indiana. Brian maintains a very diverse recording and teaching schedule as well as performing throughout the US and Canada including producing his own 4 part concert series' "Acoustic Doorways" and "ONE World Music" Visit Brian online at; www.uduboy.com and https://www.facebook.com/brian.melick.5
"There is a sense of total joy and freedom that comes from Brian's playing that stays with the audience for days afterwards." -- Beth McLaughin American Music Therapists Association
"Melick shows that the sonic range and tonal variety of the drums are astounding"-- Modern Drummer Magazine "Melick's solos are a pleasure as he delves deep into the wet rhythmic sounds of the instruments" -- Drum Magazine
"If you like recordings by Mickey Hart of Gabrielle Roth, this is another artist whose work you'll appreciate." -- New Age Voice