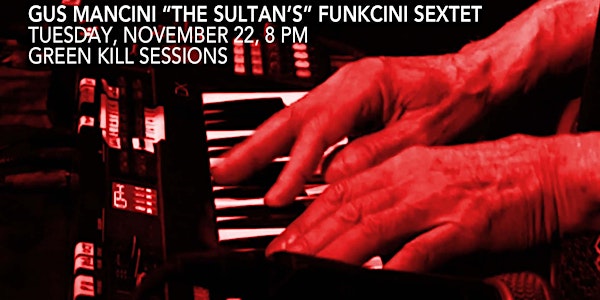 Gus Mancini "The Sultan's" Funkcini Sextet, November 22, Green Kill Session
Join Gus Mancini "The Sultan's" Funkcini Sextet on Tuesday, November 22, 8 PM at Green Kill Sessions.
Refund Policy
Contact the organizer to request a refund.
Eventbrite's fee is nonrefundable.
About this event
Join Gus Mancini "The Sultan's" Funkcini Sextet on Tuesday, November 22, 8 PM at Green Kill Sessions, featuring Mark Dzuiba and Tom DePetris on guitars, Ruperto Ifil on your drums Gary Kelly on bass, Fre Atlast on percussion and Gus Mancini on keys and sax.
This event will be livestreamed on the Green Kill Sessions YouTube Channel and will be open to a live audience of 30. Tickets are 5 dollars.
1. Please click "Tickets" button to access livestream or live audience ticket.
2. Select "Livestream Ticket" or "Live Audience Ticket". Audience members attending in person must be masked! Please choose the right ticket. A Livestream Ticket provides you with a link to the Green Kill Sessions livestream which can be accessed remotely on your own equipment. A Live Audience Ticket puts you on a list for a reserved set at the event, and also provides you a livestream link. If you are coming to the event, please arrive 15 minutes before starting time. There are no ticket sales at the door. All tickets must be reserved on Eventbrite.
3. Enter the number of tickets you would like to buy.
4. Enter your credit card information: Name, Number, Expiration Date, and CVV code. Double-check the info you entered. Make sure it's correct. It's easy to slip up!
5. Select "Place Order". You will then have access to the page which has a watch event link. Click on that link to see the YouTube event address. An email will also be sent to the email address you provided with the link.
Shortly before the event, you will receive a reminder link.
Please be advised that tickets are not transferable. If you wish to buy a ticket for someone else, you must use their email when buying a ticket for an event.
Because COVID is still a potential hazard guests attending the livestream in person must be masked and vaccinated. Artists organizing events can limit the number of a live audience or decline to invite any in-person attendance.
Gus Mancini
Gus Mancini is a composer, producer performer. 50 years experience with a wealth of world class musicians. BS in music from NYU. co-producer for 12 years over Wdst radio in Woodstock and WDST.COM n.y. with more than 250 on air live performances of original music. Master Saxophonist and synth player and one of the top rated WX5 midi horn players in the country. 17 cd's called the Essentaial Mancini with various artists spanning 30 years. Performed with many luminaries in Jazz, Reggae, Pop, Funk etc. Still on air live every Sunday morning 7:55 am a program called The Woodstock Roundtable, with host Doug Grunther and Joe Raiola editer of MAD Magazine and Patrick Carlin the late George Carlins older brother a guest on show every week. Currently performing with my band The Sonic Soul Band, and as well as several others Blue Food Funk Band, D2 Blues band, The Salted Bro's Band as well as solo performances on Saxophone.