Description
Lessons of Dharma from Child Prodigies
with His Holiness Swami Vidyadhishananda

Check-in: Thursday, 26th July from 3:00pm – 5:30pm
Check-out: Sunday, 29th July anytime before 12noon
Schedule can be found here.

Join our Hansavedas Sangha for the annual retreat centred on the auspicious full moon day of Guru Purnimā. Prepare for a rare blissful experience, especially from the infusion of personal shakti conferred by His Holiness at the Guru Purnimā blessing line. Embrace the full moon energy and imbibe the vibration of this divine ambiance.
The retreat is designed keeping in mind the need for parents to spend a summertime mini-vacation with their family while exposing their children to core spiritual values. The retreat schedule allows families and friends to spend time together in a peaceful and rejuvenating environment.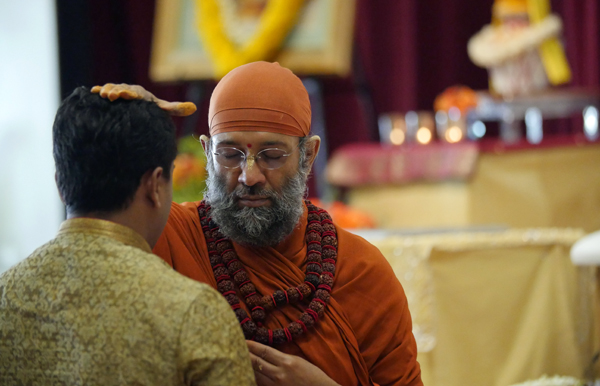 Please fully read the details of this family-friendly retreat below:
Learn from inspiring stories on the theme entitled: Lessons of Dharma from Child Prodigies. His Holiness will use stories from ancient Sanskrit lore about child prodigies who taught lessons of dharma to their parents and communities. The children in these featured stories had not yet reached their teenage years and were revered as spiritual giants of their time. Dharma is a continuously surviving living tradition of values that guides the seekers blossom spiritually and become a part of a more enlightened society. Dharma is thus the philosophy of life articulated through disciplined restraints and observances practiced as an inner law of being.
Through this multi-faceted weekend retreat, experience the power of breathing, chanting, singing, mantra, meditation, celestial music, along with darshan and blessings. You and your family and friends can share in a loving experience and connect with our meditation and mindfulness community to nurture your spiritual yearning. Salient features of the Retreat include:
Guru Purnimā

Darshan & Blessing Line

Lessons of Dharma from Child Prodigies

Practical Teachings for Parents & Children

Full Moon Meditation

Mindfulness Prāṇāyāma Breathing

Yoga-vinyāsa

Stretching

Devotional Singing & Chanting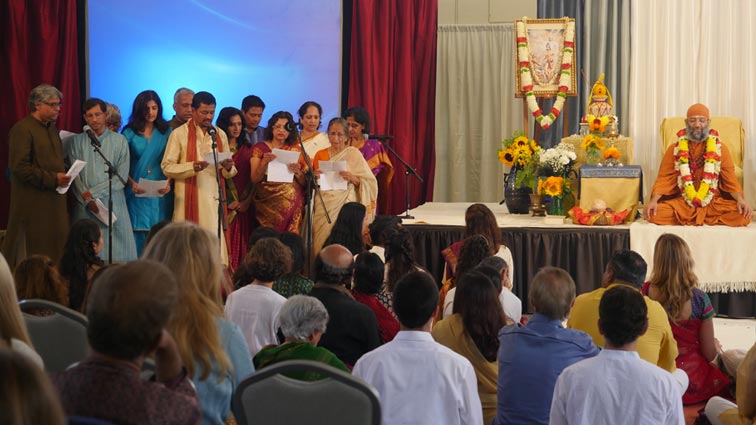 The annual celebration of Guru Purnimā is an immensely rich Vedic tradition to honour the lineages of teachers. This gathering is a time-honoured traditional fellowship where devotees make offerings from their hearts and the choicest blessings are bestowed by the lineage of spiritual masters. His Holiness will bless each devotee and family member with special care for children accompanying their parents.
We encourage and welcome you to bring your families and children. Children wanting to listen to the stories during a class session by His Holiness are most welcome to join. Some sessions with His Holiness will be appropriate for children aged 3-12, but there will also be the option for children aged 3-12 to participate in special children's activities. To learn more about bringing your children and teens, please read the sections below labeled "Children's Camp" and "Teenage Participants.
This retreat offers a balanced curriculum of fellowship teachings, blessing line, organic food, yoga and breathwork practice. Those participants wishing to rejuvenate through personal silence will have an opportunity to do so, as there will be a designated silent dining section and teaching areas are kept mostly silent.
The children's camp is designed to help parents manifest a family experience within the limitations of the venue, volunteering and other resources. While the children's camp allows for parents to attend classes and sessions, it is not designed to completely free up parent(s) from their own initiative to look after and interact with their children. The retreat schedule allows the flexibility for a combined retreat-vacation supportive of a family experience.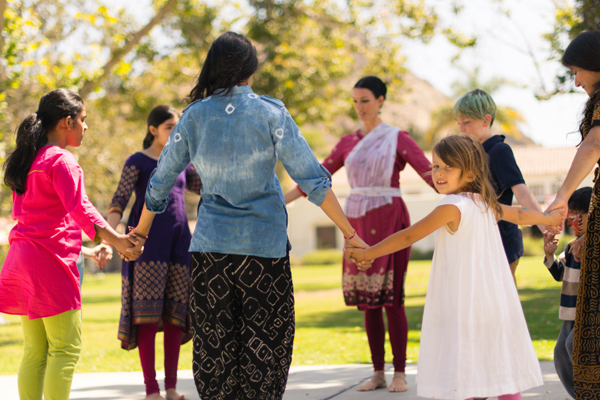 Meals
Your retreat includes two meals per day plus snacks and tea. Vegetarian meals, which are gluten-free and mostly vegan, will be lovingly prepared according to sattwic Ayurvedic principles.

Accommodations
Participants will book their rooms directly with the Hyatt Regency Valencia. A discounted room block has been reserved for Hansavedas. Two room types are available: one king bed or two queen beds – both are offered at a rate of $159/night. Guests who book under our block will also be offered complimentary parking (normally $10/day).

Book online: book.passkey.com/go/hansavedas
Book by phone: call 661-678-4082 and reference "Hansavedas"
We highly recommend sharing rooms with friends and family, which will significantly lower costs for you. Rooms are available on a first come basis, so reserve early to ensure your room preference. If you will need a roll-away bed we recommend calling the Hyatt directly to book so you can reserve the roll-away at the time of booking. Extra fees may apply for roll-away beds, check with the Hyatt directly about this. Please do not send your reservation requests or deposits to Self Enquiry Life Fellowship, as we are unable to process hotel reservations or payments.

Roommate Pairing
For assistance finding a roommate to share hotel costs please fill out this short form. Once we receive your responses we can more easily find a same-sex roommate that can split room costs with you. This is an excellent way to make a new friend while also reducing your accommodation costs significantly.

Flight Booking & Shuttle Service
You can choose to fly in to either Los Angeles Airport (LAX) or the Hollywood Burbank Airport (BUR). The Hyatt Valencia is a 1 hour drive to LAX and a 30 minute drive to BUR. We will offer shuttle service from both airports, but wait times may increase as a result of splitting our shuttles. If you wish to reduce your wait time at the airport please be sure to book according to the shuttle schedule below:

26th July Arrival Shuttles
LAX – First shuttle departs at 2:00pm and last shuttle departs at 4:15pm
BUR – First shuttle departs at 2:30pm and last shuttle departs at 4:45pm
*Book your flights accordingly keeping baggage claim in mind

29th July Departure Shuttles
LAX – First shuttle departs at 7:00am and last shuttle departs at 11:30am
BUR – First shuttle departs at 7:00am and last shuttle departs at 11:30am
*Book your flights accordingly
Make sure to include the shuttle payment during your registration. This option will be at the bottom of the registration form.

Children's Camp
Children aged 3-12 years who are accompanied by an adult are welcome to join the Hansacharanam Children's Camp. The camp will include activities such as: arts & crafts, reading, creative writing, song & kirtan, yoga & dance, games, swimming and other activities. The Children's Camp sessions will coincide with certain class sessions for adults on the schedule, but children will eat all meals and snacks with their parents and will stay with their parents in the hotel. A separate Children's Camp schedule will be available denoting when children will be participating in the class sessions with His Holiness and when they will be engaged in separate Children's Camp activities. Please email us at events@hansavedas.org for further details or if you have questions related to the Children's Camp.

Teenage Participants (ages 13-17)
Teens who are 13-17 years old are welcome to attend the Hansacharanam Retreat, and should register as adult participants. Teens are welcome in all class sessions with His Holiness, but may also apply to volunteer as Children's Camp teacher's aides. Teens who wish to apply as teachers' aides may email events@hansavedas.org to learn about the application and approval process for teen volunteers.
Every effort has been made to optimize the cost of the retreat for all participants within the restrictions of venue rental and catered meal delivery. Overall this retreat is offered "at cost" to encourage participation, and your love donations for this auspicious Guru Purnimā occasion will help cover the organization's indirect costs.


---

Per IRS regulations, your registration is not tax-deductible due to fair market value of tangible benefits. Any donation added to your registration at the time of payment or given separately during the weekend is much appreciated, and will be tax-deductible to the extent allowed by law.
quest@hansavedas.org
909-543-6003


---

CANCELLATION & REFUND POLICY
Registration Cancellation
In order to receive a refund, please notify Self Enquiry Life Fellowship's main office either by email at quest@hansavedas.org or by phone at 909-543-6003. No refunds or credits toward registration amount will be offered if you cancel within 7 days of the start date of the event, if you do not show up, or if you leave an event early for any reason.
Registration Amount Refunds
Full refunds are available if your cancellation request is received at least 15 days prior to the workshop or retreat check-in date. A 75% refund of registration fees is available if your cancellation is received between 8 and 14 days prior to the retreat or workshop check-in date. Please check the description to see if your event has a special cancellation policy. No refunds or credits toward registration amount will be offered if you cancel within 7 days of the start date of the event, if you do not show up, or if you leave an event early for any reason.
Cancellation by the Organizer
Self Enquiry Life Fellowship reserves the right to cancel any event at any time. In the instance an event is cancelled, registrants will be notified and offered the option of receiving a refund or credit toward a future event. While Self Enquiry Life Fellowship never anticipates cancelling an event, due to unforeseeable circumstances some events may be canceled. Self Enquiry Life Fellowship does not refund travel related expenses, including airline tickets, in the case of event cancellation. Therefore Self Enquiry Life Fellowship advises all participants to refrain from purchasing non-refundable airline tickets.