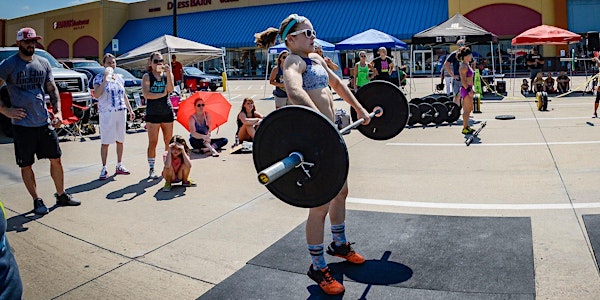 Guns And Bows 2
When and where
Location
CrossFit Cedar Park 2051 Cypress Creek Rd, Ste A Cedar Park, TX 78613
Description
This is the 2nd annual Guns N Bows Throwdown to be held at Crossfit Cedar Park, in Cedar Park, Tx. Proceeds from the event will go to cover Brooklin's expenses in getting her to the 2016 Crossfit Games(for the second year in a row), which she qualified for by placing 6th in the world in the 14-15 year old division.
This will be a 2-person team event. (MM, FF, MF). There will be (3) guaranteed WODs, and (1) finale.

WODS
WOD 1
(Triplet)
Amrap in 12 minutes
Both partners run holding a 1 foot rope between them then the work is split as desired
200 Run
30 Thrusters (RX-105/75, Scaled-75/45)
30 Toes 2 Bar (Abmat Sit Ups)
WOD 2
7 Minute Amrap
Split as desired
Couplet
5 rounds of DB Bear Complex (RX-50/30, Scaled-30/20)
Deadlift, power clean, front squat, stoh
10 Burpees to a plate
WOD 3
10 minutes
300 double unders (Scaled-400 singles)
then
Split by partners two barbells. Both partners work at the same time.
Max snatch complex partner 1
2x Hang snatch + full snatch
Max complex partner 2
2 hang cleans + full clean.
What division should you sign up for?
RX - You must be able to do ALL benchmark workouts and main site wods without scaling
Scaled - You have to scale benchmark workouts or the main site wods
(There will not be any refunds and you may not switch divisions after registration. This makes it difficult to plan and keep the event on time)
Interested in a purchasing a booth or sponsoring our competition? Please email mark@crossfitforney.com for more info!
#lonestargames #gunsandbows #smith150 #lightweightbaby #barbell4boobs