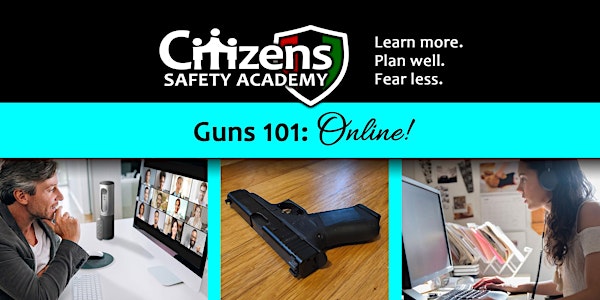 Guns 101: Online!
Are you thinking about buying a gun? Did you recently purchase a gun? Do you have questions? This FREE online event is perfect for you!
About this event
Guns 101
Are you thinking about buying a gun but still a little nervous, unsure, or scared? Do you have lingering questions or concerns? Do you own a gun but feel less than confident in operating or carrying it? If so, this seminar is for you. It's is a FREE educational Q&A panel where anyone can ask almost any question about firearms and the armed lifestyle.
Attend from anywhere!
This virtual seminar will be held online using Zoom video conferencing. The event is totally free, but pre-registration is required. To attend, all you need is a webcam, a reliable internet connection, and an open mind. All attendees will receive an email the day of the event with a link to access the online video chat room for the seminar.
What are we discussing?
The sole purpose of this online seminar is to provide a non-intimidating environment where people can feel comfortable asking about almost any firearms-related topic. The only thing off limits is politics. This is a politics-free zone, so we will not be discussing gun policy or legislation.
We will begin with a very brief presentation on safety, and then we'll open the floor for an extended Q&A period. No question is too simple. Please invite the family, invite your friends and co-workers, and bring all the questions you've ever had about guns or going armed. We'll be happy to give you as much information as we can so you can make more informed decisions about the next step in your personal security plans.
If you'd rather attend in person, Guns 101 is held every third Wednesday at Citizens Safety Academy in Murfreesboro, TN.