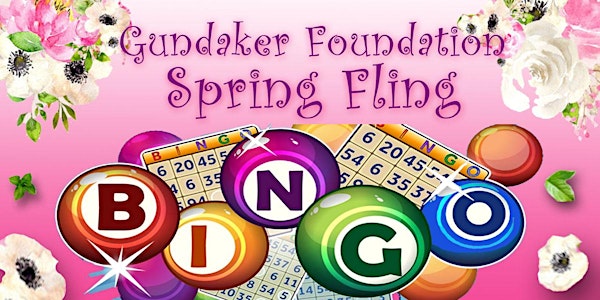 Gundaker Foundation "SPRING FLING" Bingo - May 17, 2021
JOIN US for our "SPRING FLING" Bingo FUN-Raiser to help "Make A Difference" in people's lives in the Philadelphia and surrounding area !!!
About this event
THANK YOU for supporting the Rotary Gundaker Foundation !!!
JOIN US for a FUN and exciting ZOOM BINGO evening on May 17, 2021, 7:00 pm - 9:00 pm in the comfort of your home via a ZOOM meeting. There will be COOL GAME PRIZES and a GRAND PRIZE at the end of the evening.
Sign-Up is FREE in order to comply with Pennsylvania's "Game of Chance" provisions.
We sincerely appreciate any voluntary monetary donation you desire to make to the Gundaker Foundation, but your donation is NOT required to participate in the BINGO games nor required to win any prizes.
BINGO GAME DETAILS
This is a LIVE event via ZOOM. The day before the event, you will receive an email about how to access your BINGO cards and a second email on how to access the ZOOM meeting. You are responsible for assuring you can access a ZOOM meeting to participate in the event (for ZOOM assistance, go to https://zoom.us/test)
Ten Bingo games will be played during the event. Non-cash prizes valued at a minimum of $50 will be awarded for each Bingo game to the person who owns the registration email.
Games will be simple and reasonably paced for non-experienced players. Each BINGO card will be a 5 x 5 square matrix with a FREE space in the middle. All BINGO cards and called numbers are electronically generated online. Cards may be printed by the player or played online (a computer or device with a large screen is recommended, i.e., not a smartphone).Game winners will be confirmed by revealing the number of their BINGO card to the online host during the ZOOM meeting.
You do not have to be a member of a Rotary Club to participate. We hope you will invite other friends and family to join our Bingo event and provide a voluntary monetary donation.
BINGO Sign-Up will close on Friday, May 15 at 8:00 pm.
Any questions,....contact Janice Biros, janice.biros@gmail.com, (215) 783-1081.
THANKS in advance for your support of THE GUNDAKER FOUNDATION as we Make a Difference in the lives of our communities surrounding the Philadelphia area.
HAVE FUN and ENJOY !!!
========================================================
THE GUNDAKER FOUNDATION is a 501(c)(3) tax-exempt corporation working in association with Rotary International District 7450, Inc. www.gundaker.com
We provide matching financial grants to 50+ Philadelphia area Rotary Clubs as they support local, national and international projects within Rotary International's six "Areas of Focus" including:
Peacebuilding and Conflict Prevention
Disease Prevention and Treatment
Water, Sanitation and Hygiene
Maternal and Child Health
Basic Education and Literacy
Community Economic Development