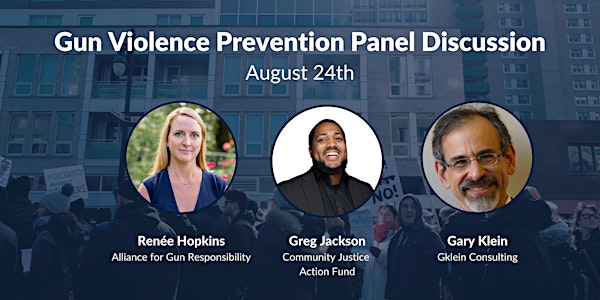 Gun Violence & Gun Control Panel Discussion
We host a panel of advocates who have dedicated their missions towards aiming to prevent gun violence in their communities across the US.
About this event
The United States has seen an epidemic of gun violence in past several years. People are shocked, afraid, and angry at politicians and gun lobbyists for their lack of action to protect the people.
"How can we protect our communities and limit incidents of gun violence? What can we do to make politicians take action to prevent gun violence? Why have there been little changes in federal legislation to prevent these tragedies? How can we save lives?"
These are some of the questions organizations and American citizens are asking across the country on a daily basis.
Impactionable will host a panel of advocates who have dedicated their missions towards understanding and aiming to prevent gun violence in their communities across the nation. We will speak to a diverse set of panelists about the causes of gun violence and the various actions we can take to support our communities and bring about change. We will hear from a survivor's personal story and how this inspired him to take action. We will also discuss reframing the narrative surrounding gun violence, in that it is not a crime crisis, but rather a health crisis.
Please get ready to learn and ask questions during this Video Session. This is a conversation you don't want to miss.
About the Panelists:
Renée Hopkins is the CEO of the Alliance for Gun Responsibility and oversees the development and execution of the Alliance's strategic plan for its 501c3, 501c4, and electoral activities. Prior to joining the Alliance for Gun Responsibility, Renée served as Executive Director of the Seattle Police Foundation (SPF) for 12 years.
Greg Jackson, Executive Director of the Community Justice Action Fund, is a community organizer, political strategist and issue advocate. Prior to becoming the organization's Executive Director, Greg served as the National Advocacy Director for 2 years. In this role he worked with communities, elected officials, community leaders and impacted residents to advocate for proactive and preventive solutions to end gun violence. Greg led the effort to build political power through electoral participation, spearheading the 2020 Elect Justice Campaign that mobilized over a 1,000 volunteers and connected with over 1.6 million voters across the country.
Gary Klein is a Research Fellow at the Violence Policy Center and has been a consultant for Everytown Law. He is a long-­time consumer advocate and litigator, who was responsible for a variety of gun safety and gun violence prevention projects at the Office of the Massachusetts Attorney General. He publishes a blog on gun safety which can be found at www.gunaccidentjournal.net and his full biography is available at www.gkleinconsulting.net.
-
About Impactionable: https://www.impactionable.com/