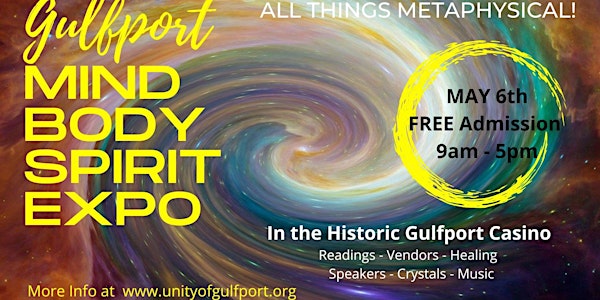 Gulfport Mind Body Spirit Expo Florida's Largest Metaphysical Event
All Things Metaphysical, Gulfport! 90+ Psychics / Healers and Vendors, the leading metaphysical, natural health & holistic connections.
Date and time
Saturday, May 6 · 9am - 5pm EDT
Location
City of Gulfport: Gulfport Casino Ballroom 5500 Shore Boulevard South Gulfport, FL 33707
Refund Policy
Contact the organizer to request a refund.
Eventbrite's fee is nonrefundable.
About this event
Calling all Vendors and Sponsors!!
Join us for this premier event at the historic Gulfport Casino! Have a Magical Metaphysical Day with Us!
Be one of the elite vendors and speakers who encourage a true Mind Body Spirit approach to whole wellness.
100+ Presenters- Individual sessions are available from many vendors with15 min sessions for $25. Including: psychics, angel readers, tea leaf readings, tarot card readings, Past Life readings, Astrology, Shamanic journey, channeled readings, energy healing, reiki practitioners, chiropractors, acupuncture, plant based nutrition coaching, chakra clearing, crystal bed, sound healing therapy, empowerment coaching and more.
Gulfport Mind, Body and Spirit Expo is open to the public and hosted by the New Thought CommUNITY of GULFPORT, "boldly building consciousness and community". The expo will promote collective consciousness, commUnity and mental, physical, and spiritual health and wellness.
RAFFLE OPPORTUNITY - For exposure to your company and to benefit Unity of Gulfport (New Thought CommUNITY of GULFPORT), there will be a RAFFLE event in conjunction with the Gulfport Mind Body Spirit Expo. Vendors/Healers/Readers/Speakers will have the opportunity to donate one or more items (product, gift certificate or gift basket) to showcase your product and/or service. The RAFFLE items will be displayed inside the Casino and Raffle Tickets will be purchased. Everyone loves a RAFFLE and 'winning' great stuff! It will be wonderful exposure for you. Thank you in advance for your participation and please email gulfportexpo@gmail.com with your donation details in order to be listed in the event advertising and program. Please have all donated items Saturday during set up.
FOR VENDORS:
EXPO VENDOR INDOOR Table Space - $85.00 - One 8' TableTOP with 2 Chairs *table and chairs provided, no additional tables may be added, floor space is not included. If you need more than one table you may purchase 2 or more table spaces or an outdoor vendor space. You are a VENDOR if you sell products, books, art, jewelry, candles, crystals, etc. Vendors may NOT offer readings or healings in their space unless registered as a'COMBO" (see below).
Expo VENDOR OUTDOOR Booth Space - $120.00 - approx. 10' x 10' space. This space offers the opportunity to showcase your products, your service and your company to maximum potential! You may offer readings and healings in your outdoor space. *tents, tables, chairs are NOT included - vendors must provide their own.
Expo READER INDOOR Space - space for One 4x4 table with 2 Chairs (table is NOT provided; chairs are provided) reader will provide table. You are a reader if you schedule readings throughout the day.*NO additional tables may be added unless you purchase a COMBO 2 Categories and choose Reader/Reader. Only then may 'side tables' be added. If side tables are brought during set up, you will be asked to remove them or upgrade your registration to the appropriate level.
Expo HEALER INDOOR Space - $85.00 Space for Healing table/ chair (Massage table or chair or one Zero Gravity Chair) with 2 Chairs provided. Space for a very small display table (smaller than a 4x4 table). If your require more space, please register as a COMBO 2 Category Healer/Healer. Only then may 'side tables' be added. If side tables are brought during set up, you will be asked to remove them or upgrade your registration to the appropriate level. You are a healer if you schedule sessions throughout the day.
Expo SPEAKER Indoor Stage - $75.00 30 minute time slots on the hour and half hour from 10am - 4pm (We have updated the speaking floor plan to a more intimate experience for speakers and attendees.
Expo COMBO 2 Categories - $130.00 any combination of 2 categories for one person, ie Healer/Vendor; Reader/Vendor; Speaker/Vendor, Reader/Reader, Healer,/Healer or Speaker/Speaker
Expo COMBO x 3 - $190.00 any combination of 3 categories for one person, ie Healer/Speaker/Vendor, Reader/Vendor/Speaker, etc.
Expo Food Concessions $145.00 providing lunch and snacks that are in alignment with Mind Body Spirit Wellness. Only one Food Concession inside and one outside. * DRINK SALES not allowed inside the Casino City of Gulfport retains exclusive rights to Drink sales. (This may be an inside or outside space, please specify your preference at registration to gulfportexpo@gmail.com)
NON-PROFIT - $50 *Must submit proof of non-profit status - Contact Gulfportexpo@gmail.com for approval prior to registration
MARKETING OPTION - $35 Advance Booking Event Page with social media promotion of your participation in the Expo.
FOR SPONSORS:
SPONSORSHIP OPPORTUNITIES - For local corporate / business sponsors and vendors who wish to stand out in a prominent way and see the value in partnering with Gulfport Mind Body Spirit Expo and our mission for this event, we are offering event sponsorships. There are 3 levels of sponsorship to consider, depending on your goals and the level of visibility you desire. A limited number of sponsorships are available, and we offer category exclusivity in our top two levels. We encourage interested sponsors to sign up early for maximum advertising exposure. If you sign up for a sponsorship level that offers category exclusivity, be aware any registrants already in that category will be allowed to participate. Early sponsorship commitment is a win/win!
Sponsorship levels are as follows:
Partner Sponsor - $1000 (offers category exclusivity)
Associate Sponsor - $500.00
Community Sponsor - $250.00
Please contact Rev. Kimberley for all the benefits of sponsorship at gulfportexpo@gmail.com See Ticket for details of sponsorship.
FINALLY, The Board, Staff and Volunteers of Gulfport Mind Body Spirit, Unity of Gulfport, Inc. and the Cityof Gulfport have worked hard to ensure a safe, secure, uplifting, and fun environment for vendors andguests alike. It is our sincere goal that everyone can enjoy themselves. However, sometimes things happen. Therefore, we want to be clear with you around issues of responsibility. Gulfport Mind Body Spirit Expo, Unity of Gulfport, Inc., its Board, Volunteers and Staff Members, and the City of Gulfport are not responsible for any damage a vendor may suffer through theft, loss, inclement weather, vendor or guest negligence or other unforeseeable circumstances. Each prospective vendor is required to confirm their understanding of, and agreement to this clause prior to finalizing their vendor/contractor relationship with us. Thank you for your participation - we look forward to another amazing EXPO with you all!
I look forward to a wonderful Gulfport Mind Body Spirit Expo with you! Know that you may contact us with any question or concern at any time. Please email us at gulfportexpo@gmail.com with questions about the Expo.
Rev. Kimberley Harrell, Founder and Facilitator
Gulfport Mind Body Spirit Expo