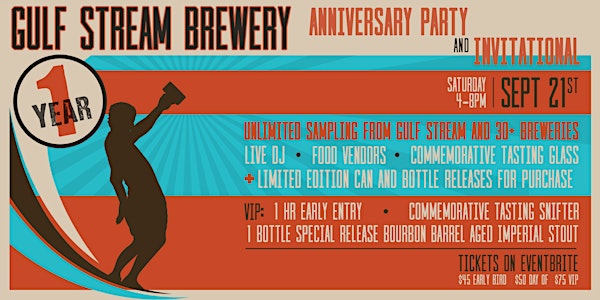 Gulf Stream Brewing Company's 1 Year Anniversary Party & Beer Fest
GULF STREAM BREWING 1ST ANNIVERSARY PARTY AND BEER FEST INVITATIONAL
When and where
Location
Gulf Stream Brewing Company 1105 NE 13th ST Fort Lauderdale, FL 33304
Refund Policy
Contact the organizer to request a refund.
About this event
GULF STREAM BREWING 1ST ANNIVERSARY PARTY AND BEER FEST INVITATIONAL
Join us Saturday, Sept 21st for our 1st anniversary party and invitational! We'll be partying inside and out. We have unlimited sampling of unique/limited beers from 30+ breweries and all Gulf Stream draft beers, live DJ, games, food vendors and we're doing a special release of some new limited-edition canned beers and bottled beers!
This is a party you don't want to miss.
BEER // Unlimited sampling of 30+ breweries and all Gulf Stream drafts! (See below & get 'em while you can, as supply will be limited) – We're also busting out some serious limited-edition new stuff, bringing back some limited favorites, and pouring some of our beers that we love the most. And, to top it all off, we've got a special Gulf Stream Brewing can and bottle release!
LIVE MUSIC // Juan Luv (outside 3 PM – 8 PM) DJ EQ (inside @8 PM-12 PM)
FOOD TRUCKS // B Daddy's Smoke n Grill, F. Fin Taco Truck, Maggadino's Pizza
GAMES // Corn hole, foos ball, giant jenga, etc.
+ Special can and bottle releases (available for purchase)
GA 4-8pm ($45 pre-sale / $50 day of event):
Includes unlimited sampling
Commemorative tasting glass
VIP 3-8pm ($75):
Unlimited sampling with 1 hour early entry
Special glass tasting snifter
1 bottle of our Doomsday Barrel Aged Imperial Stout ($20 retail)
GULF STREAM BEERS (all while supplies last)
ATOMIC WEDGIE // Triple IPA (11.0% ABV) - Triple IPA with Galaxy Hops (CAN RELEASE)
DOUBLE WAR BUNNY // Double Strawberry Blond Ale (9.0% ABV) with strawberries and dry hopped with Mosaic hops (CAN RELEASE)
TRANSPLANT // New Zealand Pilsner (5.0% ABV) dry hopped with Wakatu hops (CAN RELEASE)
DOOMSDAY // Willet Bourbon Barrel Aged Imperial Stout (13% ABV) (BOTTLE RELEASE)
BRÜN ROYALE // Belgian Quad (12% ABV) - 2019 U.S. Open Gold Medal Winner (BOTTLE RELEASE)
DULCHE DE LECHE IMPERIAL STOUT // Imperial Stout with Dulche de Leche (13% ABV)
LITTLE MISS PERFECT (Collaboration: Gulf Stream/Tripping Animals/Orchestrated Minds) // Wild Ale fermented with gewürztraminer juice, rainier cherries and nectarines
COMMEMORATIVE PLATE // Belgian Bret Blonde steel refermented is full of complexity, slight tartness, and hints of orange (5.0%)
WILD BRÜN // Wild Ale refermented with a cocktail of wild yeasts and bacteria on virgin oak and blended with our Brun Royale to produce flavors of chocolate, tart red apple, raspberry, vanilla, and tobacco leaf (8.8% ABV)
MIDORI SOUR IPA // Sour IPA with freshly juiced honeydew melons, then dry hopped with Hull Melon hops (6.0% ABV)
HURRICANE SOUR // Fruit Sour fermented with house culture on neutral oak. Then blended with passion fruit, blood oranges, vanilla beans, and lactose (5.3% ABV)
AVIATION SOUR // Cocktail Inspired Fruit Sour with butterfly pea flowers and violets, bing, maraschino, and wild amarena cherries, plus a hint of fresh lime (5.5% ABV)
¡ TEPACHE! IPA // IPA – Tepache (spontaneously fermented pineapple, cinnamon and ginger) blended with IPA (5.6% ABV)
CONVERSATION // Belgian Tripel brewed with honey sourced from the family farm (10.0% ABV)
WAR BUNNY// Blonde Ale with strawberries and dry hopped with Mosaic hops (5.7% ABV)
RHYMES WITH MANDARIN // Mexican Lager with Mandarin orange zest (5.2% ABV)
JMB REEF ALE // Tropical Summer Ale - collaboration with the Coastal Conservatory Association and the John Michael Baker Reef Memorial (6.0% ABV)
OPPOSITION PORTER // American-Style Oatmeal Porter (5.5% ABV)
LE BEER // German-Style Pilsner brewed with all noble hops, then dry hopped for an American twist (5.3% ABV)
RENAISSANCE // Vienna Lager (5.3% ABV)
GUEST BREWERIES (subject to change – while supplies last):
26 DEGREE // Gose Kwervo - Sweet and Salty Gose with fresh lime and orange juice (5.2% ABV)
3 SONS // DDH Double Dopealicious – Imperial IPA (9.0% ABV)
AMERICAN SOLERA // Peach Brandy Dilemma – Imperial Stout (12% ABV)
ANGRY CHAIR // Imperial German Chocolate Cup Cake Stout – Double Milk Imperial Stout (10.6% ABV)
7VENTH SUN // LOVE – Grapefruit Pale Ale (collaboration with the Queer Brewing Project) 10% of proceeds donated to the Trevor Project (4.8% ABV)
BANGIN' BANJO BREWING // Cover Band - Barrel Aged Gose - Passionfruit Dragon Gose aged in Zinfandel Barrels
BROSKI CIDERWORKS // Strawberry Lemonade Cider (5.2%)
BARREL OF MONKS // Be Mine - Cherry Chocolate Quadrupel (10.5% ABV)
BEAT CULTURE // Guava Pastelito - Milk Shake IPA (7.5% ABV)
CIGAR CITY // Hunahpu - Double Imperial Stout (11.5% ABV)
CALUSA // Zote – New England IPA w/ Citra & Mosaic 7.5%
CONCRETE BEACH // Floridafest Coconut Märzen - Märzen with aromas of subtle coconut, followed by notes of toffee and vanilla (5.7% ABV)
COPPERTAIL // Creature de mer Rouge - Kriek
DANGEROUS MINDS // Phenakistiscope - Belgian Quad (10.6% ABV)
FUNKY BUDDHA // Rum Barrel-Aged Piña Colada - Barrel-aged Cream Ale with Coconut (12% ABV)
GREEN BENCH // Skyway - Double Hazy IPA (8.2% ABV)
HOLY MACKEREL // Pink Froyd - Rosé IPA (7% ABV)
HOUR GLASS // Rhubarb Kriek – Fruited Sour 100% fermented in oak barrels with a blend of traditional and wild yeasts and bacteria, then refermented on Montmorency and Balaton cherries and Rhubarb stalks. (6.0% ABV)
J WAKEFIELD // Careless Wit - Watermelon Wit Sour (6.5% ABV)
LINCOLN'S BEARD // Life Finds a Way - Golden Wild Ale (6% ABV)
MIA // Tarzan Keylime Berliner with Lime and Vanilla – Berliner (5.6% ABV)
NOBO // Boysen the Hefe – Hefeweizen with Boysenberries (5.5% ABV)
ODD BREED // Mahogany Tiger - Farmhouse Ale with Red Currants (6%)
OLOGY // Sensory OverlaDDH - New England IPA (6.5% ABV)
ORCHESTRATED MINDS // BassLine - Imperial Stout with Roasted Cocoa Nibs and Lactose (9.2% ABV)
OUR MUTUAL FRIEND // Neon Nail IPA – New England Style IPA with Galaxy, Vic Secret, Citra (6.9% ABV)
PROSPERITY // SLEEPER - English Strong Ale (7.5% ABV)
RED LIGHT RED LIGHT // The Gnostic – Belgian Dubbel (7.5% ABV)
ROCKWELL // Monty – Foeder Fermented Lager
SALTWATER // Hazelnut Coffee King Cow - Imperial Coffee Milk Stout (10% ABV)
SOUTHERN PROHIBITION // Altered Beast IPA – IPA with Mosiac, El Dorado, and Motueka (6.1% ABV)
THE TANK // The West is the Best - West Coast IPA DDH w/ Amarillo and Cryo Simcoe (6.3% ABV)
TARPON RIVER // Stan Lee Imperial Stout on White Ash - Imperial Stout with vanilla bean and cocoa nibs aged on white ash oak (10%)
TRIPPING ANIMALS // Bandido - Triple Dry hopped mosaic IPA (6% ABV)
WYNWOOD BREWING // Grand Pop's Imperial Porter - Imperial Porter with hints of roasted coffee, vanilla, and chocolate with a nice malty warmth from the high abv. (9.5% ABV)