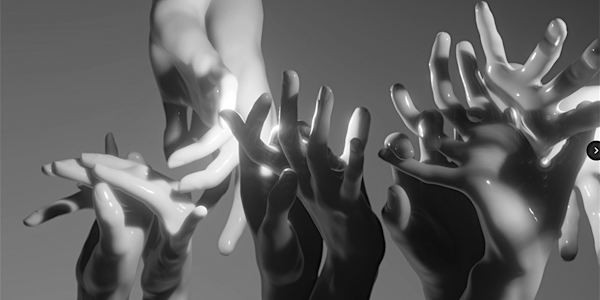 Gulf Metaverse 2.0, Day 4
Gulf Metaverse 2.0, Day 4
By Tasmeem 2022, Radical Futures
Date and time
Thursday, March 10, 2022 · 9:30 - 10:30am +03
Location
VCUarts Qatar Atrium Doha, Al Rayyan Municipality Qatar
About this event
Immediate Consequences (2021)
Director: Nadim Choufi, duration: 18′
Set in a space colony on Earth, this new sci-film explores how the future of smart cities relies on the promise of "sustainable" closed systems in the face of health and ecological crises. Two protagonists narrate how the control and exploitation of environmental life cycles and organisms become a blueprint to achieve such futuristic visions.
Salad Zone (2013)
Director: Sarah Abu Abdallah. duration: 20′
Disarrayed glimpses of multiple narratives such as that of familial domestic tensions, a juvenile dream of going to Japan, the tendency to smash TVs in moments of anger, and eating fish. While using scenes from the artist's surroundings and life in Saudi Arabia, like streets or malls, it never attempts to provide the whole picture, but takes a rhizomatic approach to tell a story of everyday life.
The Green Light (2021)
Director: Ahaad Alamoudi, duration: 7′
This film focuses on the ways in which information circulates and, at the same time, involves the subjects of society. Through a complex dynamic of lights that turn on at the same time as the intermittence of the voices of a men's choir singing an Arabic pop song, the artist proposes a letter that is repeated over and over again: "No, no, don't leave us, we were always with you / No, no, don't leave us, even if we weren't with you ".
Films are screened as part of the Gulf Metaverse 2.0 program curated by Róisín Tapponi (Assyrian Iraqi-Irish film curator, programmer, writer, and academic)
The screening is taking place in the Atrium on 10th March 2022 at 9:30 AM for the VCUarts Qatar community only. Please use the registration button to register.
Films are streamed via Shashamovies.com.
About the organizer
The 2022 conference Radical Futures addresses the role of design in shaping the future. Tasmeem Doha 2022: Radical Futures is an inclusive and multi-faceted view of the future, one that not only speculates on technological advancements—but on future threats and changes whether environmental, geographical, cultural, or social. Now more than ever, we must ask pertinent questions, raise critical dialogues, and respond with clarity.