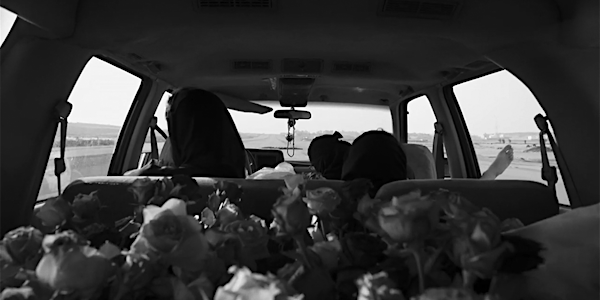 Gulf Metaverse 2.0, Day 2
Gulf Metaverse 2.0, Day 2
By Tasmeem 2022, Radical Futures
Date and time
Tuesday, March 8, 2022 · 9:30 - 10:30am +03
Location
VCUarts Qatar Atrium Doha, Al Rayyan Municipality Qatar
About this event
A DIY of a Dream 101 (2019)
Director: Qamar Abdulmalik, duration: 6′
The artist recalls personal experiences that occurred at the Egyptian Embassy, at Counter #6, the division that handles Palestinian refugees who carry Egyptian travel documents. The artist sets a mood of dream and hope played in irony portraying the endless dilemma of those who struggle with identity and citizenship.
I Engrave (2016)
Director: Reem Falaknaz, duration: 7′
Every year, Ghulam Mohammed Andalib comes from Afghanistan to Dubai for work. He's here for a period of four months, where he is offered a stage to perform his craft on for the visitors of Global Village. At his assigned setting, Ghulam sits and engraves poems from Hafez, Saadi, or Quranic verses. Here, in the late Sheikh Abdulaziz al Qassimi's abandoned palace in Ras Al Khaimah, Ghulam explores the interiors. Like himself, Sheikh Abdulaziz had a passion for Persian poetry and miniatures and can be found hand-painted on the house walls. Part documentary, part performance, exploring the themes of migration, trade, and cultural identity that shape our world; this film brings two shared loves, of two seemingly different men, together.
The Girls Who Burned The Night (2020)
Director: Sara Mesfer, duration: 24′
Set in Jeddah, the film tells the story of two sisters who embark on a journey after a small act of rebellion. While preparing for an engagement party, Salsabil asks her mom to go shopping, but her request is rejected which leads the day to go in an unexpected direction.
Films are screened as part of the Gulf Metaverse 2.0 program curated by Róisín Tapponi (Assyrian Iraqi-Irish film curator, programmer, writer, and academic)
The screening is taking place in the Atrium on 8th March 2022 at 9:30 AM for the VCUarts Qatar community only. Please use the registration button to register.
Films are streamed via Shashamovies.com.
About the organizer
The 2022 conference Radical Futures addresses the role of design in shaping the future. Tasmeem Doha 2022: Radical Futures is an inclusive and multi-faceted view of the future, one that not only speculates on technological advancements—but on future threats and changes whether environmental, geographical, cultural, or social. Now more than ever, we must ask pertinent questions, raise critical dialogues, and respond with clarity.