About this Event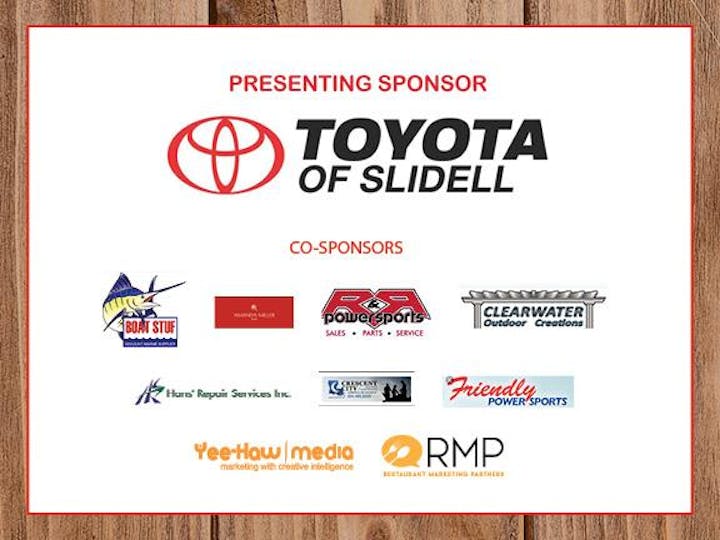 The very first Gulf Coast Sportsmen and Outdoor Expo will be held September 13-15, 2019, at the Northshore Harbor Center in Slidell, Louisiana.
Vendors from across the Gulf states will offer their latest products and services to hunters, fishermen, campers and sports enthusiasts. The trade show will include product booths, live music by Supercharger (Saturday) along with giveaways and door prizes.
Times:
Friday, September 13: Noon-8PM
Saturday, September 14: 10AM-8PM (Supercharger plays from 5-8PM)
Sunday, September 15: 10AM-5PM
Vendors and Sponsors:
Toyota of Slidell (Presenting Sponsor)
DUCK NUTZ
THE CURIOUS CAJUN
SAGONAS HARDWARE
ACE HARDWARE
AMANDA MILLER REALTY-Co Sponsor
BACKYARD ADVENTURES
BEE COMMANDER
BELLA LUCCA
BOAT STUFF-Co Sponsor
CASTAWAYS CUSTOMS
CLEARWATER OUTDOOR CREATIONS- Co Sponsor
COON NECK WILDLIFE & ART GALLERY
COUNTRY KETTLE FUDGE
THE CRAPPIE PSYCHIC, LLC
CRESCENT CITY ROOFING & Co Sponsor
CUTCO CUTLERY
FRIENDLY POWERSPORTS- Co Sponsor
HAN'S REPAIR & SERVICES, INC.- Co Sponsor
IMPRESSIVE CONCRETE COATINGS
JOE'S SHOE STORE
KATIE'S COOKIES & CANDIES
LOUISIANA OUTDOORS
MADDIE'S FOOD CREATIONS
RACK ADDICT ATTRACTANTS, LLC
R&R POWERSPORTS-Co Sponsor
SAPO GUAPO FISHING COMPANY, LLC
SPORTMAN'S WAREHOUSE
SOUTHERN STALKERS
Trolling Moters Unlimited
Z's TACKLE
WYNDHAM DESTINATIONS
MARSH & BAYOU
CAJUN LURES
PELICANS BASKETBALL
DR. FALLS
LULU
WYLD GEAR
NO BITCHIN JUST FISHIN
Mike Wards Liberty Safes
JAZZ MARATHON
A Renewed Approach Healthcare
ELS LIFTS
Stov Shoes
King Kracken
Quality Aluminum Boatlifts
Cal Kingsmill
Landrys Outboard Motors
J & D Artistic Metal Designs
Deep South Dock & Piling Restorations LLC
Property Title Inc.
Pritchards Custom Calls
Underwater Green Fishing Lights
Yee-Haw Media - co-sponsor
Restaurant Marketing Partners - co-sponsor
Additional information the event is available at https://gulfcoastsportsmen.com.