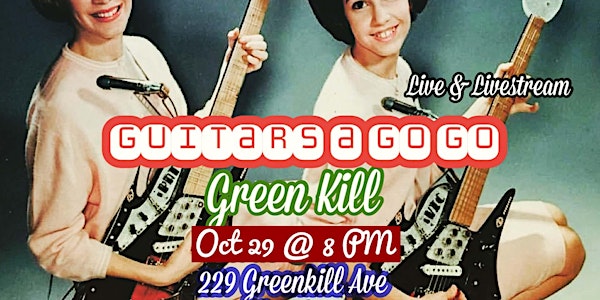 Guitars a Go Go, October 29, 8 PM, Green Kill Sessions
Stream Guitars A Go Go will perform at Green Kill, Saturday, October 29, 8 PM, at Green Kill Sessions.
Refund Policy
Contact the organizer to request a refund.
Eventbrite's fee is nonrefundable.
About this event
Stream Guitars A Go Go will perform at Green Kill, Saturday, October 29, 8 PM, at Green Kill Sessions.
This event will be livestreamed on the Green Kill Sessions YouTube Channel and will be open to a live audience of 30. Tickets are 5 dollars.
1. Please click "Tickets" button to access livestream or live audience ticket.
2. Select "Livestream Ticket" or "Live Audience Ticket". Audience members attending in person must be masked! Please choose the right ticket. A Livestream Ticket provides you with a link to the Green Kill Sessions livestream which can be accessed remotely on your own equipment. A Live Audience Ticket puts you on a list for a reserved set at the event, and also provides you a livestream link. If you are coming to the event, please arrive 15 minutes before starting time. There are no ticket sales at the door. All tickets must be reserved on Eventbrite.
3. Enter the number of tickets you would like to buy.
4. Enter your credit card information: Name, Number, Expiration Date, and CVV code. Double-check the info you entered. Make sure it's correct. It's easy to slip up!
5. select "Place Order". You will then have access to the page which has a watch event link. Click on that link to see the YouTube event address. An email will also be sent to the email address you provided with the link.
Shortly before the event, you will receive a reminder link.
Please be advised that tickets are not transferable. If you wish to buy a ticket for someone else, you must use their email when buying a ticket for an event.
Guitars A Go Go
Guitars A Go Go is an edge-pushing improvisational partnership of two acclaimed and very "switched-on" Hudson Valley-based guitarists, Rick Warren and Sal Cataldi (aka Spaghetti Eastern Music). Armed with a plethora of effects pedals and a quest for meditative and melodic adventures that span a galaxy of musical influences and attitudes, the duo have been performing at leading Hudson Valley music venues and art galleries since early 2019, and, on occasion, in a quartet abetted by veteran bassist Mark Steven Brooks and percussionist Pete Tenerowicz.
With Travel Advisory, their debut album released in June 2020, Guitars A Go Go swing for the fences, with nine tracks reflecting their left-leaning influences. The duo conjures everything from the contemplative soundscapes of Fripp and Eno and wandering proto-electronica of Krautrockers like Tangerine Dream and Faust to genre-defining experimental/avant of six-stringers like Derek Bailey, Glenn Branca, Sonny Sharrock, David Torn and Bill Orcutt to electronic classicists like Morton Subotnik and Pauline Oliveros.
The heart of Travel Advisory is a quartet of live-in-studio duets recorded just as the Covid-19 quarantine took hold. They are layered, looped dreamscapes that journey through an abundance of moods, from meditatively peaceful soundscapes to textured noise and dissonance, ranging in length from 10 to 19-plus minutes – all recorded without overdubs. Five more tracks were later produced in remote collaboration, with Cataldi adding guitars, synths and effects at his studio in West Saugerties to solo pieces performed by Warren at his in Hudson, N.Y. The album has received critical praise in leading music publication airplay at leading indie stations in the U.S., Germany, Holland and U.K, including WFMU, Radio Free Brooklyn, SOMA FM, Radio Spiral, Dark Tunnel Radio and others.
NYC and Saugerties-based guitarist Sal Cataldi may be best known these days for his style-jumping solo project, Spaghetti Eastern Music. With Spaghetti Eastern, Cataldi fuses hypnotic Eastern beats, blues, jazz and electronica-influenced guitar instrumentals with gentle acoustic vocal tunes and looping straight out of the John Martyn/Nick Drake songbook, a diverse brew featured on his critically-acclaimed debut disc, Sketches of Spam. Time Out New York writes: "Cataldi's largely instrumental, Eastern-influenced jams are infused with some delicate guitar work and hauntingly moody atmosphere," while The New York Times proclaims he has "a beat unmistakably his own." Called "truly excellent" by The Village Voice, "a wild ride" by Radio Woodstock, "beautiful and unique" by WFUV's Mixed Bag and "a whirling dervish of musical creation" by Hudson Valley One, "Cataldi is also creating acclaimed work with The Vapor Vespers, a music-meets-spoken word project with Alaska poet Mark Muro captured on the just released album, One Act Sonix, and on two albums with The Hari Karaoke Trio of Doom, with Kansas City based percussionist/producer Doug Hitchcock and renowned Eno bassist Percy Jones.
Originally from Kingston, Hudson-based Rick Warren has been deeply involved in the improvisational and experimental music scene fostered by renowned vibraphonist Karl Berger at his Creative Music Studio in Woodstock. It was Berger's chance visit to a Rick's high school music theory class that led him to become a regular participant in twice-yearly workshops held at CMS, an international hot bed of improvisational music performance and education founded in 1971 by Berger, Ingrid Sertso and Ornette Coleman. Rick is best known for his soundscape compositions using his guitar and a variety of electronic sound sources, each one a new and different on-the-spot creation. Today, Warren is also involved with the Woodstock-based soundpainting ensemble Audiocanvas , led by bassist Steve Rust and captured on the 2019 disc Some Bad Western. Rick is also active with the Hudson-based Slink Moss and the Magic Stones, the improvisational duo The Warren-Ver Straeten Half Quartet and the popular acoustic folk duo, Rick and Marilyn, with songwriter Marilyn Miller.