Description
UPDATE: Because space for the full affair (food & music) is limited, we've added a music only option. Reserve early!
We love to throw a party and to paraphrase Little Richard, we think this one "will make your big toe shoot up into your boot!"
For The Stratton Guitars Guit' Down! 2019 we've asked some our favorite Arizona musicians – The Jon Rauhouse Combo (Phoenix), Gabriel Sullivan, Amor Deluxe, and Mariachi Tesoro de Tucson (all from Tucson), and Torn Speakers (Prescott/Phoenix) – to come out to the ranch, play some tunes, eat some food and at the same time do some good for our friends at PEER SOLUTIONS, an Arizona-based 501(c)(3) nonprofit organization founded in 1996 with the mission: Kids teaching kids to make the world a better place.
We feel there is no better way to kick off a music show in the Tucson desert than with the lively and vibrant sounds of Mariachi Tesoro de Tucson.
Next up the atmospheric instrumental stylings of Amor Deluxe might just make you ponder if you'd be the good guy or the bad guy in a Clint Eastwood spaghetti western (or maybe even the horse). Gabriel Naïm Amor first started out on the Parisian underground punk scene before as one half of Amor Belhom Duo he found his way out to Tucson, Arizona. Collaborations with Calexico followed, resulting in the A.B.B.C. album and a Shane Meadows soundtrack appearance before going solo and working with John Parish and pretty much the full Tucson A-Z of musicians across a number of song based albums + his series of 'Soundtracks' collections. 2016's collaboration with Calexico drummer John Convertino on the album 'The Western Suite And Siesta Songs' further enhanced his reputation and last year saw him both supporting and playing alongside Howe Gelb and his Piano Trio with whom Naïm guested on the album 'Future Standards', adding his delicate Django-esque guitar motifs. 2018 sees the release of a brand new solo album – 'Moments Before' – released jointly by What A Mess! Records of France and Vacilando '68 Recordings of the UK on vinyl + on CD through Japanese label Sweet Dreams Press. The album features guest spots from the afore-mentioned Convertino + contributions from Thoger Lund [Giant Sand] and Tommy Larkins [Jonathan Richman/Giant Sand] and is another wonderful addition to Naim's sonic output capturing a more introspective jazzier side to his repertoire. http://www.naimamor.com/
After Amor Deluxe, Torn Speakers will bring the sounds of the high desert down south. Bringing to mind dusty deep cuts off of classic American and British rock albums, The Torn Speakers is the canvas for Theron Wall and his intimate and original songs. With Megyn Neff on violin, Chad Hines on electric guitar/lap steel and Kimberly Shelton on backup vocals/percussion; it is a moody and moving dive into melody, meter and space. https://www.facebook.com/TheronWallMusic/
Our beloved Gabriel Sullivan, Tucson songster and producer will then be sure to enchant as he conjures the darkness and the light, and all the nooks and crannies in between. https://www.facebook.com/GabrielSullivanMusic
And to shepherd the sun as it makes its way to bed, we could think of nothing other than the magical pedal steel and six-string stylings of Jon Rauhouse and his sweet and swoony Combo. Jon can be found playing his Stratton OM and Ajo model guitars both on tour and in the studio with Neko Case, as well as on his own amazing Jon Rauhouse Orchestra recordings. https://www.jonrauhouse.com/
Throughout the day Live Fire Chef Kalon Wall (Colorado) will be creating unique bites to complement the sounds of the day. Using the ancient art of open flame cooking and elements of the Sonoran desert, Chef Kalon Wall and his team will create a multi course feast entirely with fire. As Wall says, "this simple style of cooking using what's available in the landscape connects the people to the land."
Wall's inspiration for a fire dinner sparks from his travels to Argentina where he studied at Siete Fuegos under Francis Mallmann, as featured in the Netflix series Chef's Table.
Kalon attended the New England Culinary Institute in Vermont and studied at the award winning Fore Street restaurant in Portland, Maine. Afterwards he traveled to Europe to study food and wine in northern Italy and San Sebastian, Spain; particularly at Martin Berasetegue, a 3 Star Michelin rated restaurant. He has continued to specialize in wine pairings and multi-course Chef to Table dinners. In 2013 Wall became the founding chef of The Sunflower in Crested Butte, Colorado. There his menu was ingredient driven from local farming, whole animals and thoughtfully sourced foods. As Wall says "There is more authenticity in the food when it's based on what's available around you." We are honored to have Kalon bring his farm to table magic to this event!
Menu
Gazpacho Shooter

Mesquite Flour Tamale
Charred Cactus

Campfire Tepary Beans
Game Sausage

Elote
Grilled Corn, Humita, Local Cheese, Aioli, Chiltepin Chili

Rabbit Navajo Taco
Charcoal Grilled Bread, Salsa Criolla

Main Feast
Pork/Beef Asado, Chimichurri, Potato and Squash Rescaldo, Charred Vegetable Salad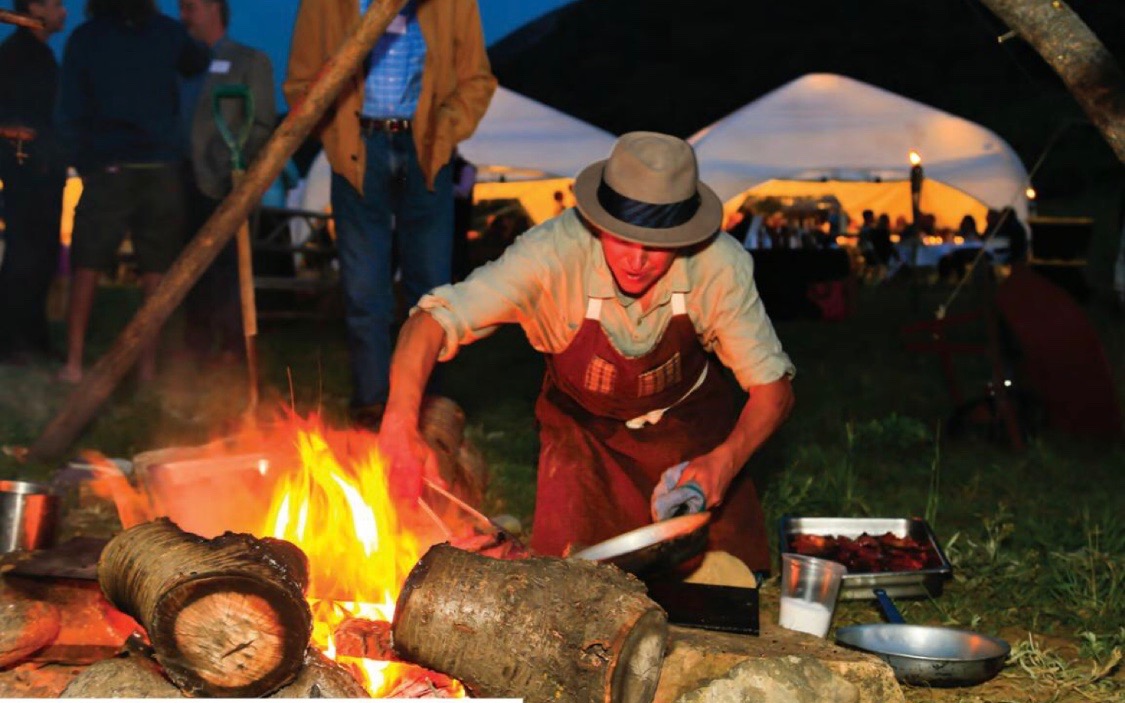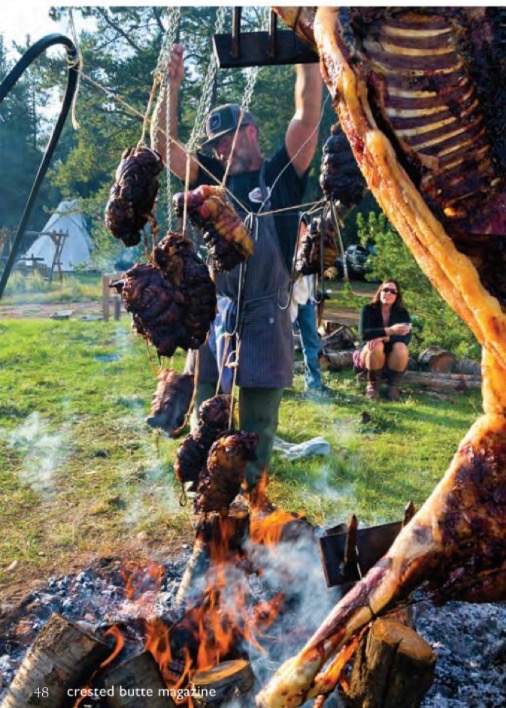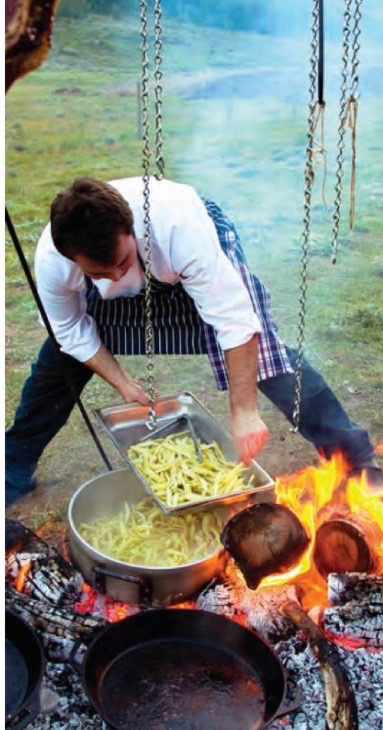 And finally, we are super excited and thankful to have our friends at Wooden Tooth Records spinning vinyl during set breaks.
All net proceeds will benefit PEER SOLUTIONS.
MISSION: Kids teaching kids to make the world a better place.
Our vision is a world where everyone is safe, and treated equitably with respect (SER). This is a world free from harm to self, others, animals, and the planet.
Peer Solutions offers a Trauma Informed Primary Prevention (TIPP) model designed to redirect resources spent on crisis intervention to investing in the health and well-being of families, schools, workplaces, governments, and communities.
Peer Solutions serves 9 sites weekly in Central and South Phoenix and Tempe, Arizona. We have 15 sites on our waiting list and support volunteer programming in South Dakota and Washington State.
During the 2017/2018 school year, Peer Solutions served 12,878 youth and 1,163 adults supported by 88 school, community, business, and funding partners.
Programming is youth led, year-round, open to all identities and abilities, and developed with evidence based strategies across the social ecology.
Space for this private, one-of-a-kind event is limited so we recommend that you RSVP early. RSVP cutoff for full affair (food & music) is Thursday, March 28th 6PM.

* menu subject to change due to seasonal availability
About the location
Event is outside on 3 acre property near the Tucson Mountains, desert terrain. Croquet court and horseshoe pit for fun. Fabulous sunsets. As a private residence, address will be provided with RSVP.
Parking
Street Parking only and limited. Rideshare encouraged. Lyft and Uber and horseback are also good options. Please be kind to our neighbors and park off to the side as much as possible, allowing for traffic to pass.
What's the refund policy?
No refunds unless event is cancelled.